Sada-e-Watan Sydney ™
sadaewatan@gmail.com
Pakistan Day Function and Live performance of Ustad Shafqat Ali Khan held at Sapphire Function Centre, Auburn Sydney
Speech of Mr Shahid Iqbal, President Pakistan Association of Australia (22 March 2015)
Bismillah ar-Rahman ar-Raheem,
Good Evening and Aslam-a-Alaikum, Ladies & Gentleman's.
 Mr Abdul Aziz Uqaili, Consul General of Islamic Republic of Pakistan

 Mr Shifaat Ahmed Kaleem. Consul, Pakistan Consulate Sydney

 Hon. Craig Laundy, Federal Member of Parliament for Reid

 Hon .Tony Issa, state Member for Granville

 Hon Mehreen Faruqi, Member Legislative Council

 Hon Amanda Fazio,MLC

 Respectable Julia Finn, Labor Candidate for Granville

 Respectable Rashid Bhuiyan, Liberal Candidate for Lakemba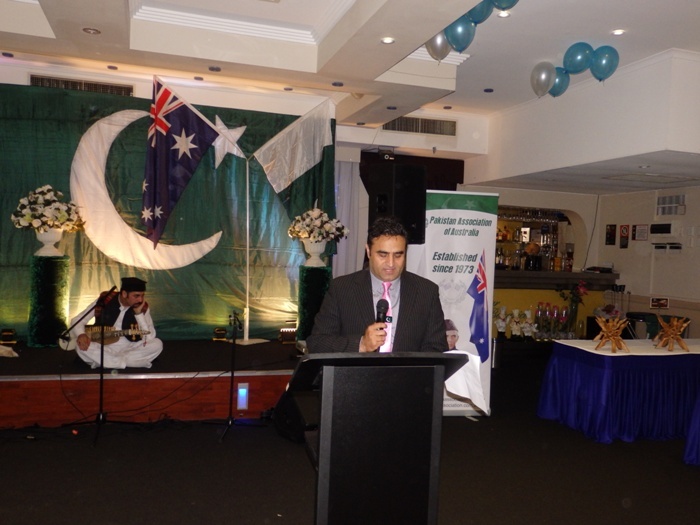 President PAA Hafiz Shahid Iqbal Chaudhry
On behalf of the Pakistan Association of Australia I would like to welcome you all here tonight, specially our parliamentarian guests. Despite their busy schedules they were able to make it tonight; thank you very much to you all for joining us. I would like to acknowledge our distinguish guest.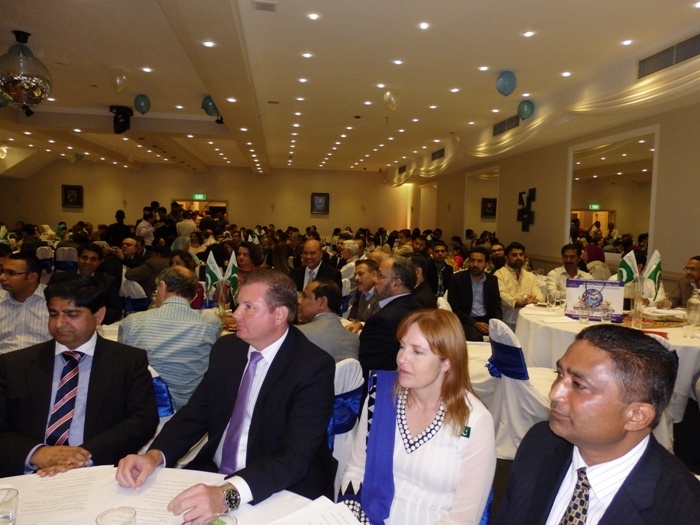 23rd March 1940 carries a significant importance in lives of every Pakistanis .The people of Pakistan celebrate the 23rd of March, every year, in Pakistan as well as abroad, with great zeal and enthusiasm, to commemorate the most outstanding achievement of the Muslims of South Asia who passed the historic 'Pakistan Resolution' on this day at Lahore in 1940.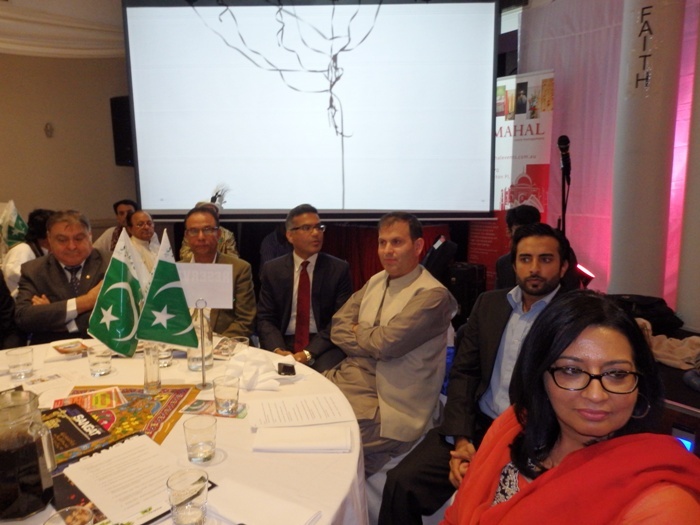 75 Years ago, on 23rd March 1940, thousands of Muslims from all over the sub-continent gathered in Lahore and expressed their one dream, one vision and one mission. From that day under the dynamic leaderships of Quaid –E- Azam Muhammad Ali Jinnah and others, Quaid-e-Azam Jinnah Said the Hindus and Muslims belong to two different religious philosophies, social customs, and literature. The struggle for Pakistan began with the slogan of Pakistan ka matlab kia La eh laha illaha. And within 7 years they achieved their dream and created Pakistan as well as a separate cricket team.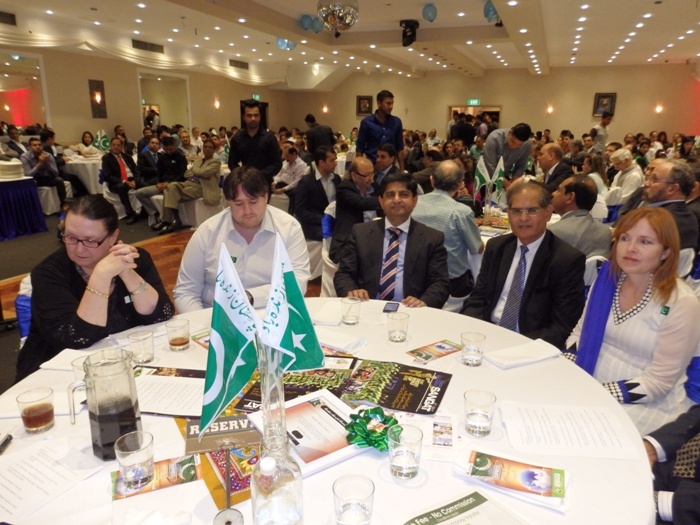 Although we are living in this wonderful and multicultural country Australia, Pakistani community settled here in Australia is peaceful, law abiding and well settled. We openly participate in celebrations and activities of other communities in our areas. Our educated workforce is contributing significantly to the local economy and is well integrated in Australian society.
Let us hope that our effort gets us the same or more recognition than the koalas and kangaroos of Australia.
We should keep in mind our home country and we should be proud of belonging to a country that is among the world's top producer of best cotton, rice, mangoes and wheat. A country that has produced and brought up: world class teachers, doctors, engineers, businessmen, nurses and of course best cricketers.
The news we see every day is more negative than positive from our home country.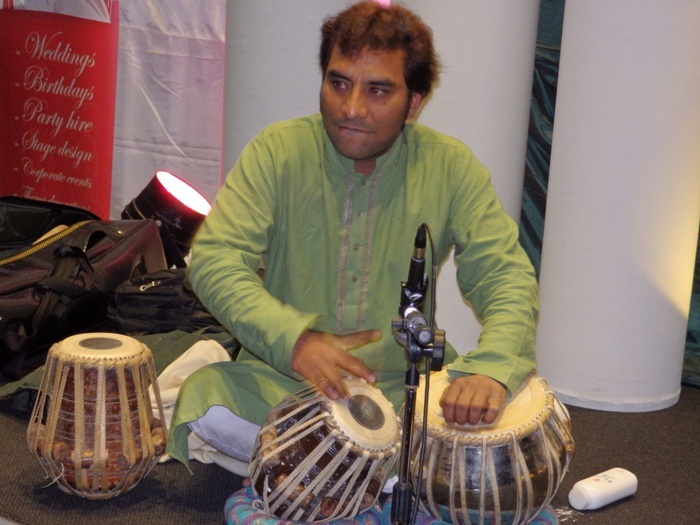 I urge the citizens and the government of Australia to be more aware of the terrorist activities in Pakistan and assist in getting rid of this calamity or reducing it to bearable level so the common people of Pakistan may live without unwanted fear.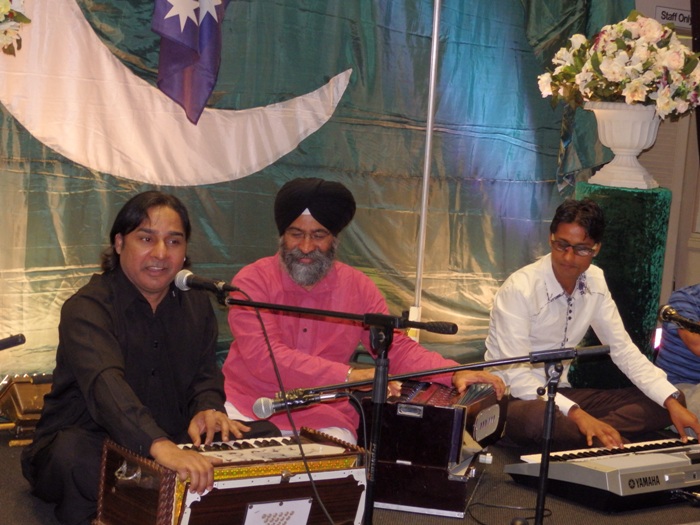 Great Singer Ustad Shafqat Ali Khan
This month is election month and we all have our chosen party to support. Let me advice you as a president of Pakistan Association of Australia, Party choice is yours but let us judge the past performance of the parties and vote for the one with proven track record.
Promises will be made and broken but reflect on which party has delivered the services to improve the life of struggling families.
I believe that by now you have received the sad news of the passing away of Javed Chaudhry. His passing away is a big loss. Let us pray that his soul rests in peace and Allah grants him a permanent place in Jannatul Firdous.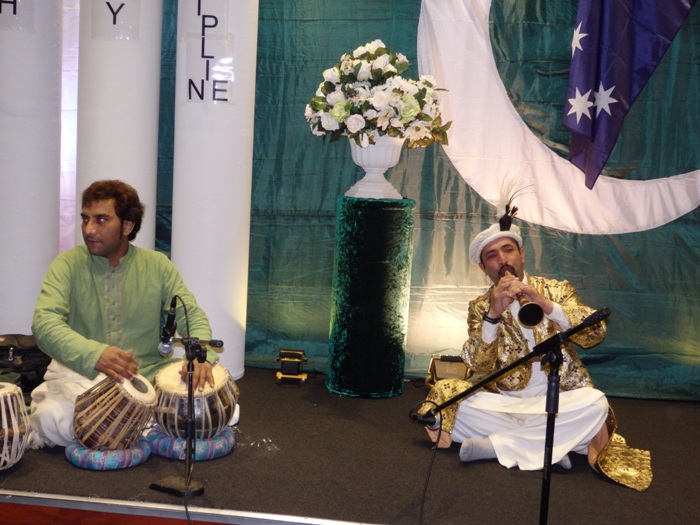 On behalf of the PAA, I would like to thank our, trustees, family, friends and our Association members especially Rana Hassan, Raja Taseer, Asif Hanif, Fouzia Zia, Umar Chaudhry and Ali Naqvi who have all put in a lot of effort and time in organising this function.
Taking this opportunity, I would like to acknowledge the media present tonight and those have always supported the Association over the years.
Specially one and only, the Editor in Chief of Sada-e-Watan, Syed Zafar Hussain Shah
Munir Ahmed from Rabitah, Rana Iftikhar from Pak link. Also I would like to acknowledge Our main Sponsors, without their Support it won't be possible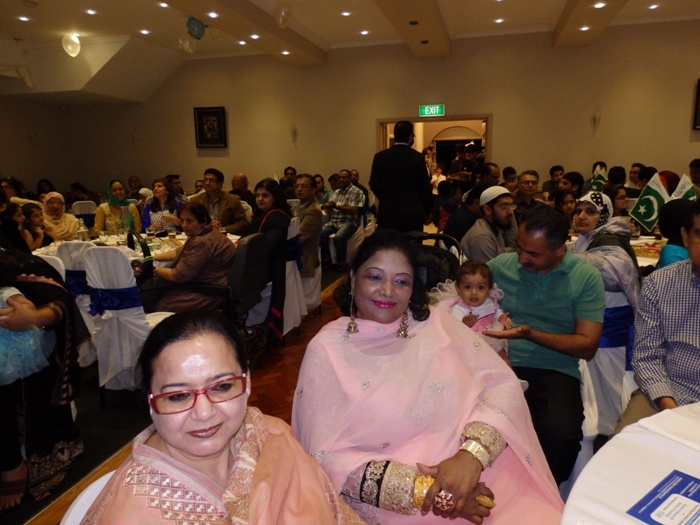 RBRS Pty Ltd (Rizwan Ahmed) - Silver Smash (Shoaib Hanif) - (Austech Vocational studies & Taxi College (Dr. Aziz) - Sydney Training g Academy (Mehmoud Abugahezale) - Vetea Grop of studies (Ahmed Scorono) - Sydney Taxi Training (Usman Muhammad) - Group Five Security (Hassan Rana) - City Link Finance (Iftikhar Rana) - Rana Iftikhar President Pakistan Council of Australia, Javed Nazar Koocha –e Saqafat - Well respected artist Anjum Ayaz, Hanif Muqaddam –PPP, Afroz Shaheen – MQM, Farooq Malik - PTI and others.
Ustad Shafqat Ali Khan
I also would like to Welcome Ustad Shafqat Ali Khan and other top class Artists who came specially to Australia for performing live at our this PAA function.

Once again, I wish every Pakistani a Happy Pakistan Day and pray to Allah for the safety and prosperity of both our nations – PAKISTAN AND AUSTRALIA.May Allah Almighty grant us and our leaders the wisdom to move away from the mistakes of the past.
Thank you and Pakistan Zindabad
**********************
Award List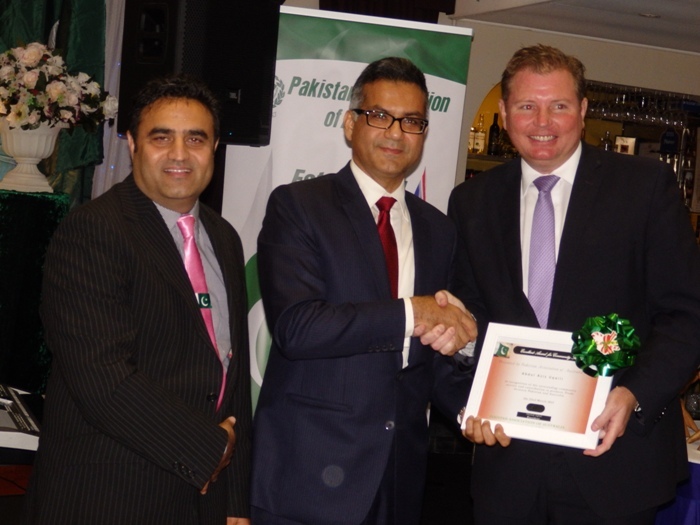 Abdul Aziz Uqaili is receiving his Award from Hon. Craig Laundy MP
1. Abdul Aziz Uqaili Excellent Community award for promote trade in recognition of his outstanding community service and contribution to promote Trade between Pakistan and Australia.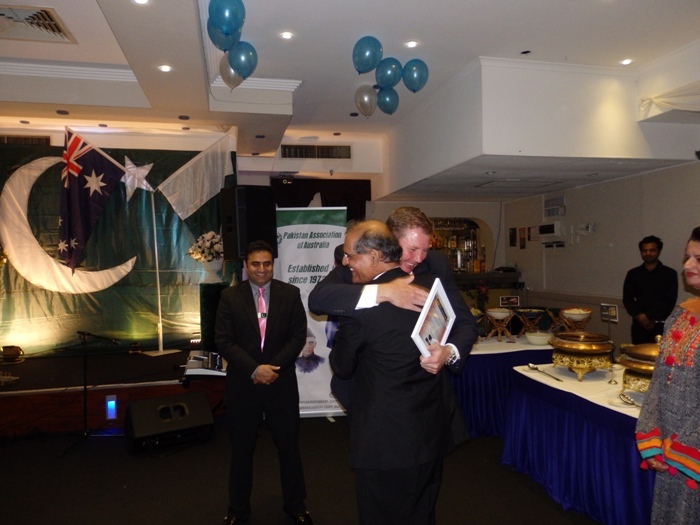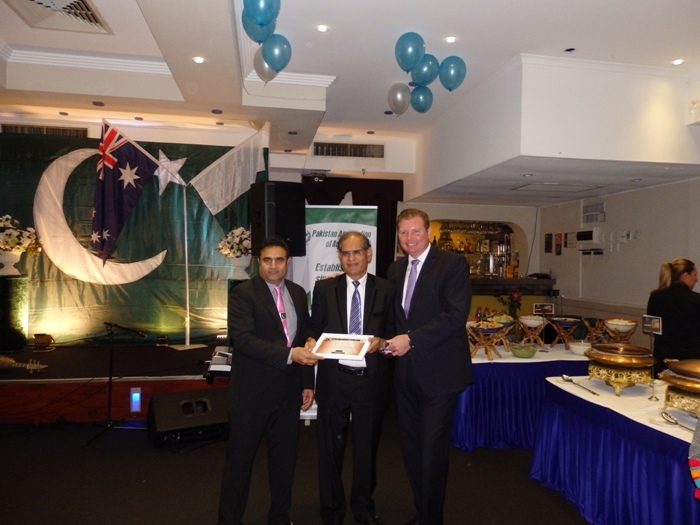 Syed Zafar Hussain Receiving his Award from Hon. Craig Laundy MP
2. Syed Zafar Hussein Shah (Sada-e-Watan) Life Time Award for community Services in recognition of his outstanding life-long community service and contribution in bringing diverse communities together in a remarkable life.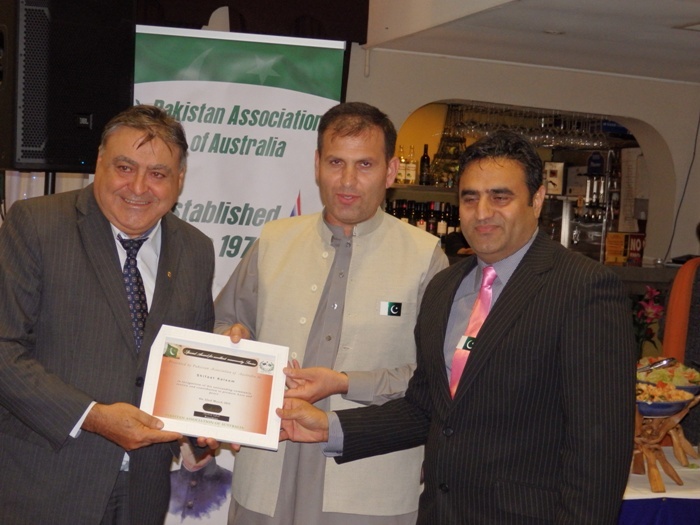 Shifaat Ahmad Kaleem Receiving his Award From Tony Issa MP
3. Shifaat Ahmad Kaleem Special award for excellent community service at Pakistan Consulate
in recognition of his outstanding community service and contribution to promote Love and peace.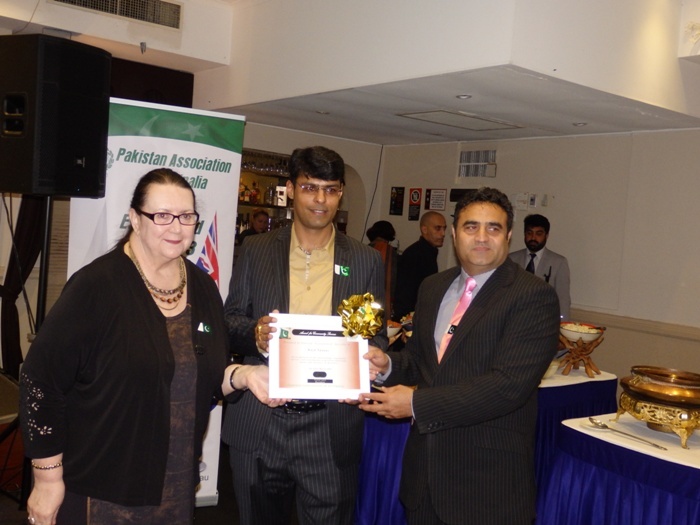 Raja Taseer Receiving his Award from Hon. Amanda Fazio
4. Raja Taseer Award for Community Services for Culture & Music (in recognition of his outstanding community service and contribution to promote Pakistani music and Culture in Australia.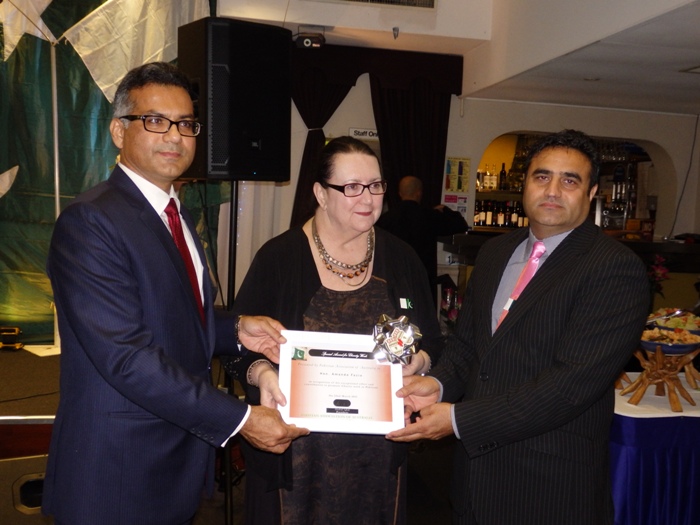 Hon. Amanda Fazio Recieving her Award from CG A.A. Uquali
5. Hon. Amanda Fazio (Special Award for Charity work in Pakistan)
in recognition of his outstanding community service and contribution to promote Charity work in Pakistan.
Tahir Farooq Receiving Thank you Shield from Hon. Mehreen Faruqi MLC
National Anthem of Australia & Pakistan presented by Mehreen Javed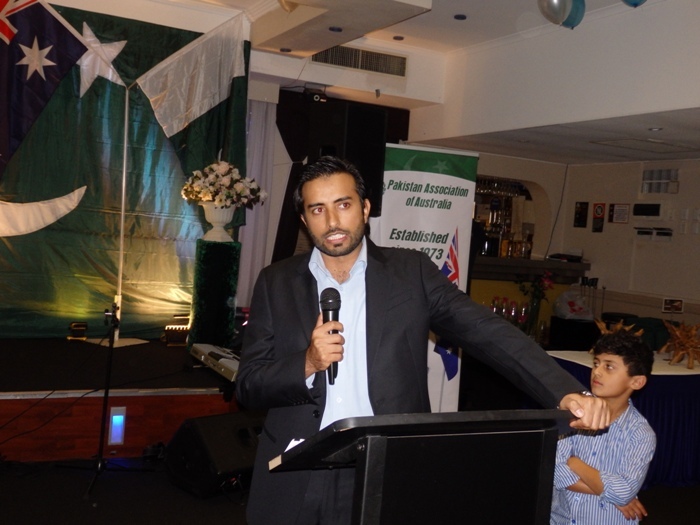 Master of Ceremony Mr Shamas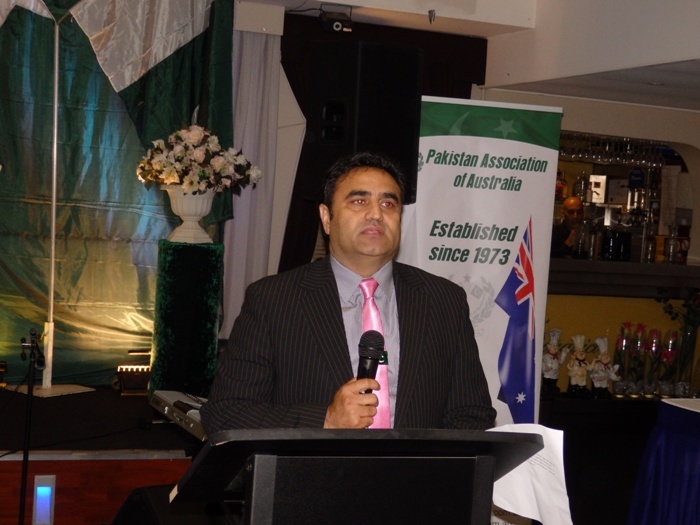 Shahid Iqbal Chaudhry, President Pakistan Association of Australia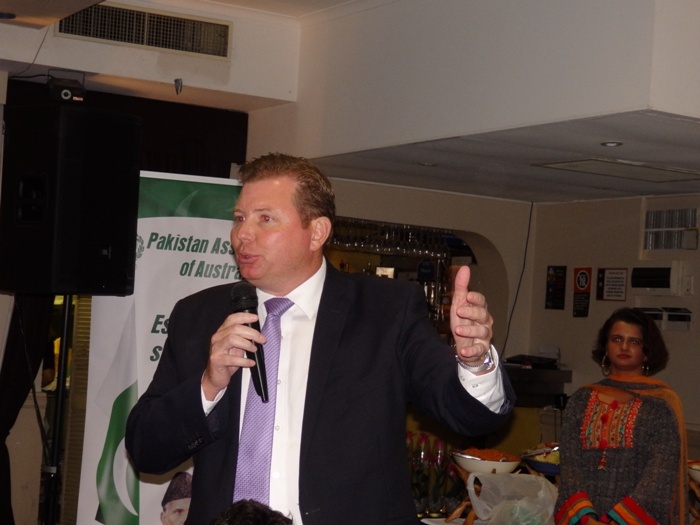 Federal Member of Parliament Honourable Craig Laundy
Hon. Dr Mehreen Faruqi MLC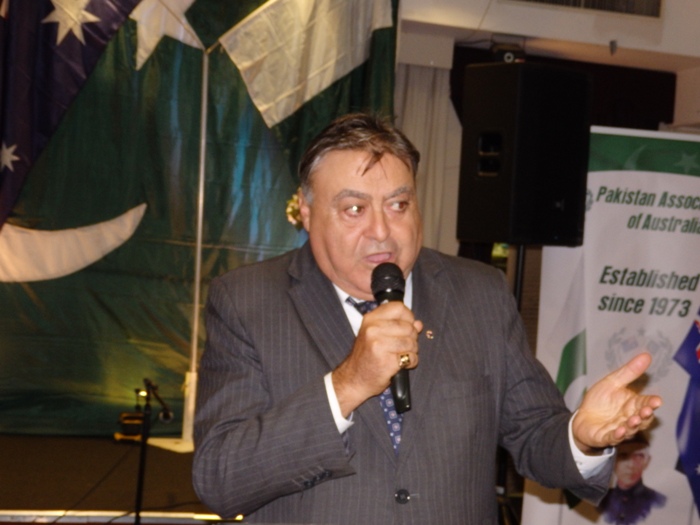 Hon. Tony Issa, State Member for Granville
Hon. Amanda Fazio, MLC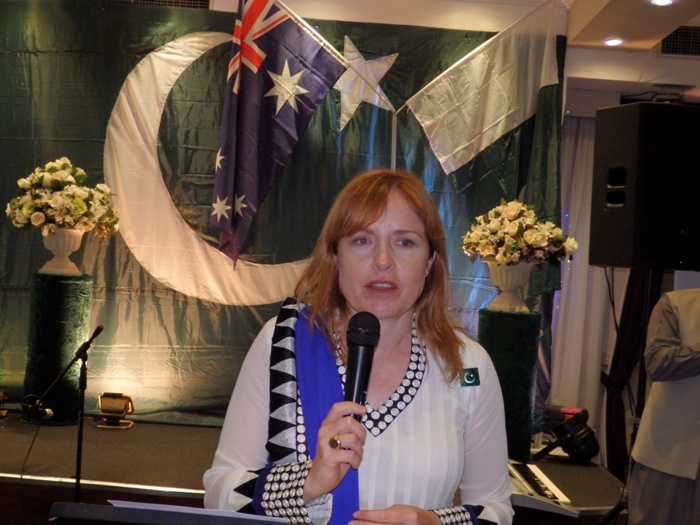 Julia Finn, Labor Candidate for Granville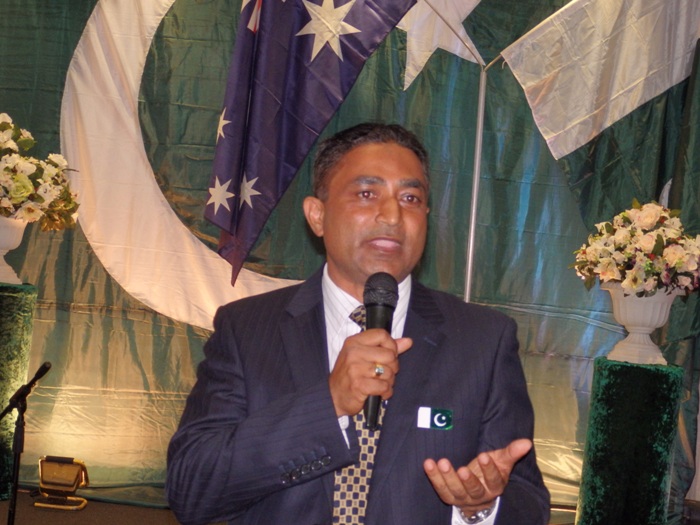 Rashid Bhuiyan, Liberal Candidate for Lakemba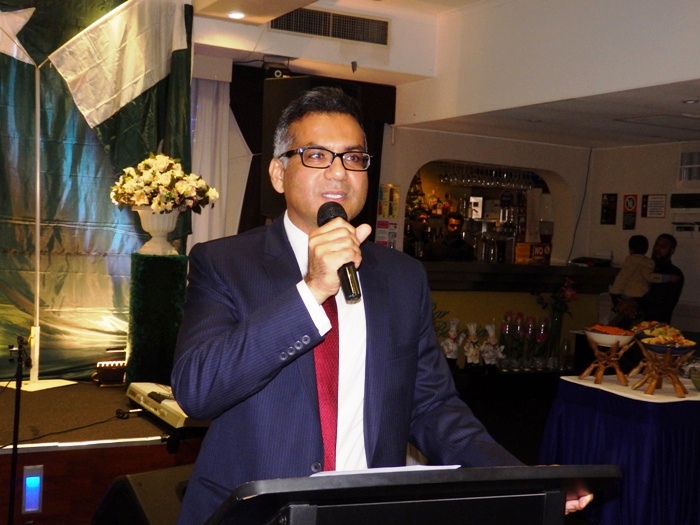 Abdul Aziz Uqaili, Consul General of Pakistan Sydney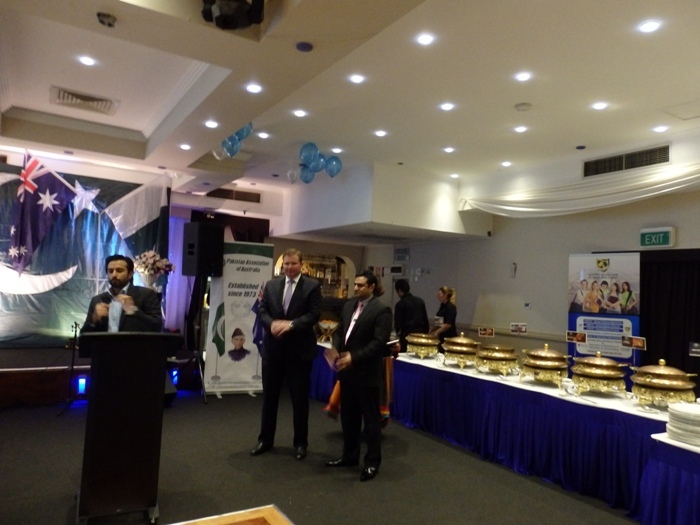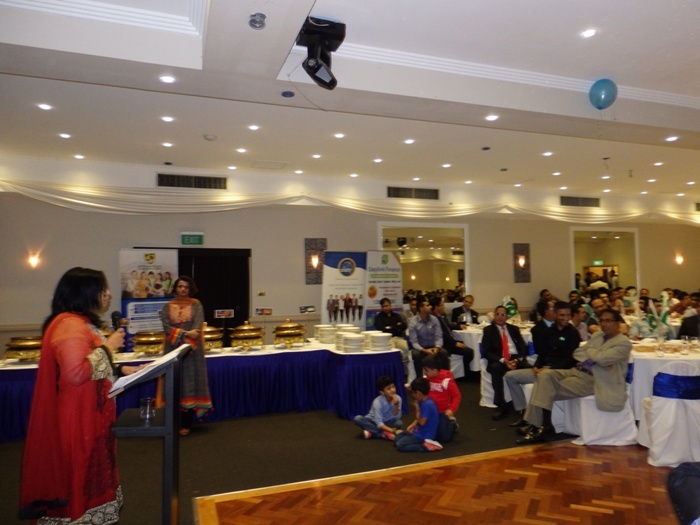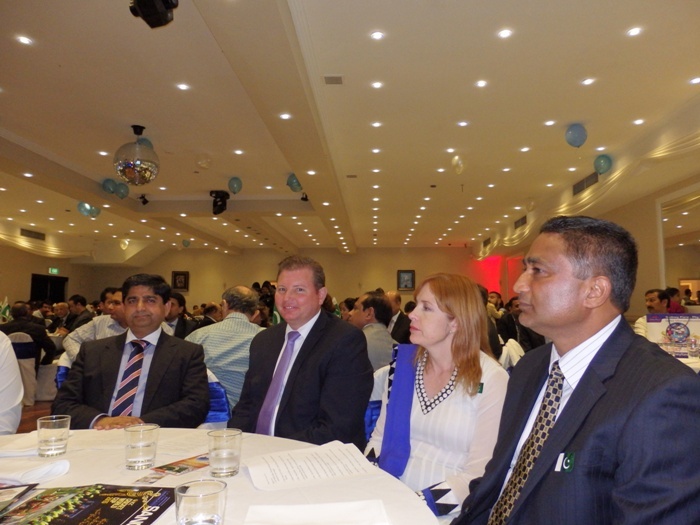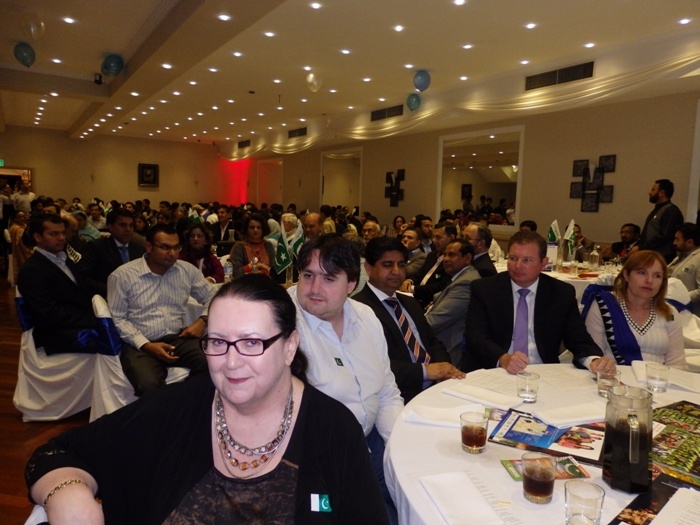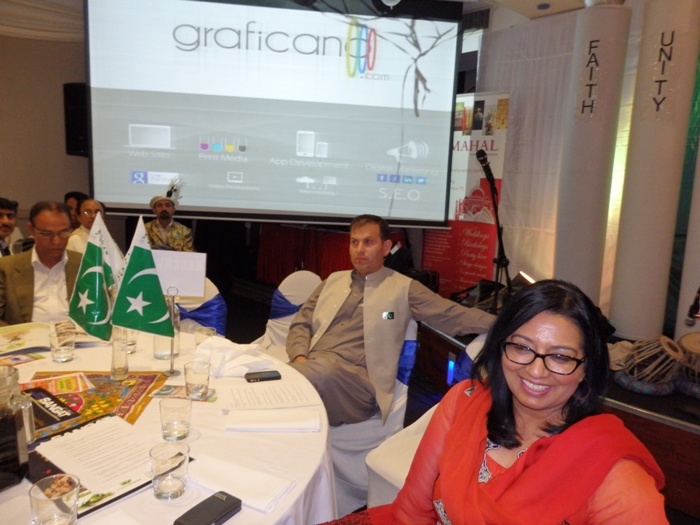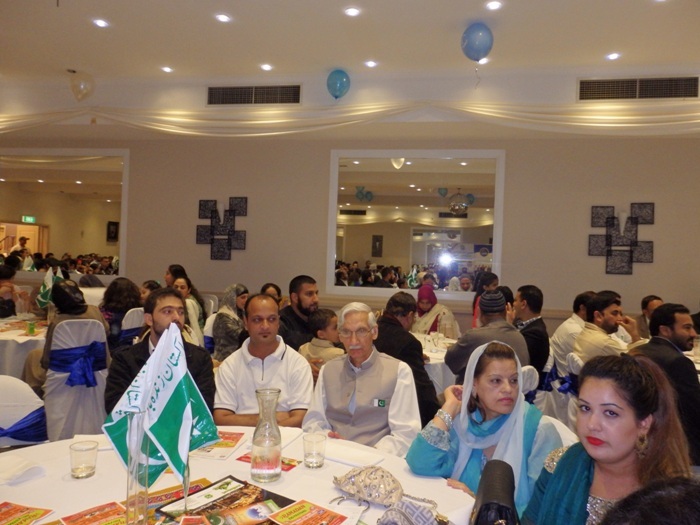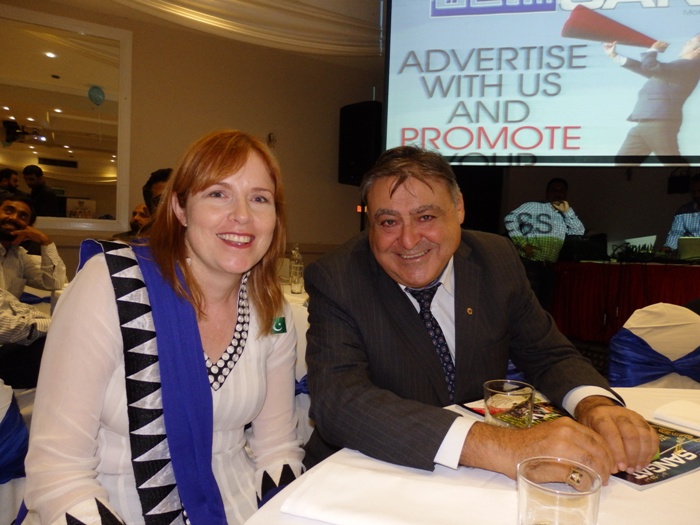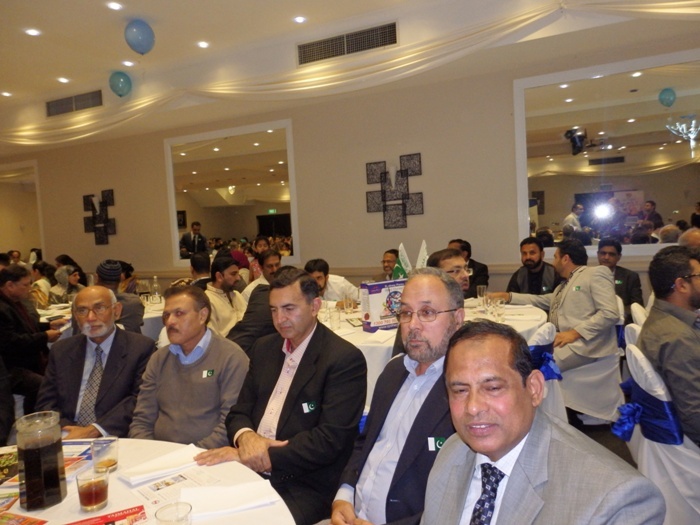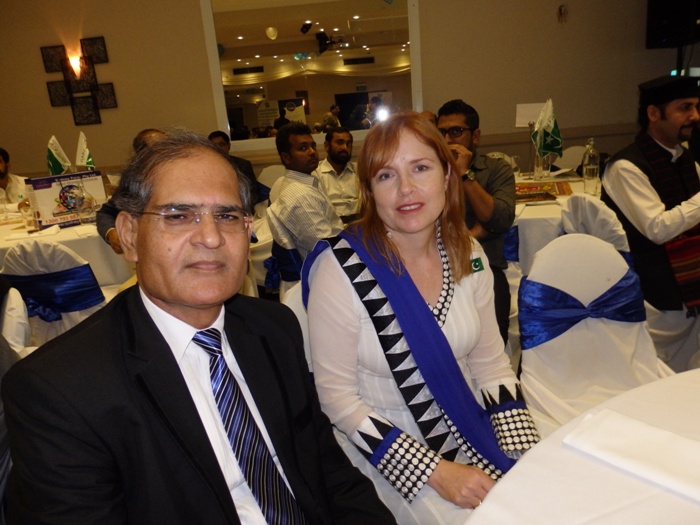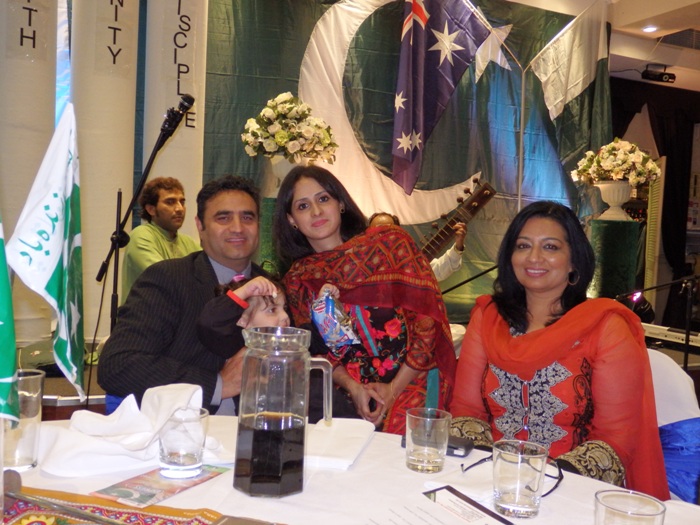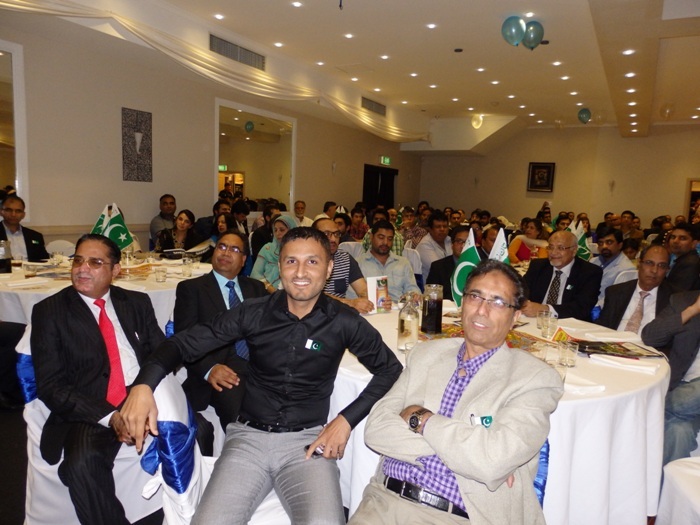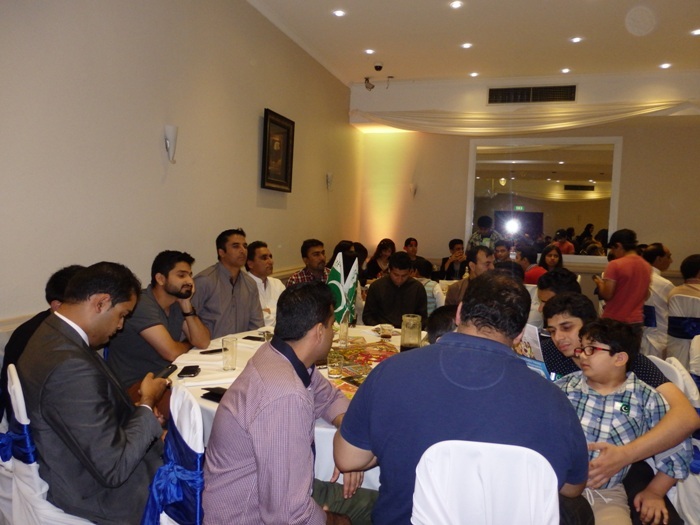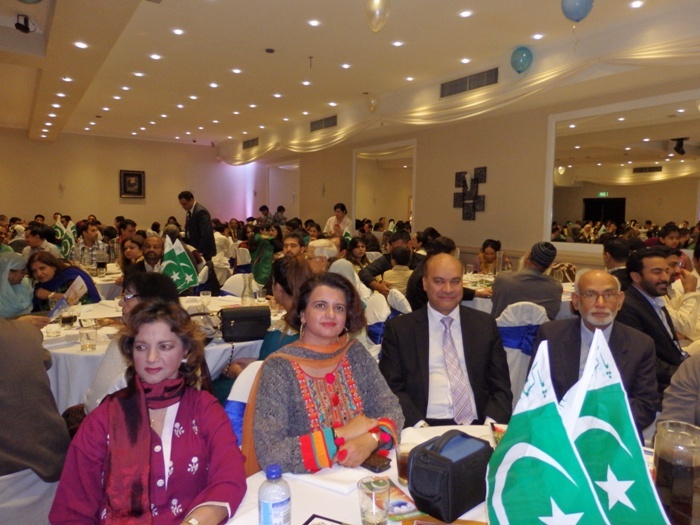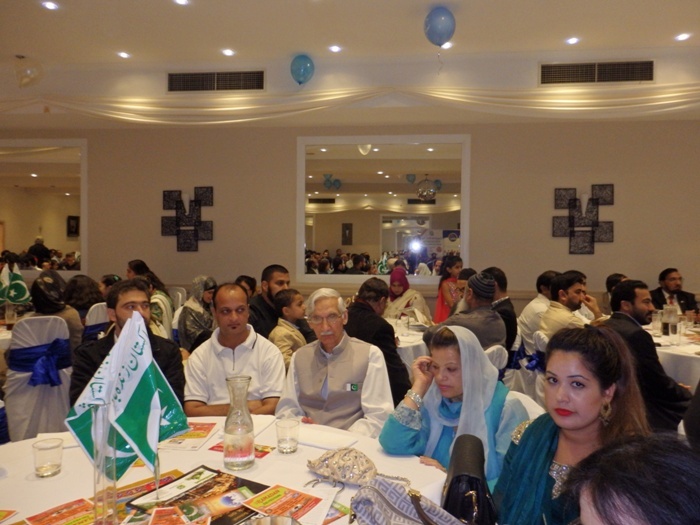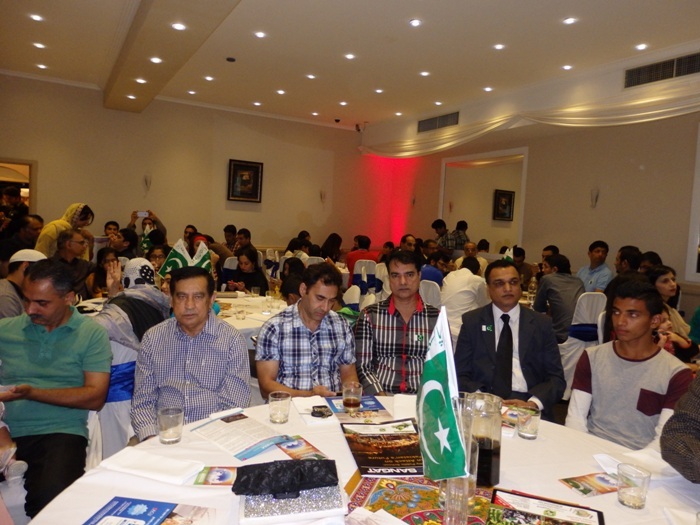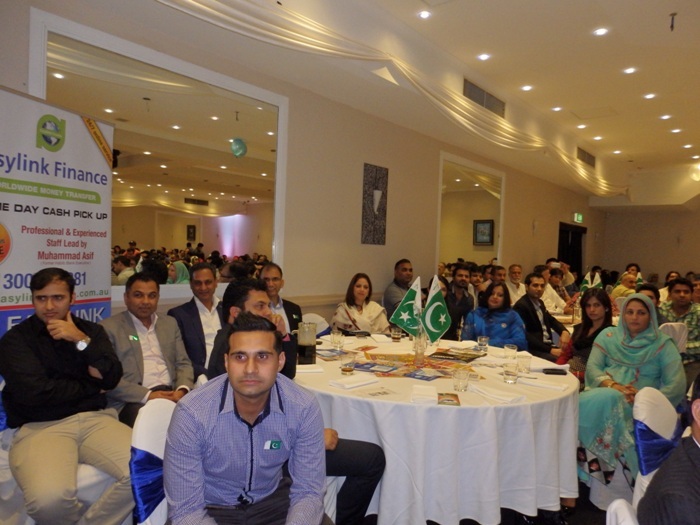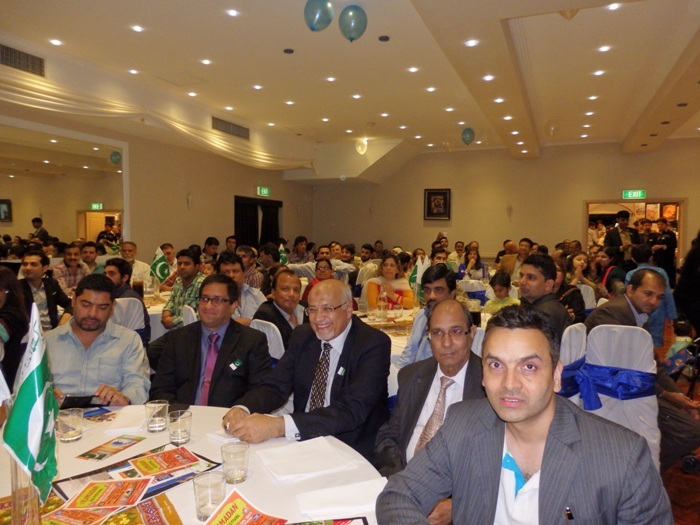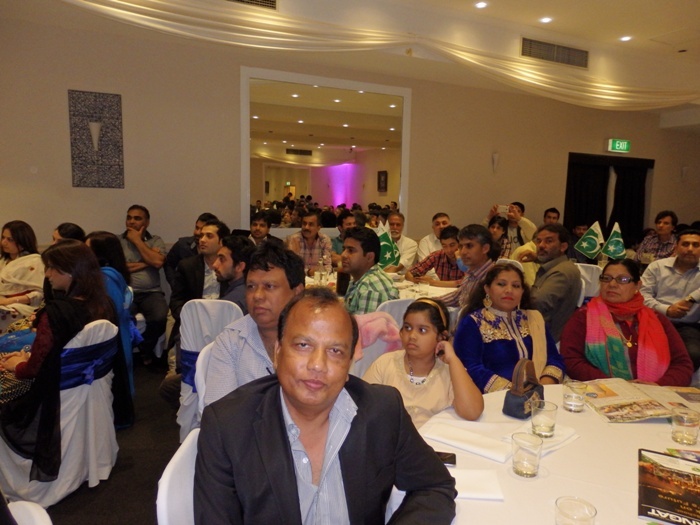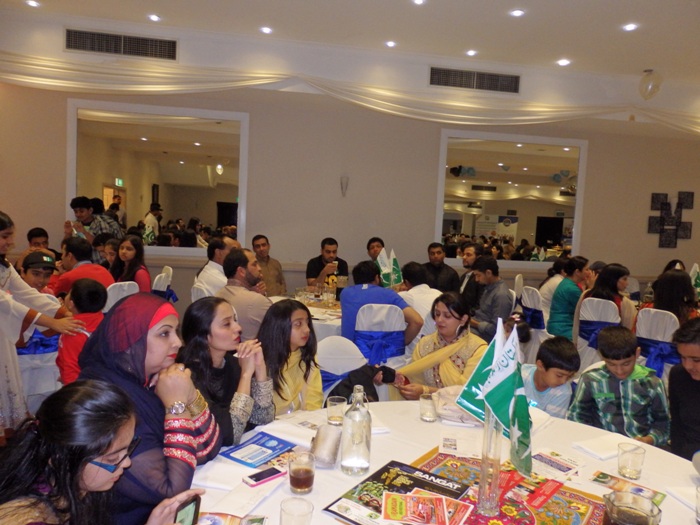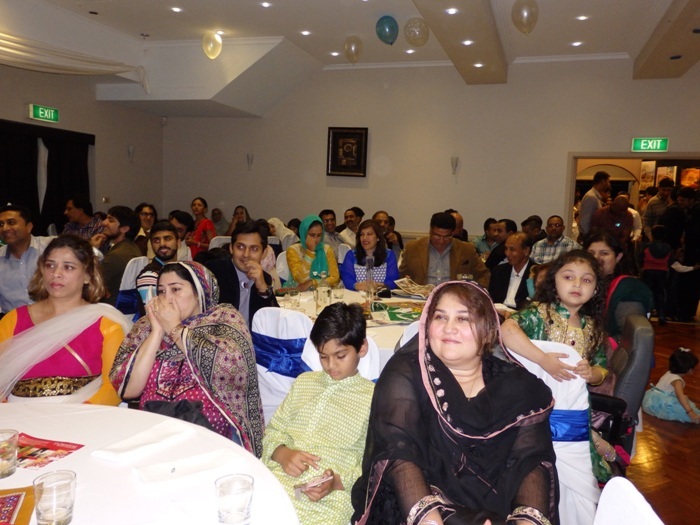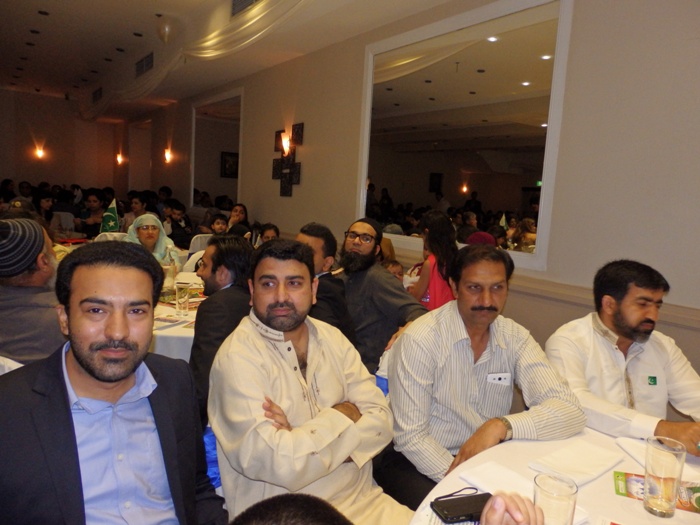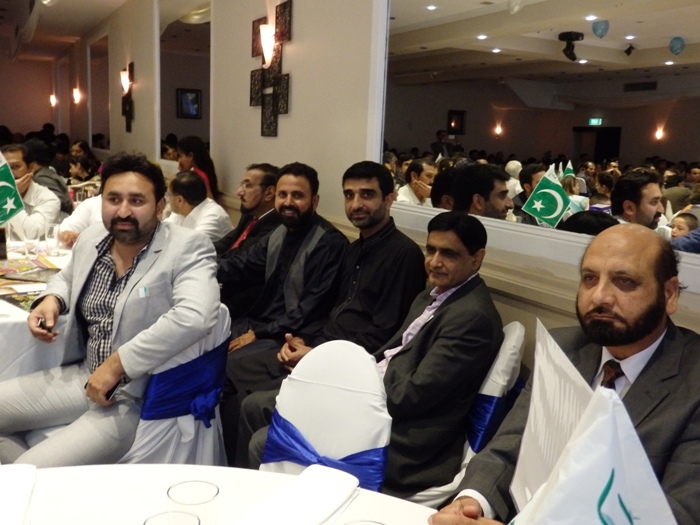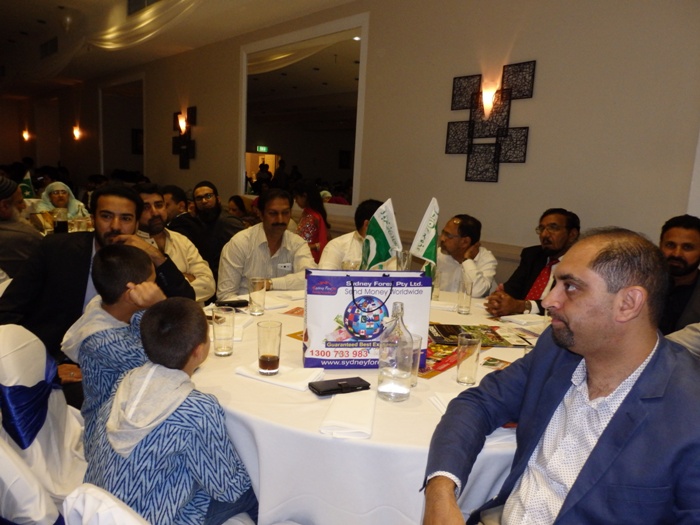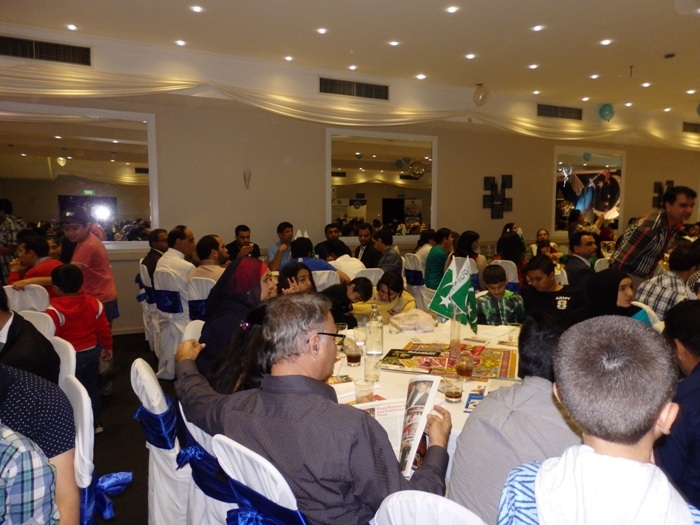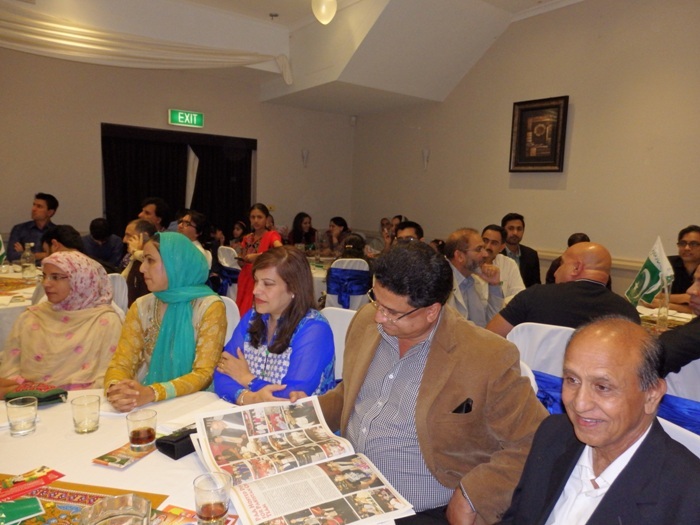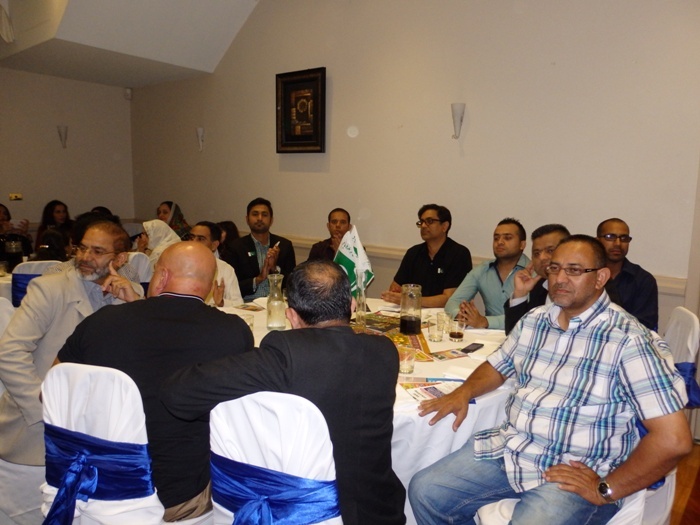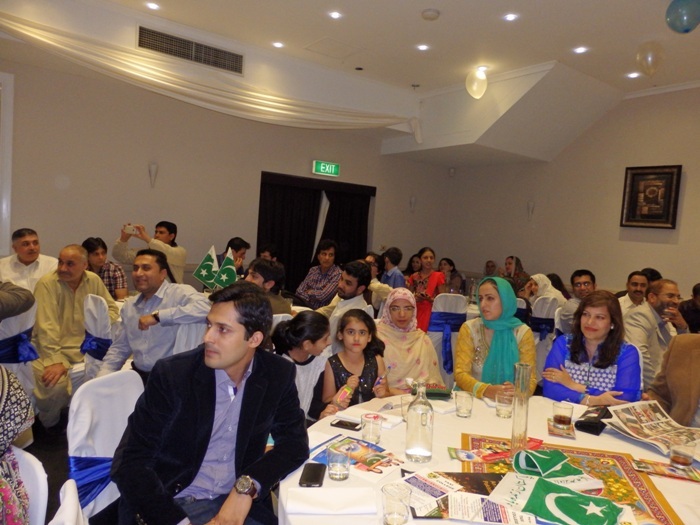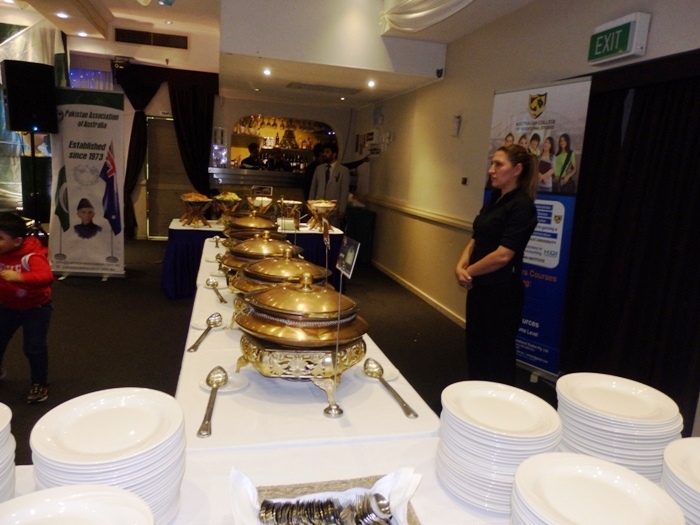 Honourable Dr Mehreen Faruqi MLC and Syed Zafar Hussain Shah
President Pakistan Association Hafiz Shahid, Ustad Shafqat & Raja Taseer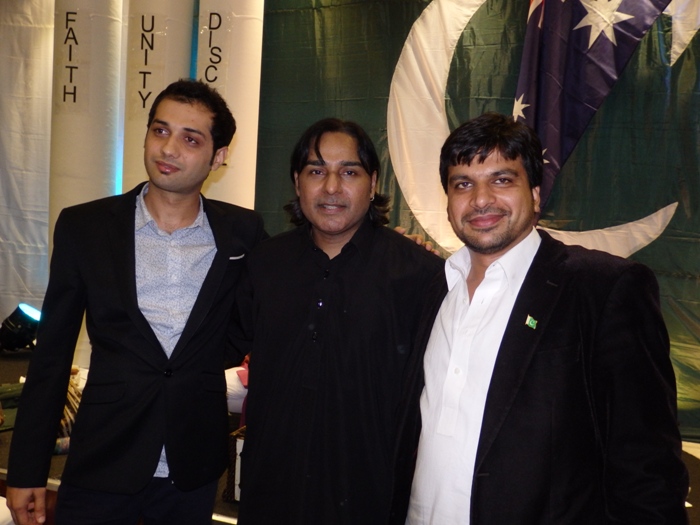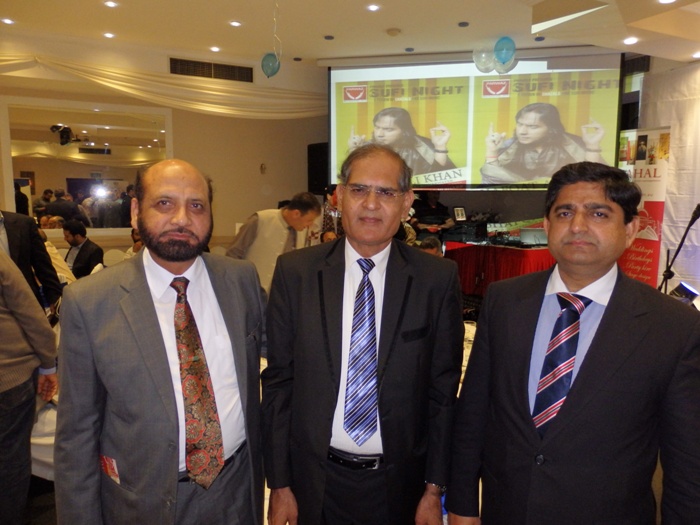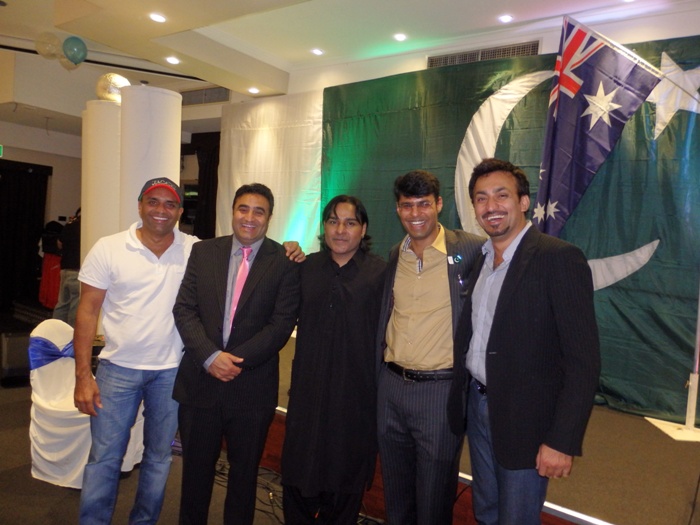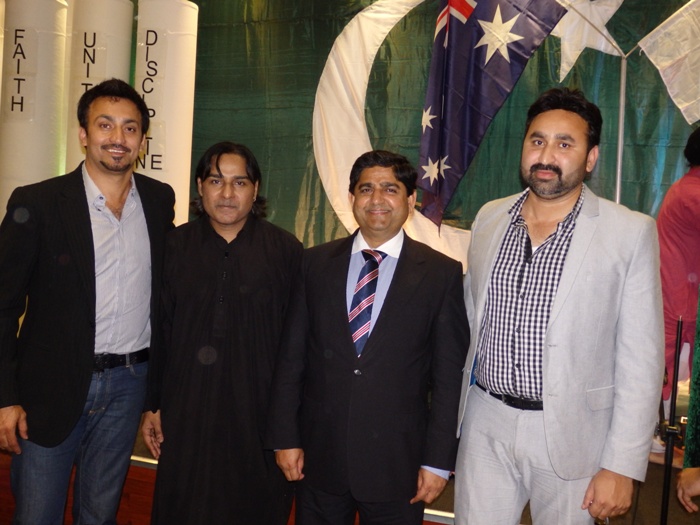 Kamil Khan, Ustad Shafqat Ali Khan, Iftikhar Rana and Rana Hassan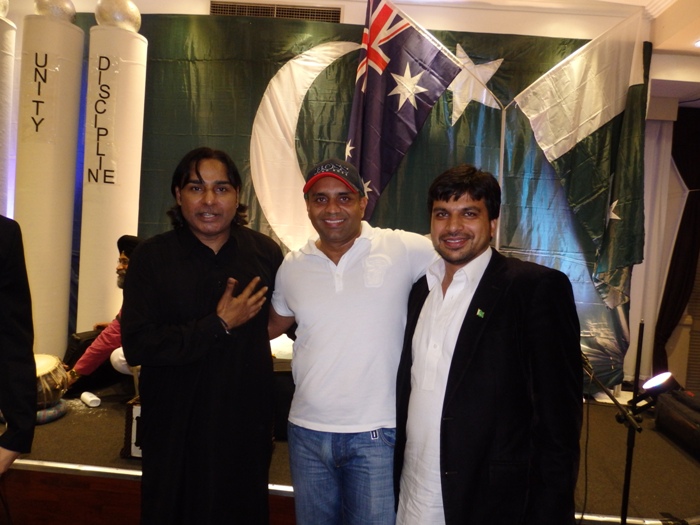 Ustad Shafqat Ali Khan, Shoaib Hanif and Mr Omar of Khan Baba Restaurant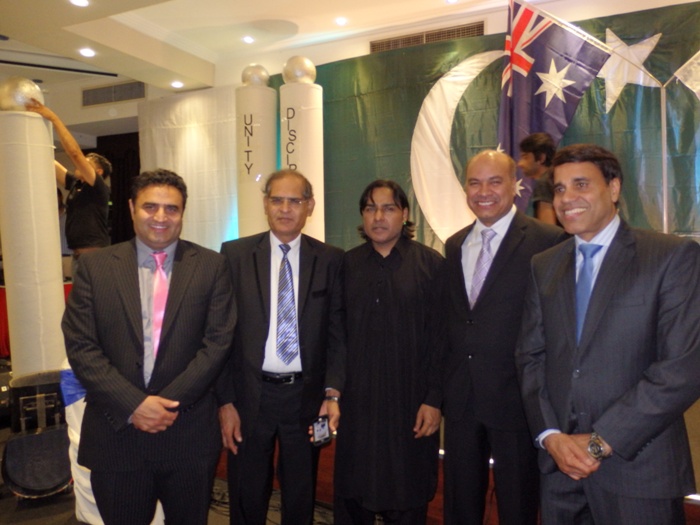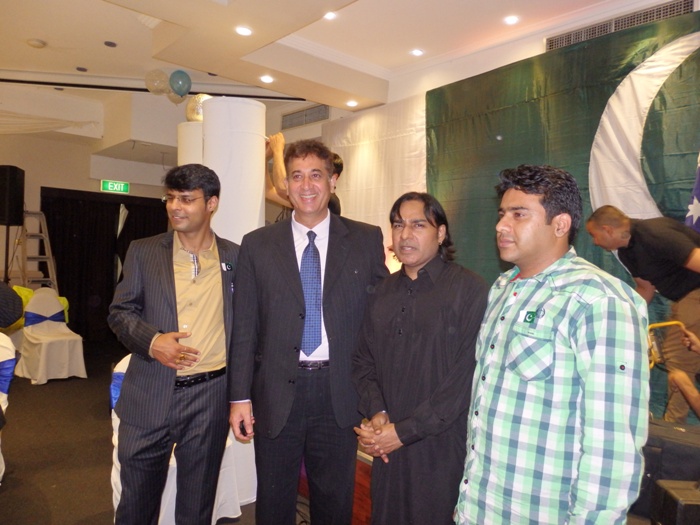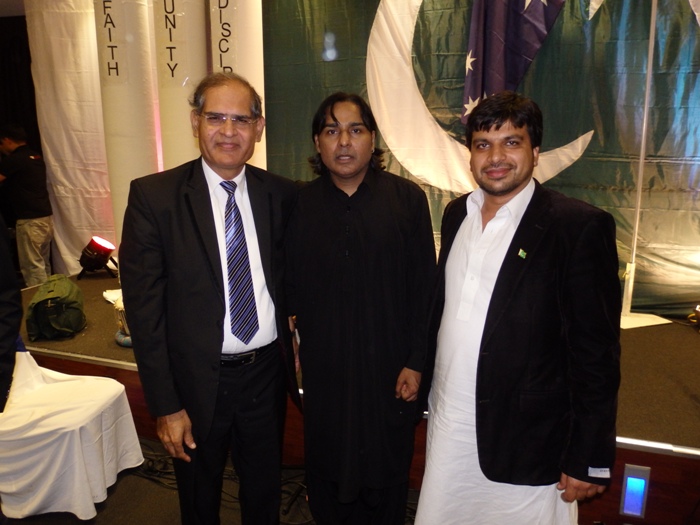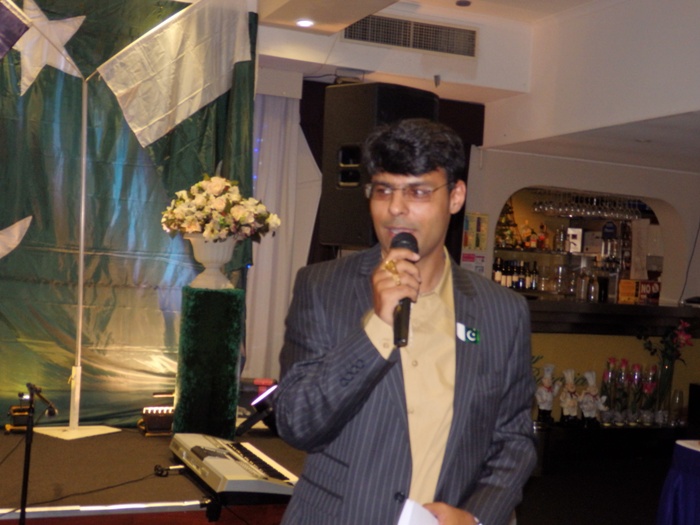 Raja Taseer was MC for the Music and Entertainment session of PAA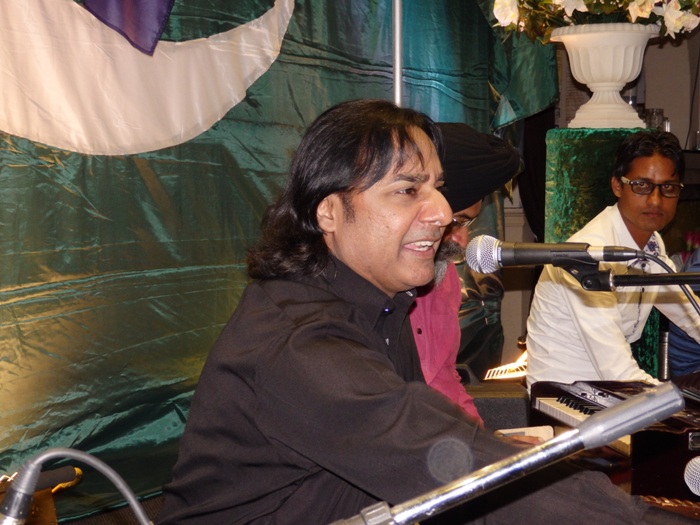 Ustad Shafqat Ali Khan