Sada-e-Watan Sydney ™
sadaewatan@gmail.com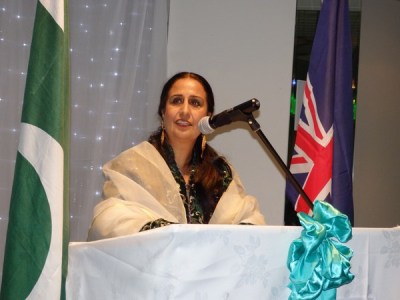 Chief Guest H.E.Naela Chohan
Pakistan Day Celebrations by Pakistan Association of Australia at Bankstown Sydney
The High Commissioner of Pakistan Her Excellency Naela Chohan held a graceful event to commemorate Pakistan Day on 23rd March, 2016 in Canberra, continuing the spirit on 24th March Pakistan Association Australia's President Mr. Abbas Rana organized an elegant and auspicious function at Himalaya Emporium Bankstown Sydney for Pakistani community. The function was attended by a large majority of Pakistani community mostly enriched in green and white Pakistani flag colours' attires.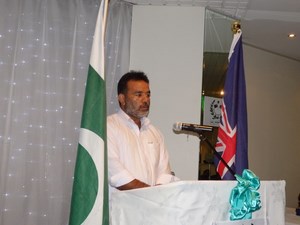 As a norm the event started with a recitation from Holy Quran by Shakeel Khan and contiguous with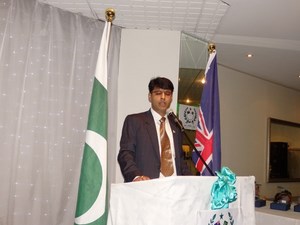 'Hamd a Bari tala' by Pakistan Association's Cultural Secretary Raja Taseer, who mesmerized the whole audience with his amazing voice.
Sharmyn Kayani (a student of Bachelors in Advanced Computer Science, University of Sydney)
took the responsibly of MC with Atif Nisar.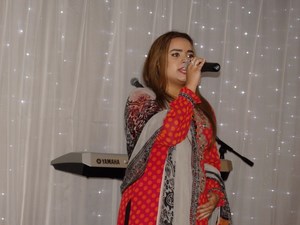 The official ceremony started with National Anthems of Australia and Pakistan by Mehreen Javed (who has completed a Master by Research in Music with Scholarship from Macquarie University). She has worked alongside the Pakistani Association by performing at numerous events.
Following that, a Video Documentary on "Positive and Progressive Pakistan" made by Association was played and appreciated by every one in the audience of its subject, theme and quality of production. The movie was played thrice on the request of the audience. Movie had the award winning national song by legend singer Ustad Mehdi Hassan," Ye watan tumhara hai tum ho pasban is kay" and depicted the successful icons of Pakistan over the years.
The whole hall was glittering with green and white stars and young boys and girls were waving Pakistani and Australian flags and playing with balloons. The official event started with a speech from the President of Pakistan Association Australia,
Mr. Abbas Rana who thanked the honourable guests and furthermore speaking on the occasion stressed the need for Pakistani community to fulfill the dream of Quaid e Azam by uniting all forces together for the progress and prosperity of common Pakistanis in Australia. He proudly stressed the fact that the association in the last six months helped over 100 Pakistanis get different types of jobs and collaborating with other Associations wishes to further enhance this assistance for new arriving Pakistanis. He presented the fact that Pakistan Association swiftly moving forward as an umbrella in-collaboration with other associations in Australia. He reiterated association's full support to the leadership in Pakistan at all levels. Mr. Rana highly appreciated the contribution of Consulate General Mr. Abdul Aziz Uqali towards uniting the community and solving their outstanding issues for decades. His speech motivated the audience so much that they gave Consulate General a standing ovation as a gesture of great respect and honour to him.
Adnan Gill a young beautiful voice sang the National Song, " Ye watan tumhara hai tum ho pasban iskay" the whole hall sang with him with same spirit of Nationalism and Unity, presented by Quid e Azam Mohammad Ali Jinnah.
Honourable MP Tania Mihailuk highly appreciated the immense contribution of Pakistani community in Australia and wished that as they have shown a great progress in the field of education and business, same would be achieved in per capita income too.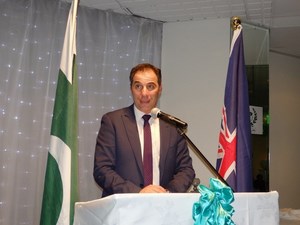 Honourable MP Jihad Dib who is for many years a favourite personality of Pakistani community in Sydney stressed the need that Pakistani community as already being involved in the promotion of business activities in the country should actively involve in working with other communities as well. He appreciated the efforts of Pakistanis in education and said that how can some one improve upon 99.9% or a PhD.
Honourable Federal MP Julie Owens wore Pakistani attire that was appreciated and praised by everyone present on the occasion. She was looking stunning as ever. She prayed for the success of Pakistanis in Australia and offer full support to the community in general.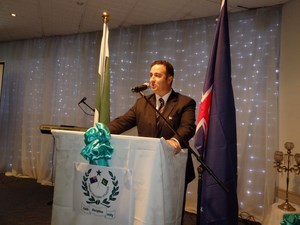 Honourable MP Shaoquett Moselmane who is also an honorary citizen of Pakistan and a great philanthropist involved with many charities has been kind enough to ship wheelchairs to Pakistan in the past and will be planning to do it again this year 2016 and many more years to come InshAllah. He was of the opinion that Pakistan is such a beautiful country with very loving people should have better marketing in the world media. He always cherish his visit to Pakistan.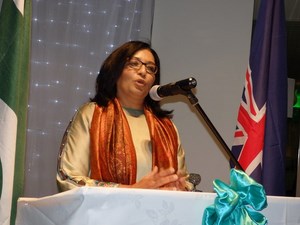 Honourable MP Dr. Mehreen Faruqi was impressive as ever and expressed her pleasure over the amazing show of unity and discipline by Pakistani community present in the hall. She is a source of great pride for the people of Pakistan in Australia as being the first Muslim and Pakistani Parliamentarian in the country.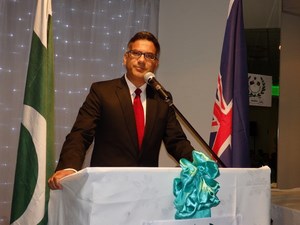 Mr. Abdul Aziz Uqaili Consul General of Pakistan who completed his three years tenure thanked Pakistani community for the love and respect they bestowed on him during his stay. He ensured them that with a new senior role in Pakistan he will keep serving the nation with same enthusiasm. His efforts to change the premises of Pakistani Consulate in Sydney to a much bigger and better place was high appreciated by community. He was very happy that he is not only leaving great memories but a very positive legacy behind him.
Then Sharmyn invited Chief Guest Her Excellency Naela Chohan on the stage to share her thoughts of the day with the audience.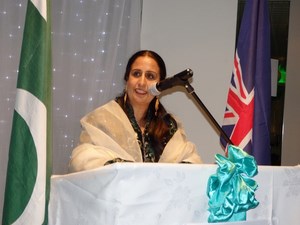 She reiterated the fact that High Commission Office Canberra is always there to support and help all Pakistanis in Australia without any differentiation. She congratulated the President Mr. Abbas Rana & executive team of PAA over organizing such a grandeur function with Pakistani colours' ambiance. She has a pristine and elegant personality that impressed everyone present.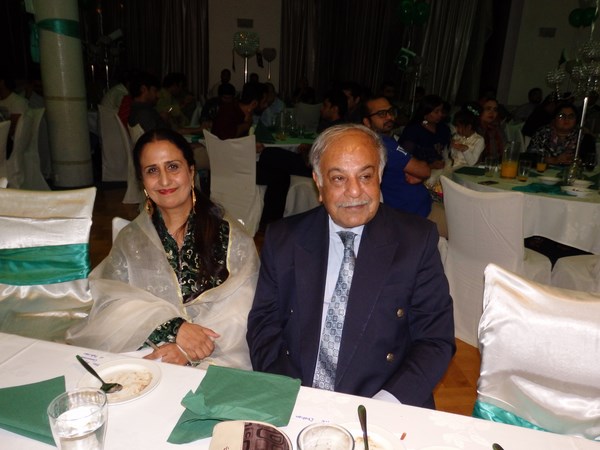 She was accompanied by her loving husband Ambassador (R) Musa Javed Chohan.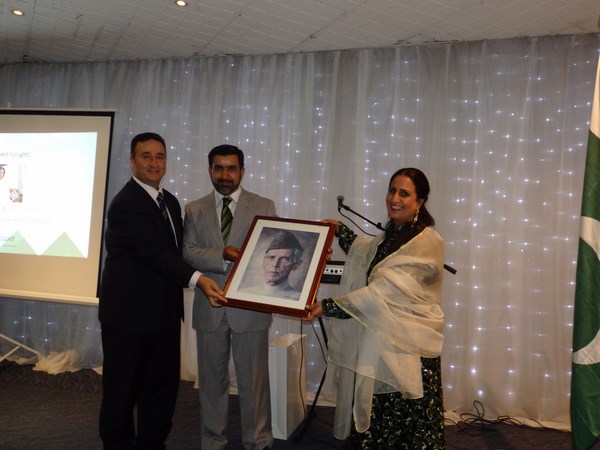 The High Commissioner H.E. Naela Chohan presented a portrait of Founder of Pakistan Quid-e-Azam to the Hon. Shaoquett Moselmane MLC and appreciates his Great services for Pakistan. Honourable Shaoquett Moselmane will Place Quaid-e-Azam's photo at his office at the Parliament House NSW. The High Commissioner brought this special unique gift with her from Canberra.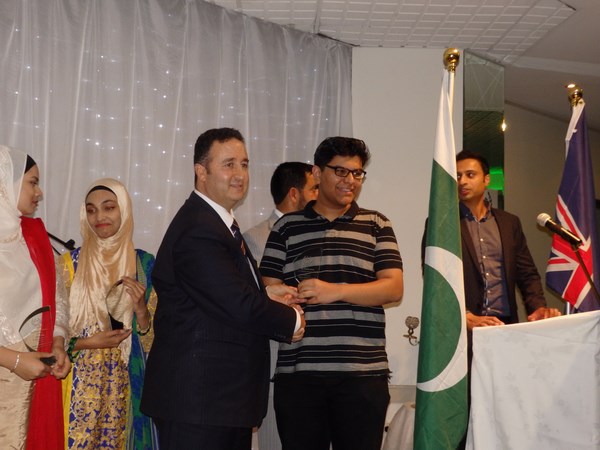 Association last year took the initiative and started appreciating and recognizing outstanding Pakistanis in the field of Education. The segment was highly appreciated by all sections of community as a great step. Atif Nisar Vice President Pakistan Association announced the Star Awards for the young boy and girls who secured over 90% in the HESC exams this year. Zobia Shahid Khan 99.90, Hafza Baig 94.55, Kinaat Syed 93.50 and Danyal Asalm with 90% secured the award.
The last award of Pride of Pakistan – Excellence Award was accorded to Dr. Khurram Kayani for his outstanding achievements in the field of education. Award was granted to recognize contribution in the field of Education as being the first Pakistani to receive PhD with Distinction and Outstanding Alumni Award from a Leading Australian University (Macquarie). He also received GMS Award from Commonwealth Bank Australia and Prime Shield Award from BHP Biliton. His book " Bringing Back the Profitable Golden Days' achieved Best Seller status on Amazon Int. He is one of the Leading eLearning Solutions Providers in the world and spoke on three conferences on 'Digital eWorld' concept this year. His Case Studies on Strategic Management are taught in five Universities in Australia. Her Excellency Naela Chohan High Commissioner presented him the award.The award ceremony followed by a lavish dinner specially prepared by Himalaya Restaurant for the occasion.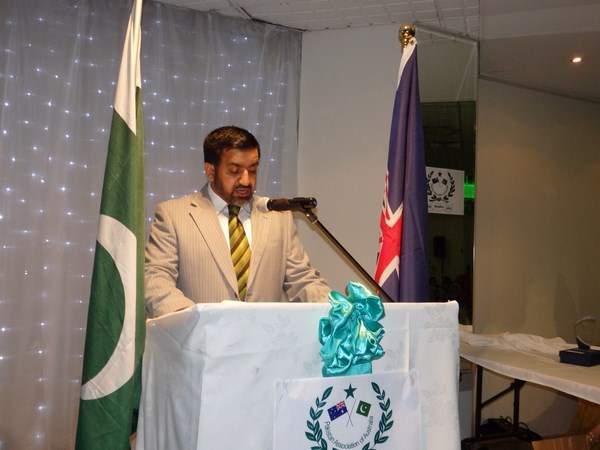 Once again at the end, the President Mr. Abbas Rana personally visited each and every table of guests and thanked Pakistani community for their support to the Association and specially in holding successful events. Also appreciated the support of Association organisation team and sponsors, without their support the function was not a possibility. The hall clapped for the Association team and sponsors for many minutes to acknowledge their great efforts and support over the year to Pakistani community.