Sada-e-Watan Sydney ™
sadaewatan@gmail.com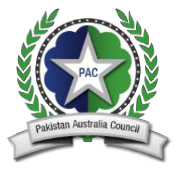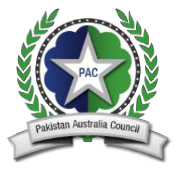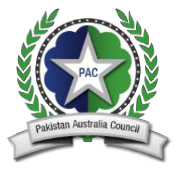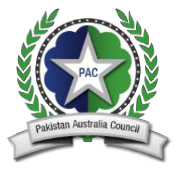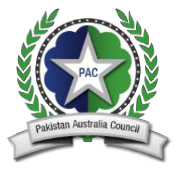 Pakistan Australia Council (PAC) hosted a dinner for outgoing CG Uqaili and New Consul General of Pakistan Mr. Yousafani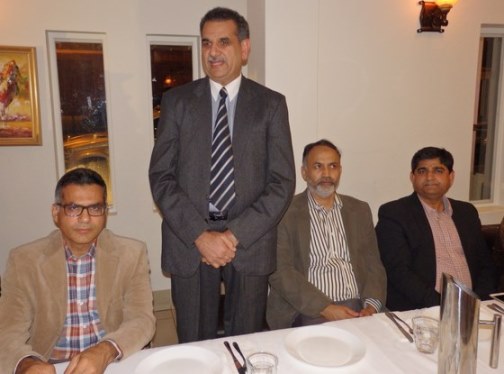 Dr. Shahbaz Choudhary, President Pakistan Australia Council
On Sunday, 17th July 2016, Dr. Shahbaz Choudhary, President Pakistan Australia Council hosted a dinner at Spice of Life Restaurant, Harris Park Sydney. The purpose of this function was Goodbye to the outgoing CG Abdul Aziz Uqaili and Welcome New Consul in Sydney Mr Abdul Majid Yousafani who is posted in Australia for 3 years tenure. Mr. Ashraf Chohan was MC of the event.
The host of the evening recently elected President PAC Dr. Shahbaz Choudhary welcome New Consul General Mr Abdul Majid Yousafani and appreciates services of former CG Abdul Aziz Uqaili. Mr. Yousafani and Mr. Uqaili thanks Dr. Shahbaz Choudhary for arranging community event and express their Best wishes for Australian Pakistani Community.
Transcript speech of the Former President of PAC Mr. Iftikhar Rana
Former President of PAC Mr. Iftikhar Rana
My Dear friend Dr. Shahbaz Choudhary Sahib, President PAC
Thank you very much Dr. Sahib, your commitment to our community is evident as despite your busy schedule once again you have come down from Melbourne.
New Consul General of Pakistan in Sydney Abdul Majid Yousafani, Outgoing CG Mr. Abdul Aziz Uqaili, Bushra Salam, Deputy Consul Sydney,
Respected Elders and fellow Community Brothers,
Good Evening and Asalam Alaikum,
On behalf of the Australian Pakistani Community, PAC, I would like to welcome you all, particularly our special guest Mr. Abdul Majid Yousafani and Abdul Aziz Uqaili.
Firstly I would like to welcome Mr. Abdul Majid Yousafani as the New Consul General in the Sydney, I hope Mr. Yousafani, you will meet the expectations of the Pakistani community in Australia and improve aspects of the Consulate services.
We have high expectations from Mr. Yousafani as we did from all previous Consulate Generals. With your vast background and knowledge, we hope you will coordinate along with the business forum to establish and improve bilateral relationships. Also interact with Pakistani community and provide new opportunities.
It is a tradition of our Association/Council to hold events that allow members of the community to meet respected names in the Australian Pakistani community. Pakistan Australia community in Australia is well placed in this society and has contributed widely to Multiculturalism in Australia.
As Australian Pakistani's we have upheld our cultural and religious values while integrating with the Australian multicultural society. Over the years the Pakistani community in Australia has grown and with over 60,000 Pakistani origin Australians in Australia, our contribution to the Australian economy and society is widely recognized by the authorities. Our contribution is well acknowledged particularly in the professional fields of medicine, law, education, finance and IT.

In the business sector Pakistanis are well established in importing, retail and service sector. As well as that, our contribution is widely in providing security and public transport. Our Community is passionate not only about our adopted country but equally so with our country of origin. We always like to stay in touch with our roots. Thus, whenever we get the opportunity to meet an important delegations or dignities, we always endeavour to inter-act.

We work in total harmony with the Australian community and keep close and cordially establish rapport with the local community and the parliamentarians. The relationship between the Association and parliamentarians of NSW and Australian Parliament is evident through numerous events we hold and attend annually.
Whenever Pakistan is in need of help the Australian Pakistani community always endeavours to assist as best as we can. The Earthquake in 2008, or the flood in 2010 are examples of two events we stepped in and arranged 14 containers of goods and over 2.4 Million dollars were raised through different channels to support our home country.
Today is also a very special night as we are saying farewell to our good friend Mr. Abdul Aziz Uqaili.Dear Uqaili Sahib, during your tenure of service as Consul General, your response to your community has always been positive and friendly.
Dear Friends, Now that Abdul Aziz Uqaili is departing from us, we hope that he shall remain in touch and visit us sometime in the future. He will always be welcomed here.
Please join me in congratulating him for his distinguished services, and friendly gestures shown towards all of us in the Australian Pakistani Community.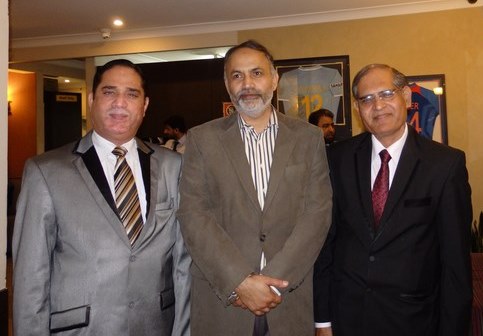 Javed Hussain, New CG Mr. Yousafani and Zafar Hussain
I would like to acknowledge the support and great contribution of, Sada-e- Watan Sydney. Most individuals in media work hard for business purposes. The only person that does not have a business purpose rather is a man who helps the community whenever they are in need is Mr. Syed Zafar Hussain.
Once again on behalf of Australian Pakistani Community, I sincerely thank you all and pray that May Allah's blessings be with you and your family.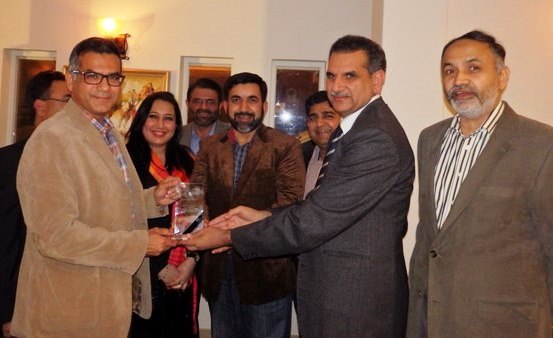 In the end, I would like to invite President PAC Dr. Shahbaz Choudhary for presenting appreciating shield to Abdul Aziz Uqaili.
Thank you and Allah Hafiz.
Ashraf Chohan speaking about the activities of PAC