Sada-e-Watan Sydney ô
sadaewatan@gmail.com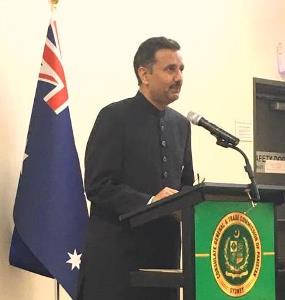 CG Muhammad Ashraf
Consulate General of Pakistan arranged Flag Hosting Ceremony in Ponds Sydney
A Flag Hoisting Ceremony was organised by the Consulate General of Pakistan Sydney at a local community centre to celebrate the Independence Day of Pakistan on 14th August 2022.The Ceremony was attended by a large number of Pakistani diaspora in Australia. The Consul General Mr. Muhammad Ashraf began the proceedings with hoisting of the National flag. The flag-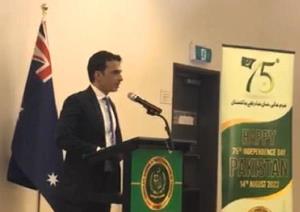 MC: Mr. Sheryar Khan
hoisting was followed by a brief commemorative event. Messages from the President and Prime Minister of Pakistan were read out. The Deputy Consul General of Pakistan Mr. Sheryar Khan was MC of the celebration.
Consul General Mr. Ashraf
The Consul General Mr. Ashraf thanked the audience for attending the Ceremony in large numbers. He said that Pakistan Independence Day was commemorated to pay homage to the founding fathers of Pakistan whose services and sacrifices led to the creation of a separate homeland for the Muslims of the sub-continent.
Consul General Mr. Muhammad Ashraf appreciated Australian Pakistani Community positive activities and Congratulates all on the occasion of Independence Day.
The Legend Actress of Pakistan Uzma Gillani read a exclusive story about the Pakistan and called upon the community to understand and follow Quaid-i-Azamís principles of Unity, Faith and Discipline in letter and spirit. She said that our identity remains Pakistani no matter where we go in the world.
The Ceremony concluded with the prayers for the prosperity and security of Pakistan. The audience also enjoyed Pakistani traditional breakfast.
CG Pakistan: Muhammad Ashraf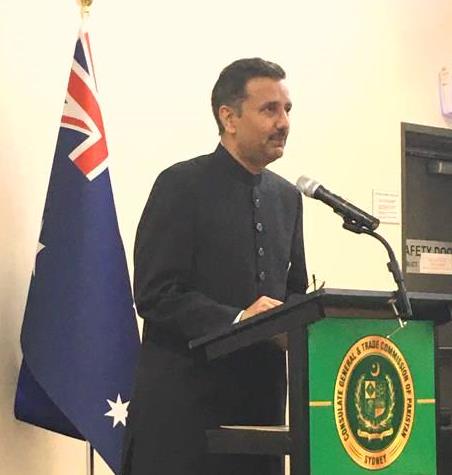 The Consul General Mr. Muhammad Ashraf
Deputy Consul General Mr Sheryar Khan
Uzma Gillani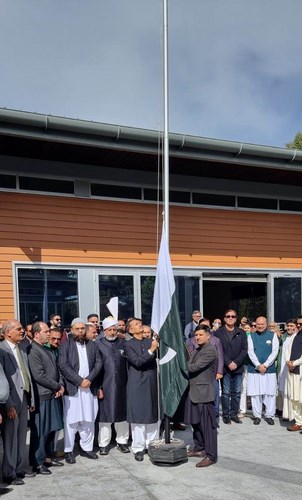 Flag hoisting by CG Muhammad Ashraf
]
Uzma Gillani and Consul General Muhammad Ashraf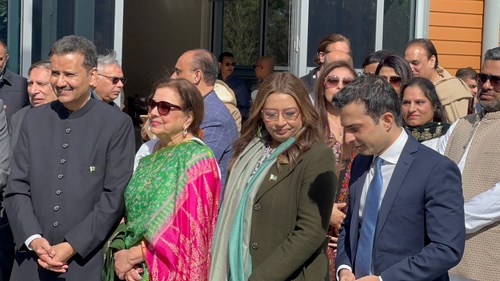 CG Muhammad Ashraf, Uzma Gillani, Senator Mehreen Faruqi and Sheryar Khan
Mr Ali Chohan and Muhammad Imran Shahid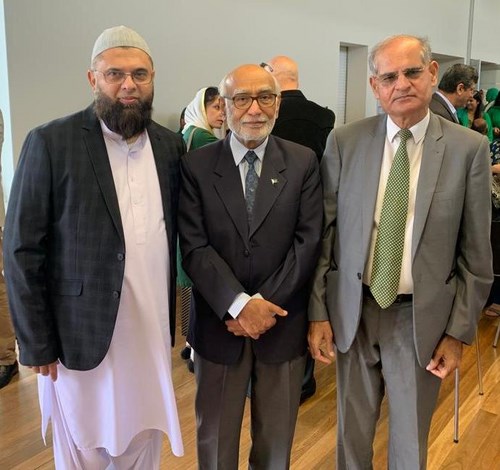 Hafiz Imran Khan, Former Consul General Ejaz Ahmad and Syed Zafar Hussain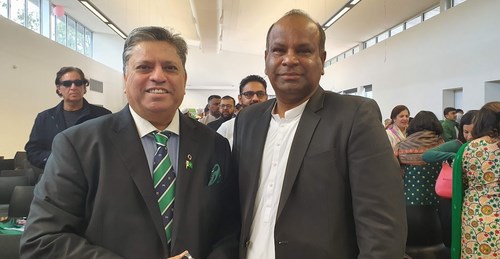 Dr Khurram Kayani and President PAA Mr Farhat Jaffri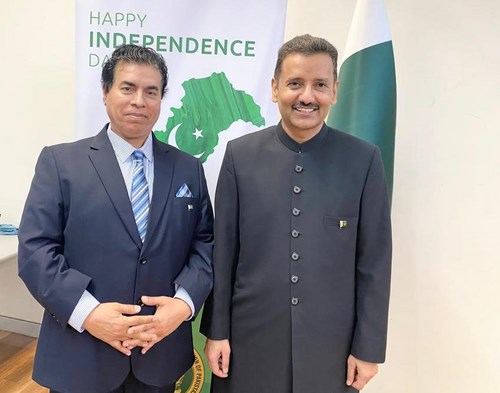 Raja Abdul Hameed and Consul General Muhammad Ashraf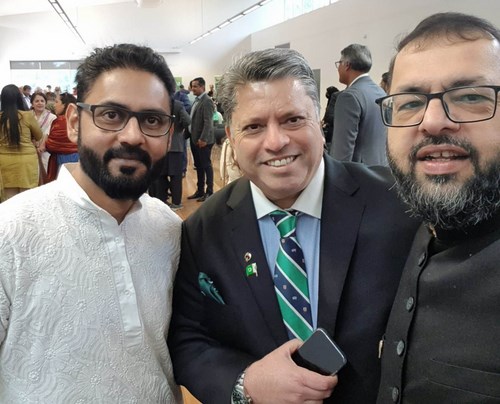 Mr Ali Chohan, Dr Khurram Kayani and Munir Mohammad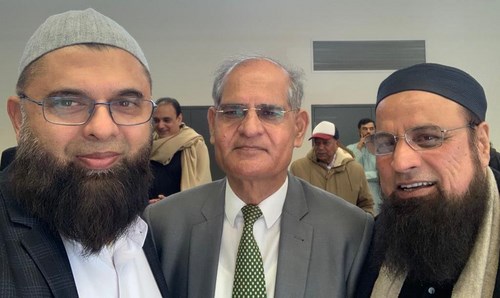 Hafiz Imran Khan, Syed Zafar Hussain and Javed Nazar
Haji Shabbir Iqbal and Syed Zafar Hussain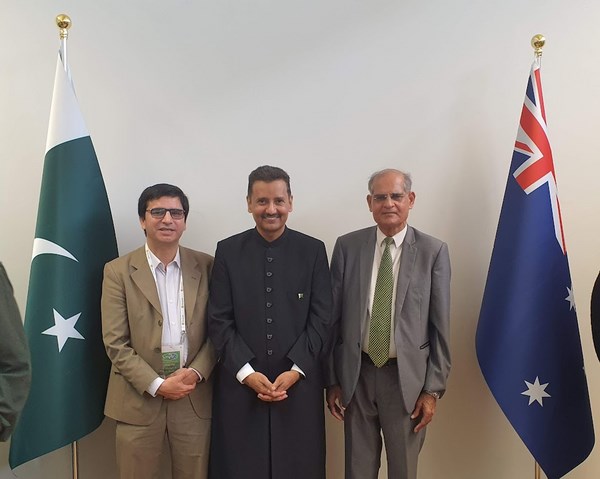 Shafqat Ali, Consul General Muhammad Ashraf and Syed Zafar Hussain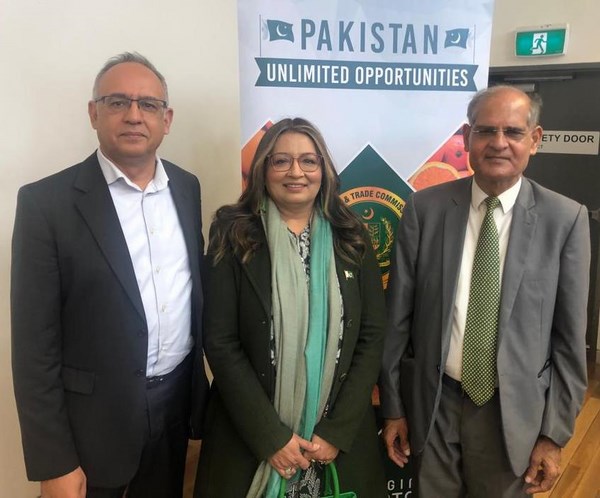 Mr Omar Faruqi, Hon. Senator Dr Mehreen Faruqi and Syed Zafar Hussain
Deputy Consul General Sheryar Khan with staff of Pakistan Consulate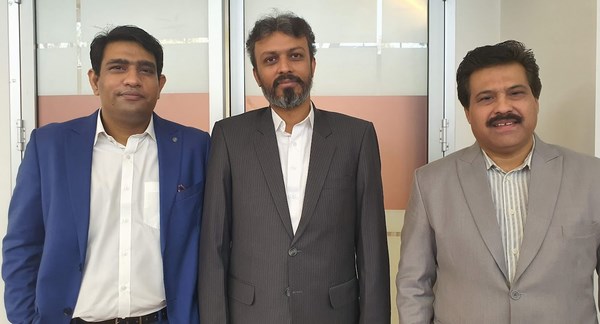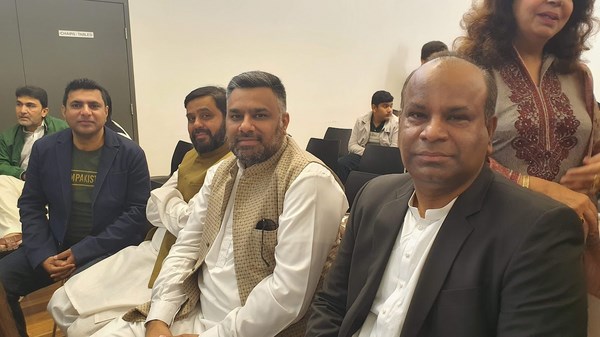 Zulfiqar Ali, Zeeshan Khan, Najeeb Hassan and President Farhat Jaffri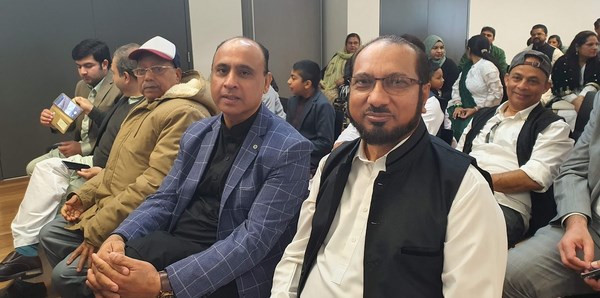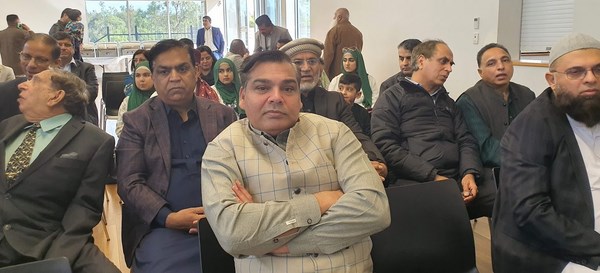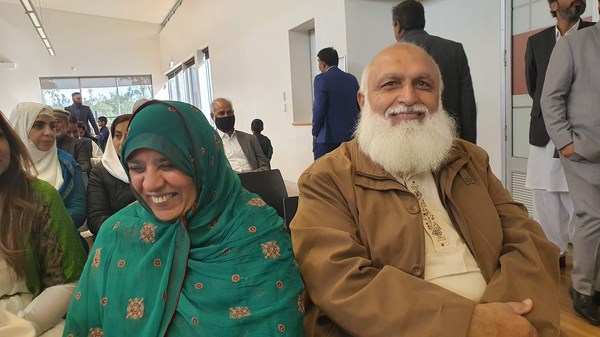 Begum Akhlaq Ramay and Mr. Akhlaq Ramay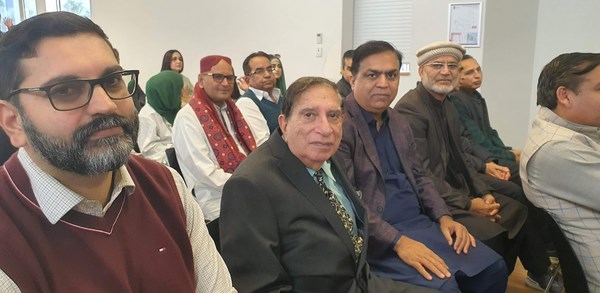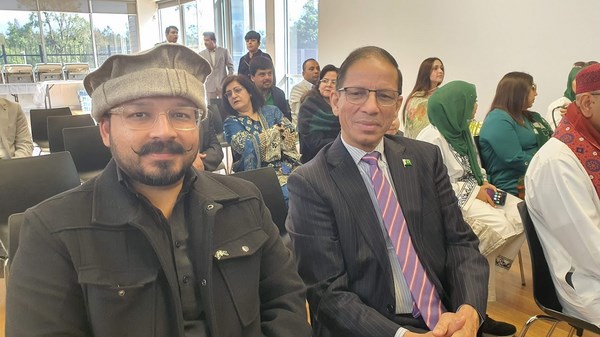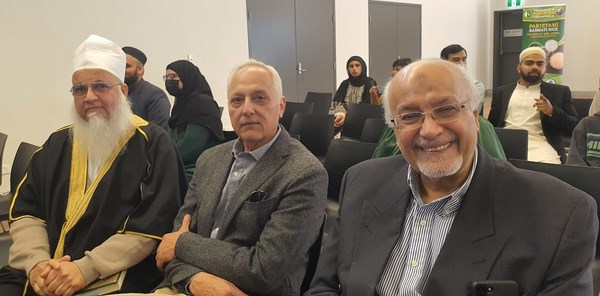 Maulana Nazeer ul Hassan Thanvi, Ejaz Paracha and Zain Sharif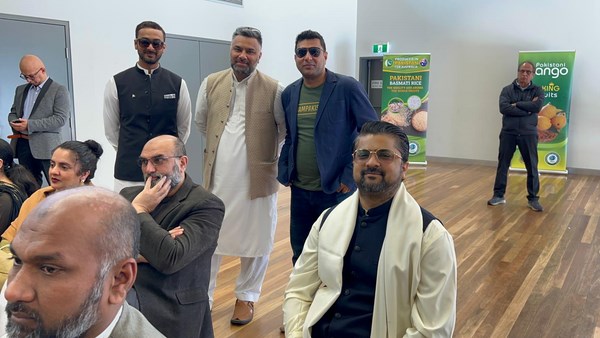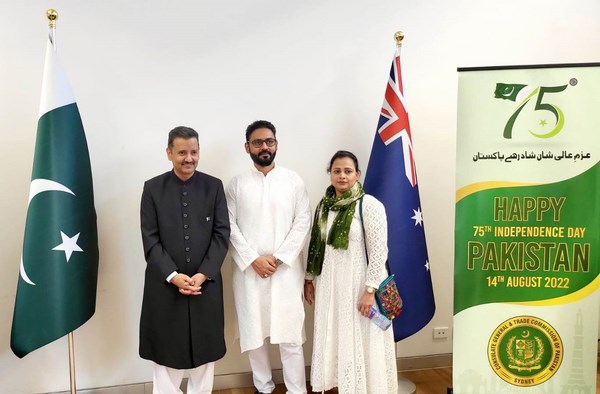 CG Muhammad Ashraf, Mr Ali Chohan and Mrs Ali Chohan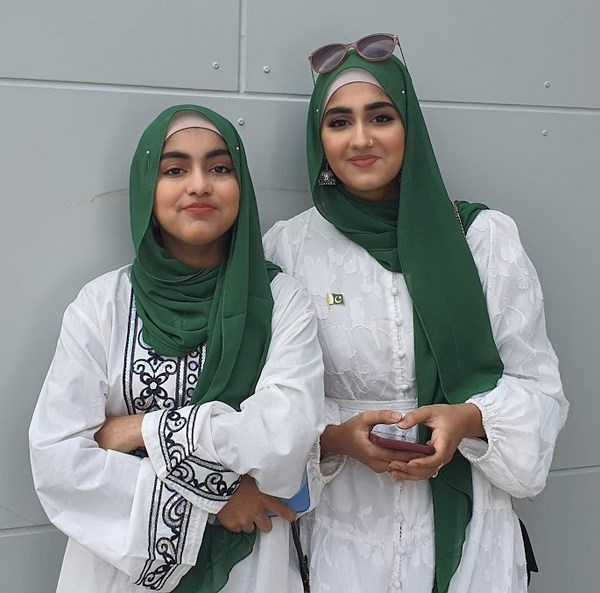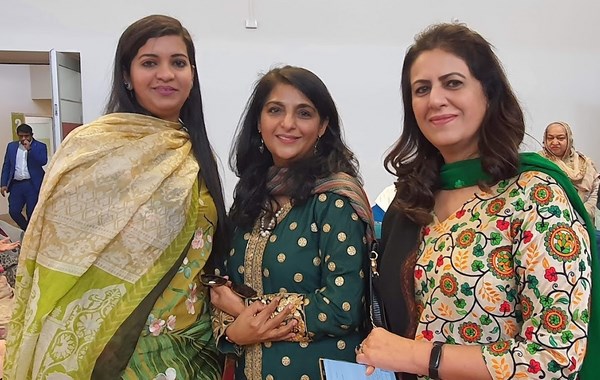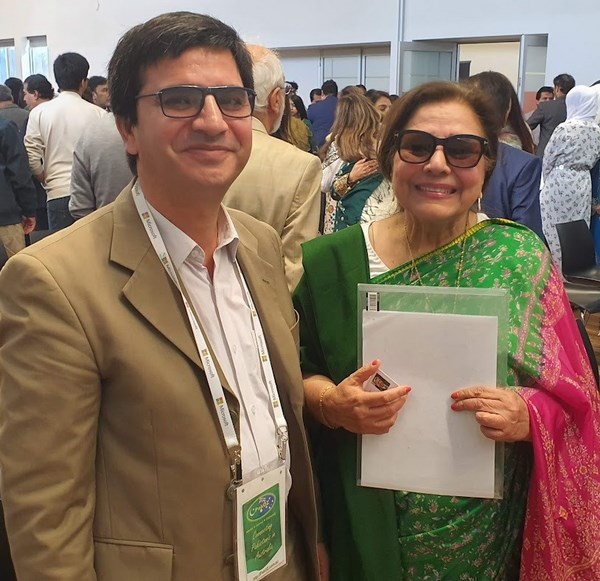 Mr Shafqat Ali and Uzma Gillani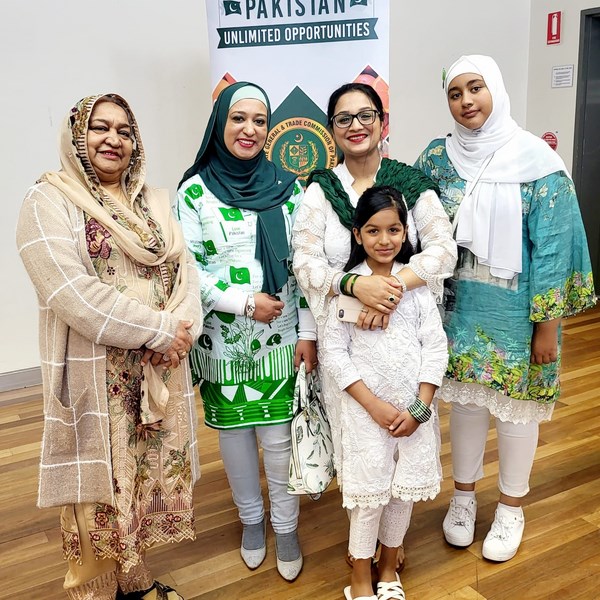 A family Group Photo of Mrs. Rukhshanda Zaman
Ashraf Chohan, Haji Shabbir Iqbal, Hanif Muqaddam and Hafiz Imran Khan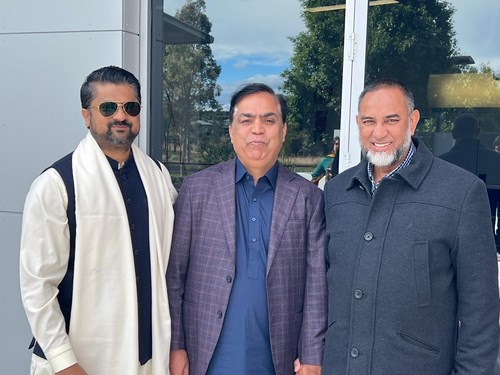 Hafiz Hamid Saroha, Ch Shakeb Amer and Mr Afroz Shaheen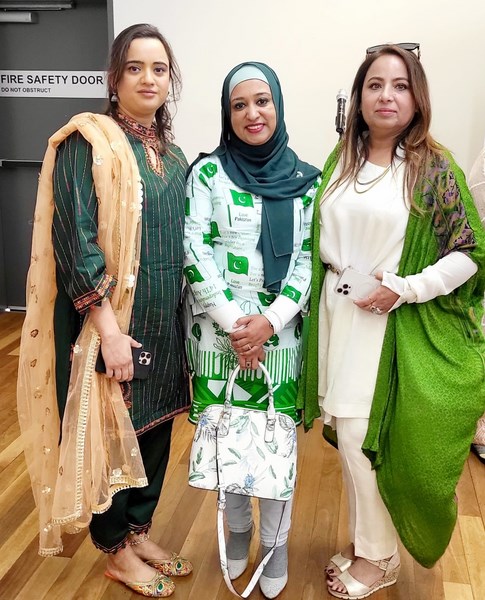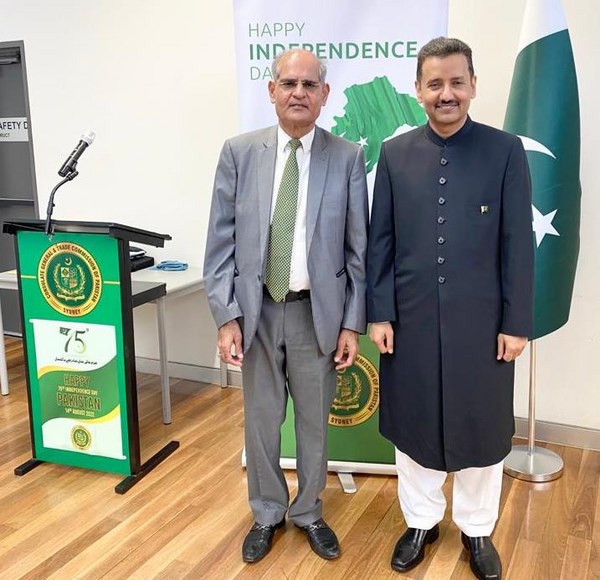 Editor-in-Chief Sada-e-Watan Syed Zafar Hussain and Consul General Muhammad Ashraf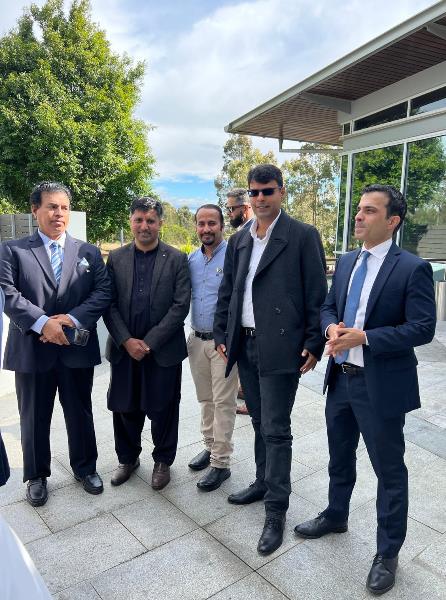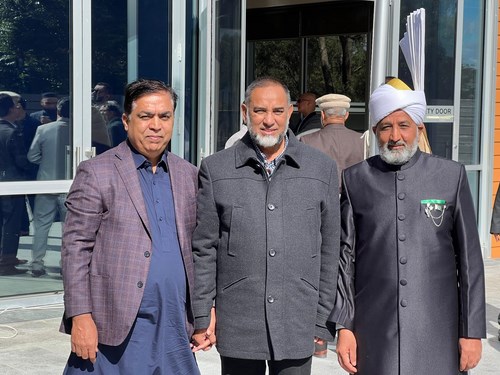 Ch Shakeb Amer, Mr Afroz Shaheen and FatehUllah Butt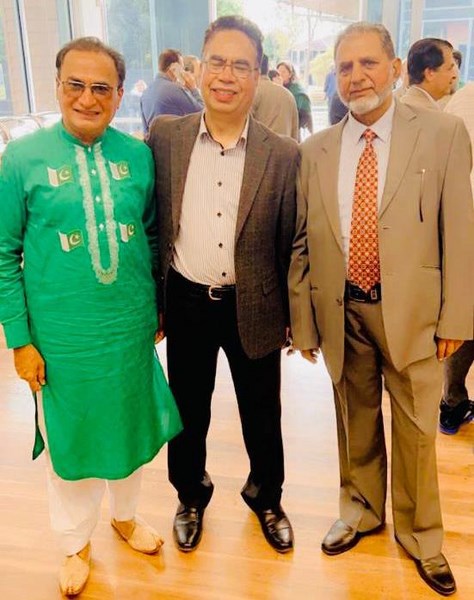 Hon. Senator Dr Mehreen Faruqi and Syed Zafar Hussain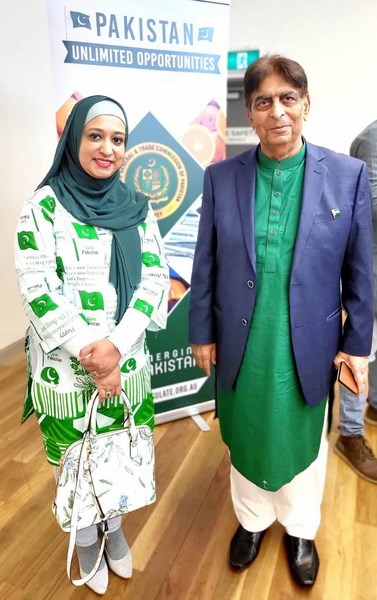 Mrs. Rukhshanda Zaman and Mr. Bashir Malik
Mr Hamid Saroha, Raja Taseer and Mr Khalid Saroha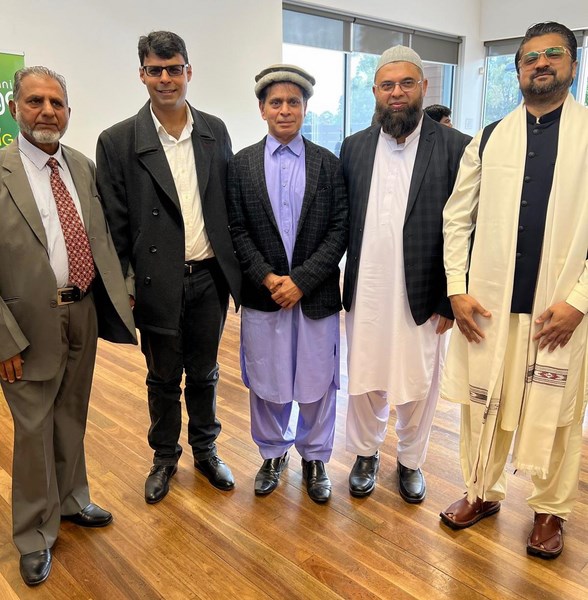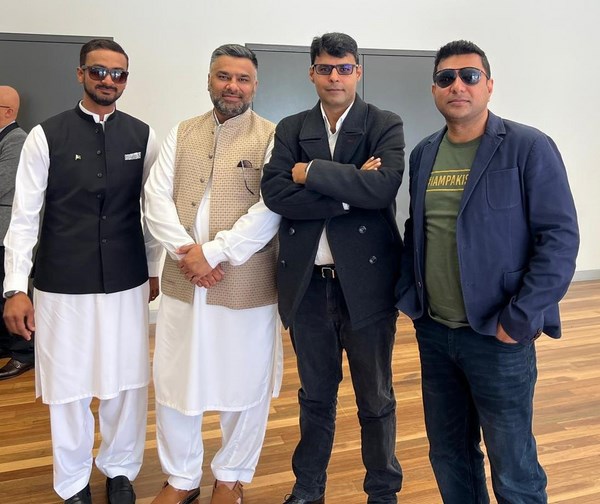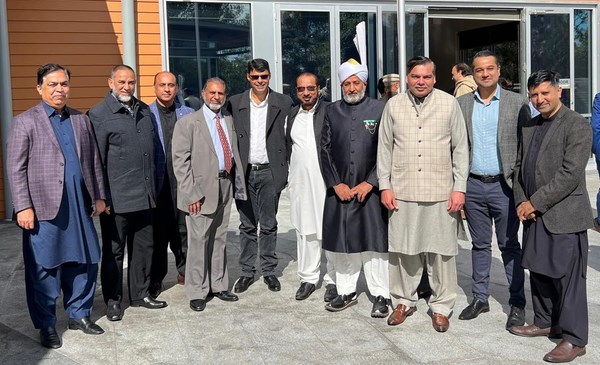 Haji Shabbir Iqbal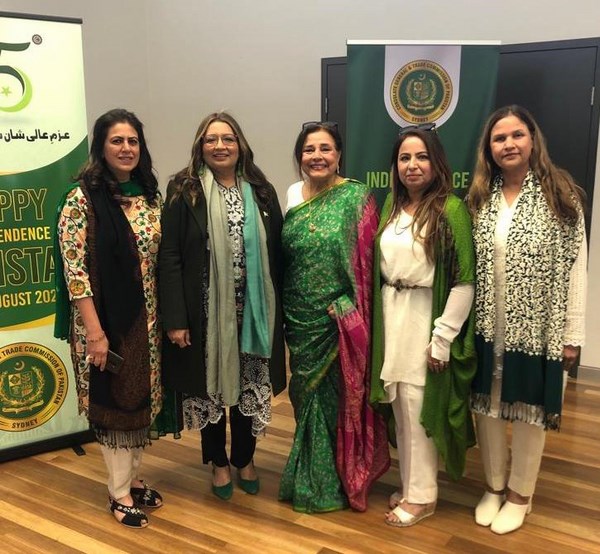 Dr Aila Khan, Hon. Senator Mehreen Faruqi, Uzma Gillani and Meena Rahat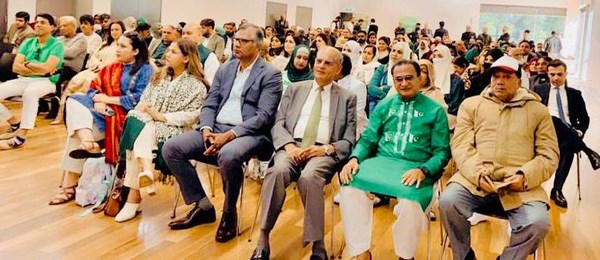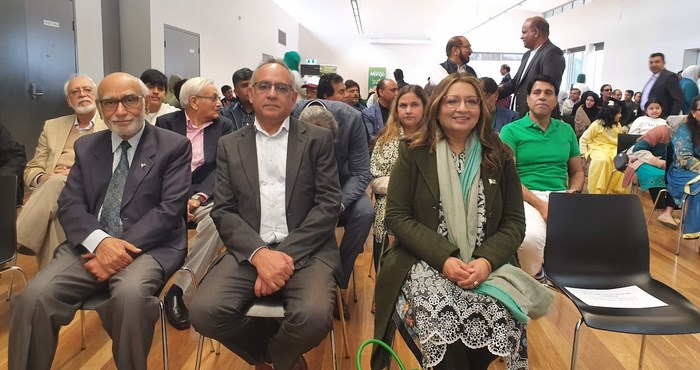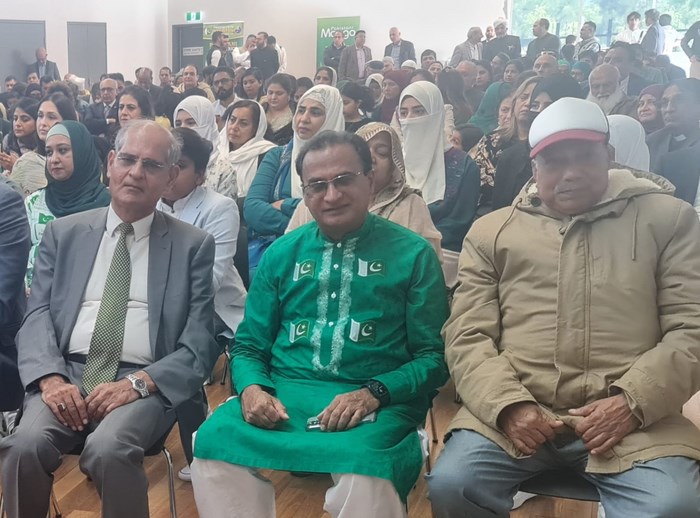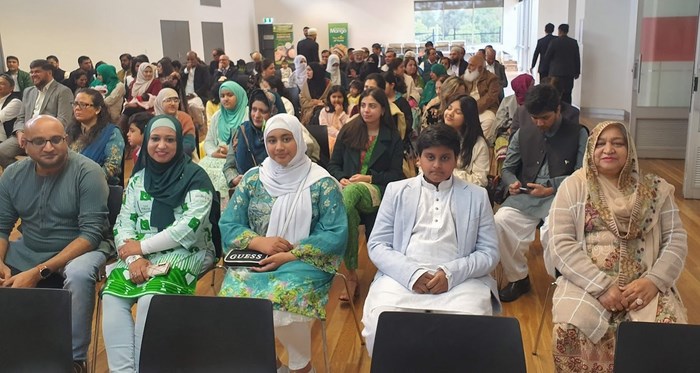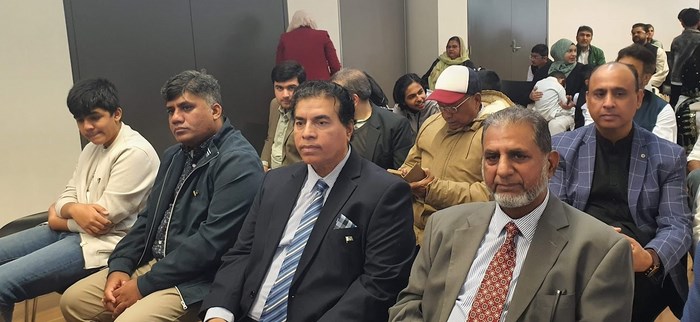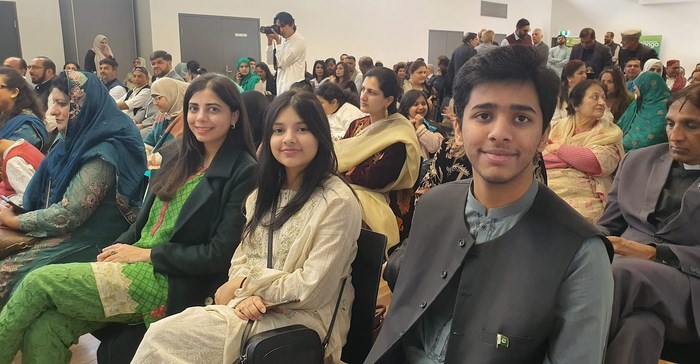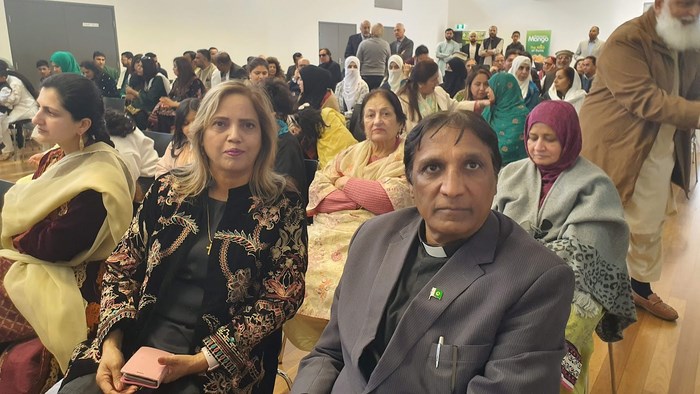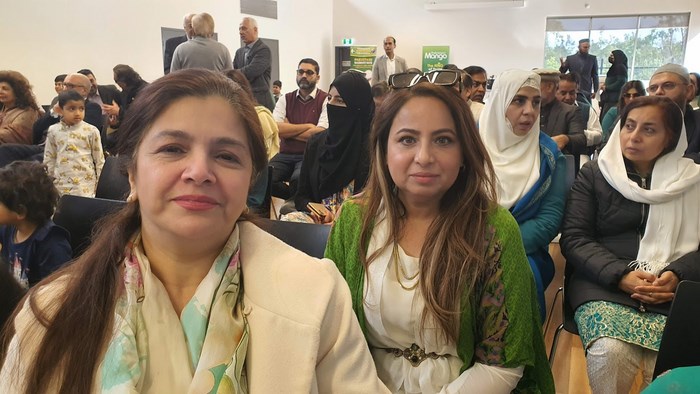 Begum Dr Humera Kayani and Maha Kan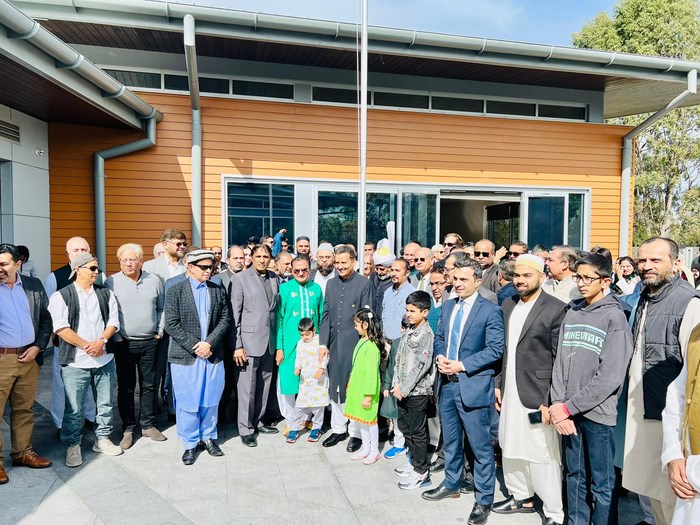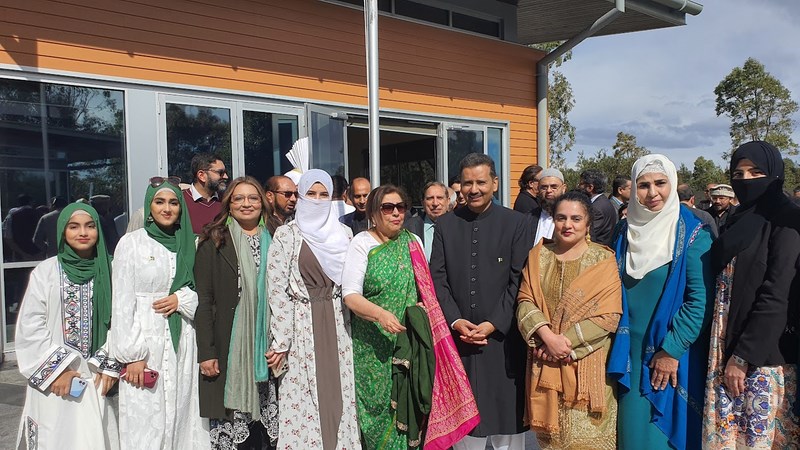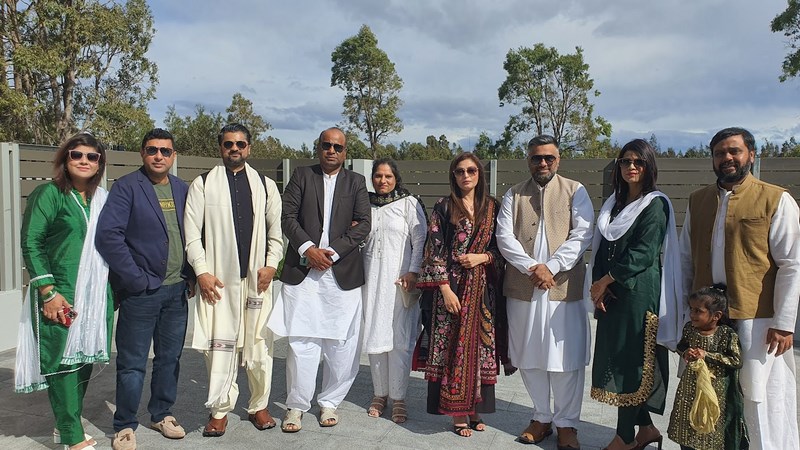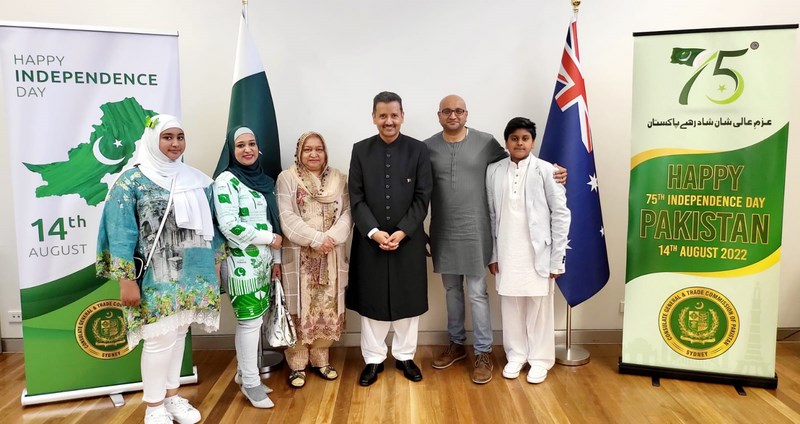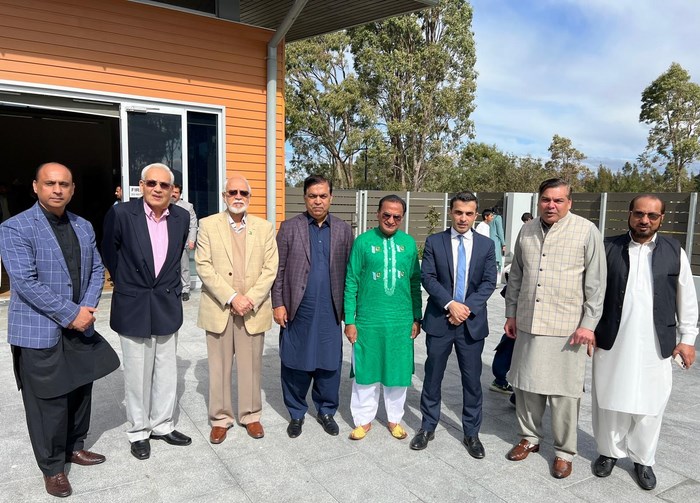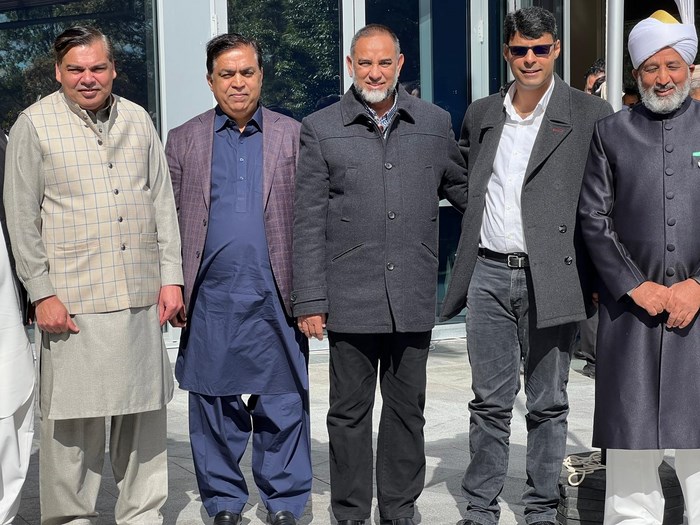 Abbas Batth, Ch Shakeb Amer, Mr Afroz Shaheen, Raja Taseer and FatehUllah Butt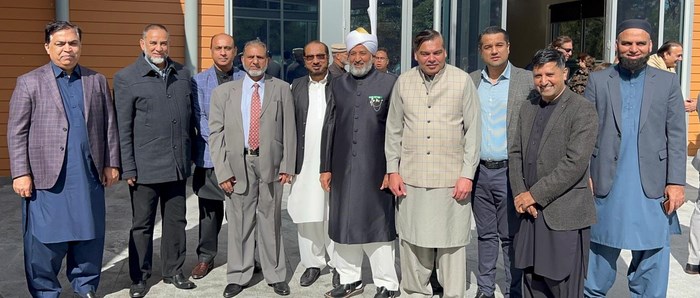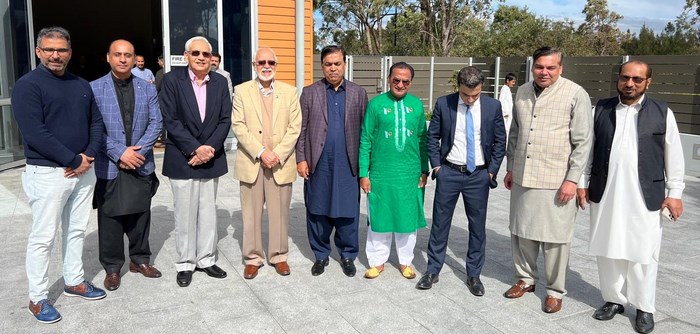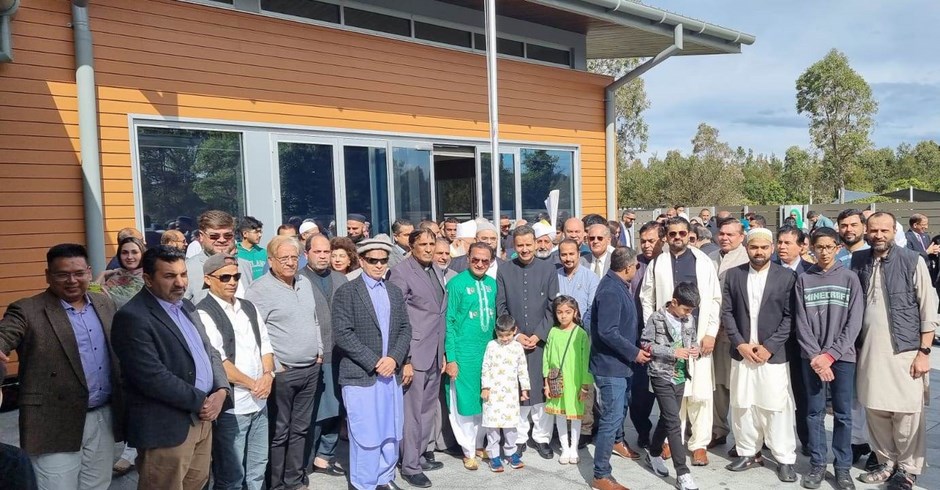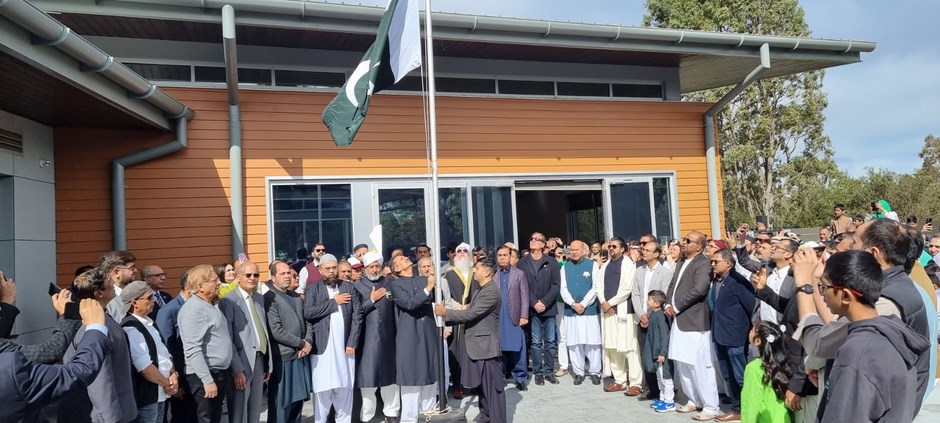 The Consul General of Pakistan and Trade Minister Mr Muhammad Ashraf raising Pakistan Flag in Sydney