Sada-e-Watan Sydney ™
sadaewatan@gmail.com
Australia Pakistan Medical Association (APMA) AGM and Elections completed
(Report to Sada-e-Watan by Ghazala Khan and Exclusive Photos by: Dr. Madiha Khan)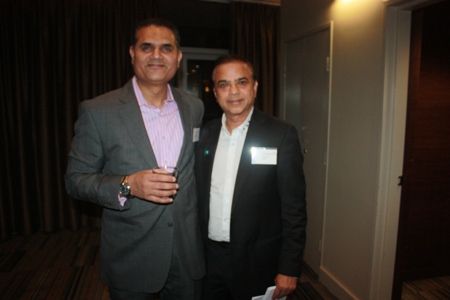 Vice President Dr Shams Ul Arifeen & President Dr Sayeed Khan
On Friday 12th September 2014, AUSTRALIA PAKISTAN MEDICAL ASSOCIATION held its second Annual General Meeting and Elections. The election committee which comprised of Dr Farouk Wasti, Dr Amanullah Khan and Dr Ghulam Akbar Khan conducted and supervised the democratic process.

Here is the new elected executive committee:
President: Dr Sayeed Khan
Vice Presidents: (2) Dr Imran Kassam/ Dr Shams Ul Arifeen
General Secretary: Dr Irfan Noor
Deputy General Secretary: Ghazala Khan
Treasurer: Dr Rehan Akram
Social Secretary: Dr Samreen Kassam
Deputy Social Secretary: Dr Sadia Saeed
Information/Communication Secretary: Dr Arooge Shafi
Deputy Info/Comm Secretary: Dr Madiha Khan
Dr Ghulam Akbar Khan, Dr Farouk Wasti and Dr Amanullah Khan
Apart from Electing new Executives 2 very important bodies were formed, namely:
1. Board of Trustees
2. Advisory Council


1. Board of Trustees :
Board of Trustees will oversee APMA activities, support and complement the executive committee of Australia Pakistan Medical Association. The body of trustees is to has a responsibility to follow through key initiatives/assignments to enhance APMA's role as an effective organisation. Members on the Board of Trustees are;
Dr Amanullah Khan
Dr Mohammed Bilal
Dr Naveed Shaukat

2. Advisory Council:
There is an Advisory Council which will guide and advise the executive committee of APMA. The wisdom and experience of our senior doctors who are serving the community is very important to the organisation. The names on the Advisory committee are as follows.
Dr Farouk Wasti
Dr Ghulam Akbar Khan
Dr Shabbir Haider
Dr Javed Shaukat
Dr Rabab Rizvi

The executive committee of the APMA looks forward to working for the organisation and welcomes the Board of trustees and the Advisory Council. The Editorial Board of Sada-e-Watan congratulates all elected office bearers of Australia Pakistan Medical Association. We hope that they will continue social, welfare and other positive activities for serving Australians.