Sada-e-Watan Sydney ™
sadaewatan@gmail.com
Pakistan Muslim League (N) Australia hosted a Dinner in Honour of Leading Poet and World known Columnist Atta ul Haq Qasmi
President Shahid Iqbal, Consul General Abdul Aziz Uqaili, Atta ul Haq Qasmi and Chairman Saad Malik
On Monday, 3rd March 2014, in Sydney Pakistan Muslim League (N) Australia hosted a dinner in the honour of Famous Poet and Columnist of daily "Jang" Atta ul Haq Qasmi who was on short trip to Australia. The function was presided over by President PML N Australia Mr. Chaudhry Shahid Iqbal. The PMLN dinner was attended by Consul General of Pakistan Abdul Aziz Uqaili, President Pakistan Council Iftikhar Rana, President Australia Pakistan Medical Association Dr. Sayeed Khan and other prominent personalities of the Australian Pakistan Community.
Mr. Chaudhry Shahid Iqbal president PMLN Australia pin pointed the urgent needs of overseas Pakistani to be met. He said, "in the 66 years history of Pakistan, overseas Pakistani are always been neglected by all government irrespective of that was a civilian or military. No one ever think about us and we are bound to feel excluded even though the rhythm of our heart beat is conditional with the feel of Pakistan.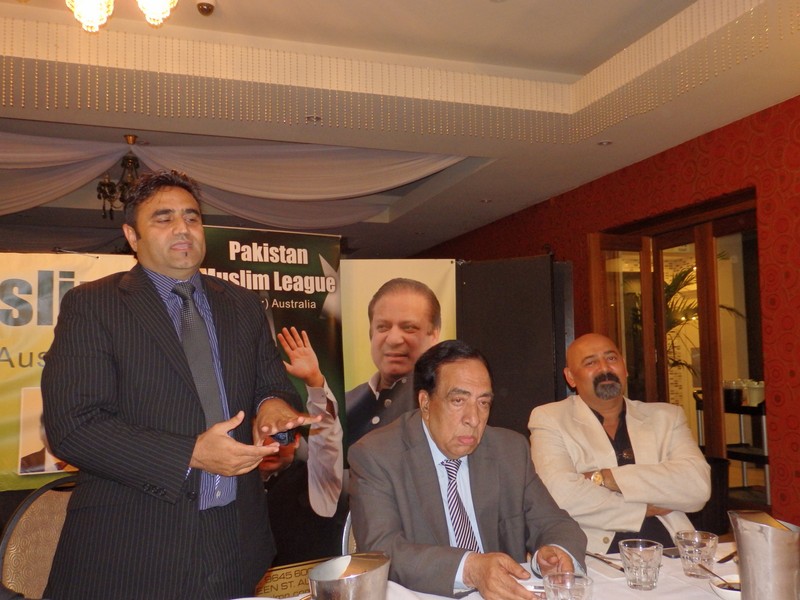 He stated that there is an urgent need of bringing overseas Pakistani to an organized network that could serve as a bridge between Pakistan and its overseas people" He further said, "I want to take the advantage of the presence of our respected guest Mr. Atta ul Haq Qasmi to convey our demands to our leadership in Pakistan that we should be given the right of vote and there must be an organized system to make it possible that overseas Pakistani could cast there votes and have there say in Government making process. This is also a very long standing demand of overseas Pakistanis that they should be given a quota in provincial and federal legislatures.
President PML Hafiz Shahid Iqbal said Every Pakistani have concerned and deeply grieved of the escalating bloodshed and deteriorating situation of law and order in Pakistan, especially in about the ongoing firing in Court, Mosque and public places. We are worried because Govt tries to resolve all matters through dialogue but terrorist's almost routine suicide bombing every where in Pakistan he said." Hafiz Shahid said our Leaders Mian Brothers are trying to develop Pakistan, they wish to provide all basic facilities to everyone but situation could not be changed in few months.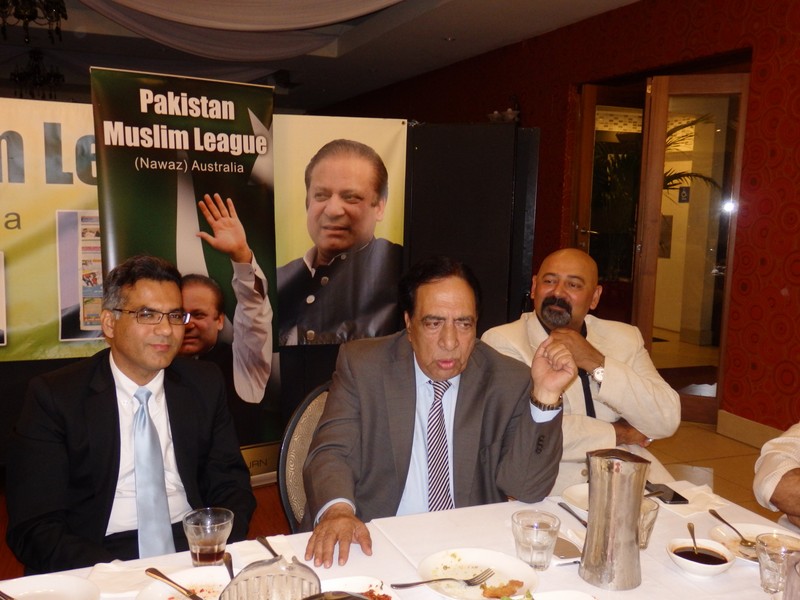 Mr. Atta ul Haq Qasmi acknowledges the sacrifices of overseas Pakistanis and their commitment of providing ceaselessly financial back bone to the staggering economy of Pakistan. Mr. Qasmi said I am not part of Muslim League but I support all good work of Mian Nawaz Sharif and Mian Shahbaz Sharif.
Chief Guest Ata ul Haq Qasmi and Chairman PMLN Mr. Saad Malik
Atta ul Haq Qasmi said that Mian Brothers are very humbled people and I have a few chances to talk with them about the main issues of country and I can say publicly in Australia that the government is giving top priority to strengthen economy, and improve law and order situation. He said that the country would be on the track of prosperity and development when the Pakistan Muslim League-Nawaz government completed its five-year term.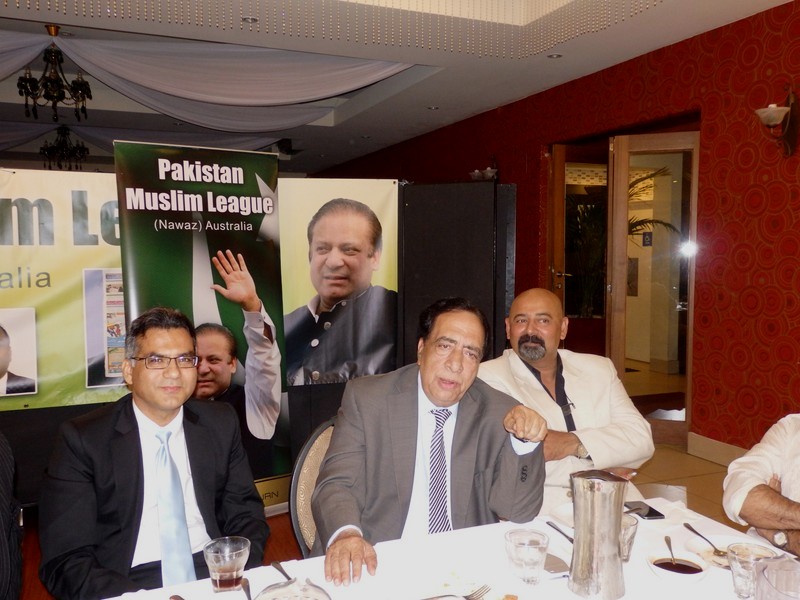 Mr.Atta ul Haq Qasmi is the current Chairman of Alhamra Arts Council Lahore. He has also served as Pakistan's Ambassador to Norway and Thailand. During his poetry session and speech, Ata ul Qasmi said I have 3 Sons and one my Son was well settled overseas but just for the service of country he came back permanently and personally knows a lot of dual Nationality holders who came back to Pakistan and present Government is encouraging their positive role in the development of Pakistan.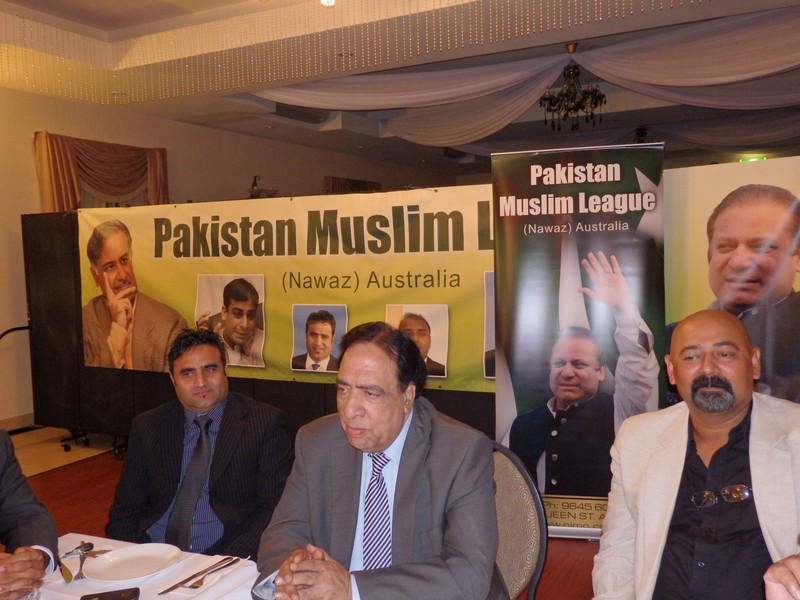 PML function was held at Spice of Life Function Centre, Harris Park Sydney. The dinner was attended by almost more than one hundred members of PMLN Australia represent all walk of life including the Chairman of PMLN Australia Mr. Saad Malik, Senior Vice President Anwar Malik, Vice President Asif Hanif, Youth wing President Abbas Bath, General Secretary Mr. John Stephan, Press Secretary Javed Chaudhry, Rana Ijaz Jagi, Rana Ahsan Khan and others.
CG Abdul Aziz Uqaili, Atta ul Haq Qasmi, Syed Zafar Hussain, President APMA Dr. Sayeed Khan and his wife Ghazala Khan
At the end, Chairman Mr. Saad Malik thanked all the participants. Mr. Saad Malik said that before 14 years in 2000, when present Prime Minister Mian Nawaz Sharif was in opposition then we registered PMLN in Australia and since then we are voluntary and sincerely working for party and never ever ask any type of favor for any person. He said we have no any demands or Expectation, we wish to see our Country stronger with bright future.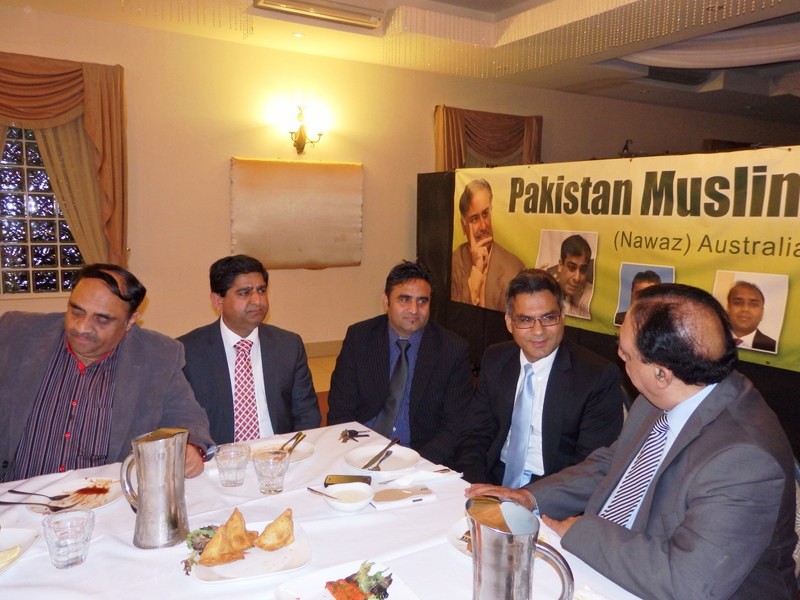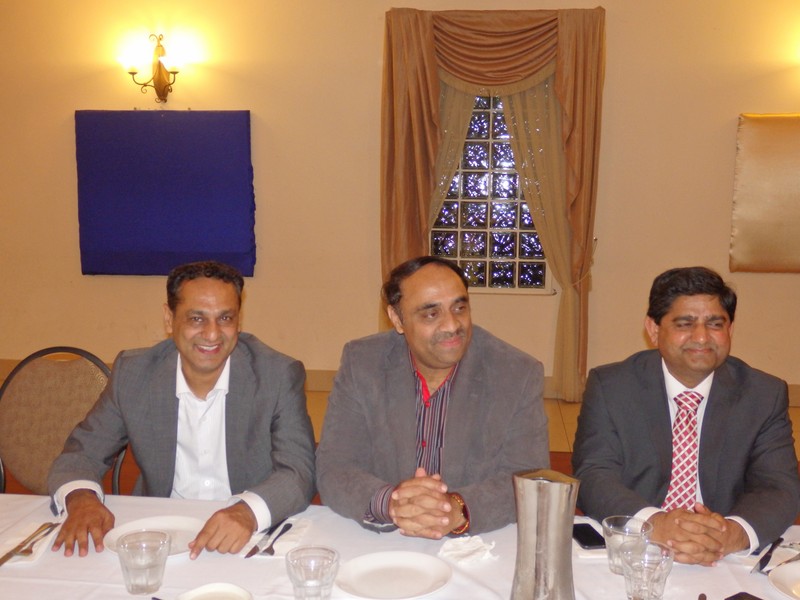 Mr. Amer Malik, Pakistani Poet Mr.Zuhair and President Pakistan Council of Australia Mr. Iftikhar Rana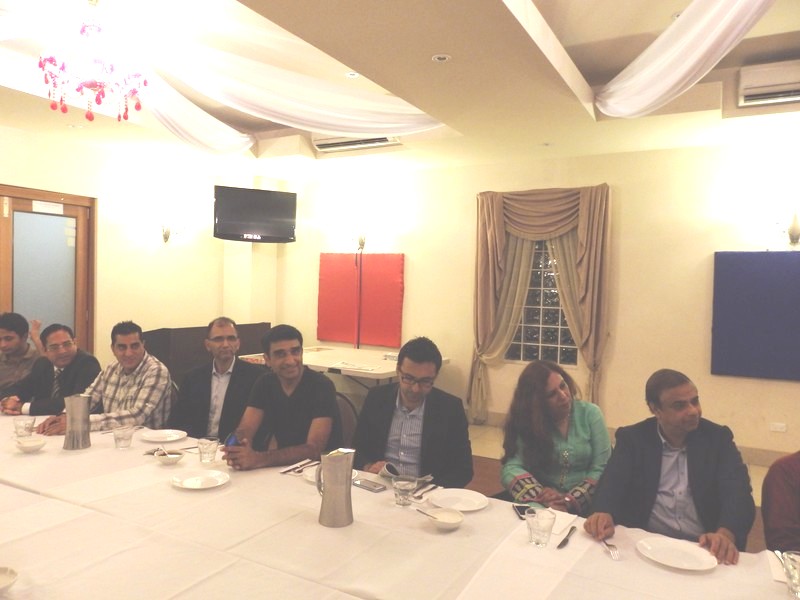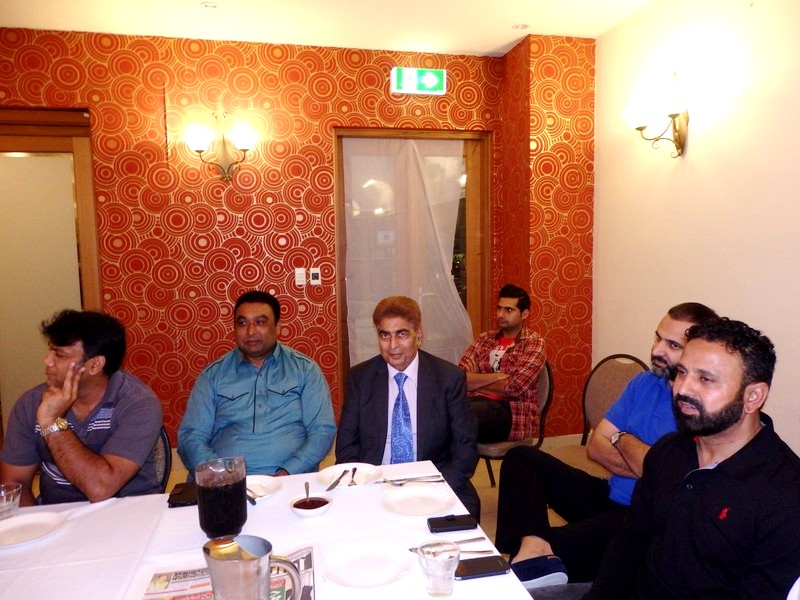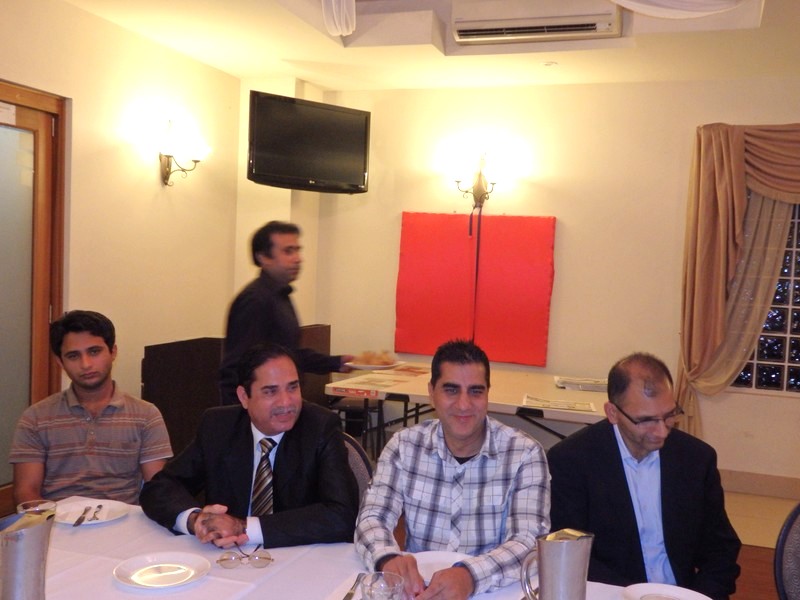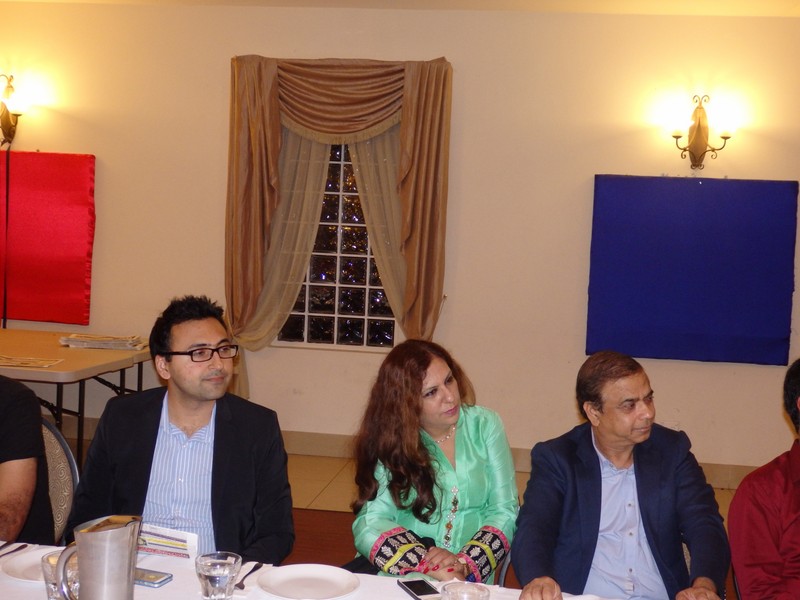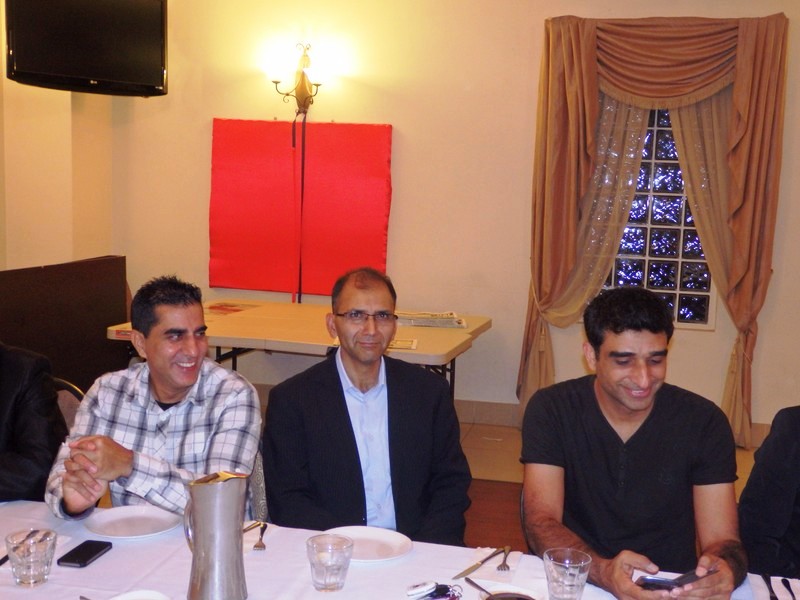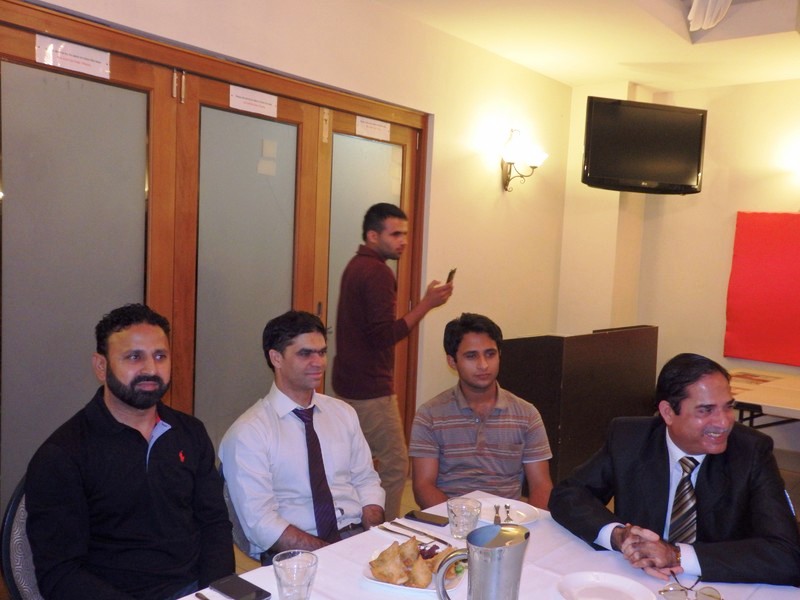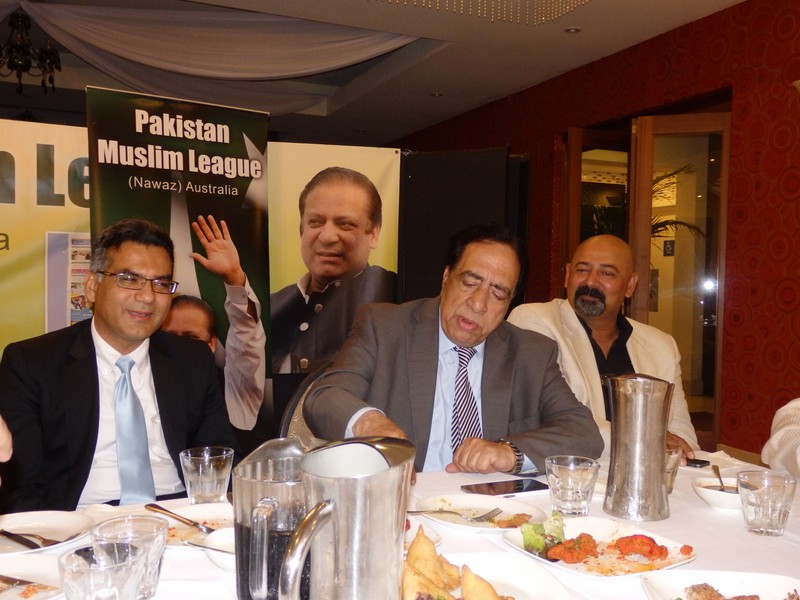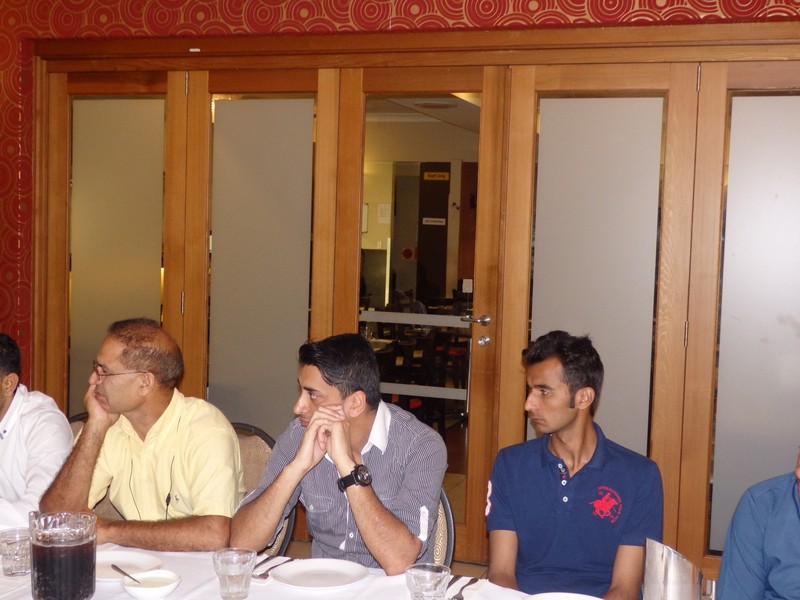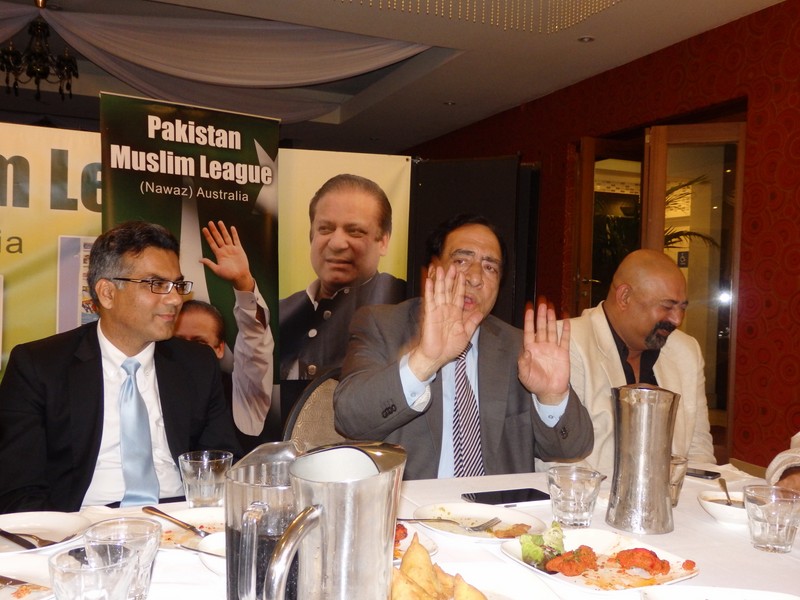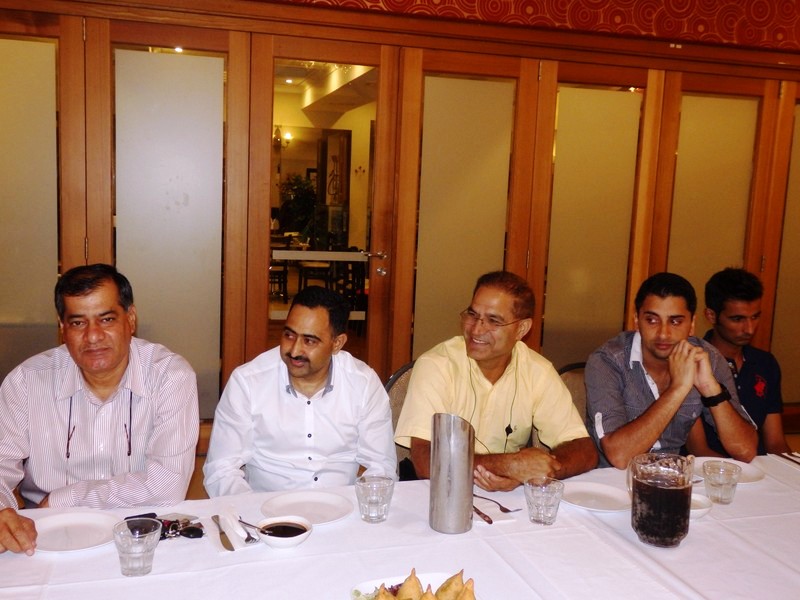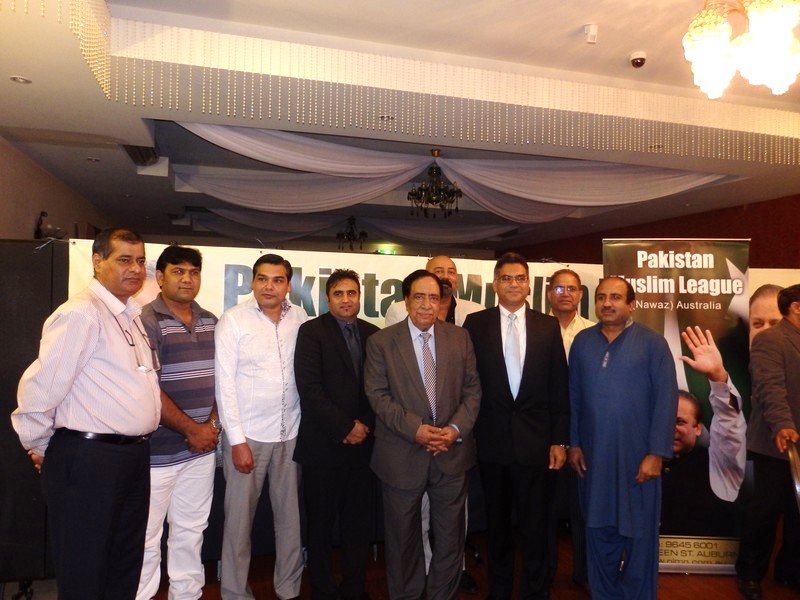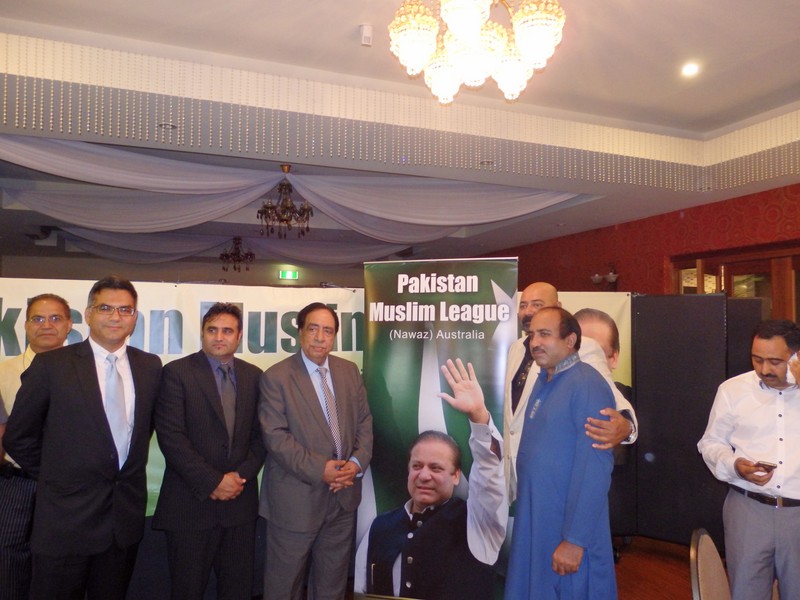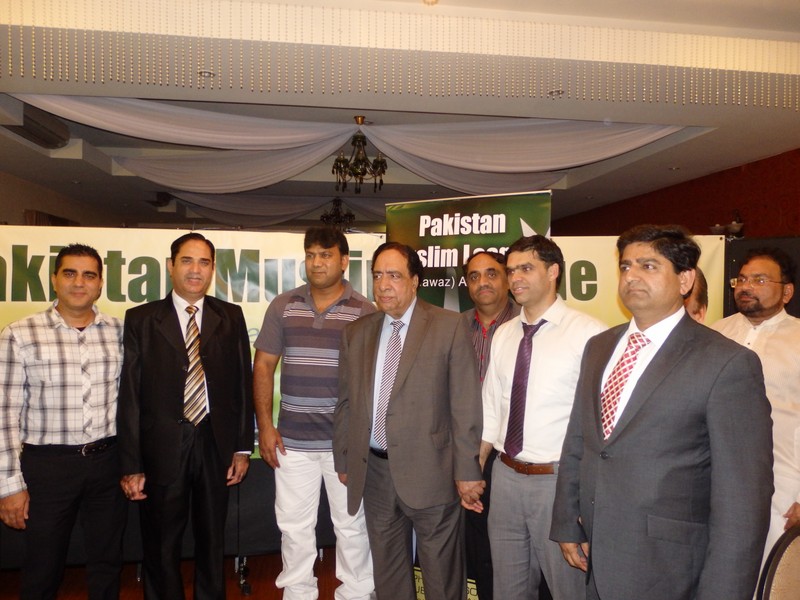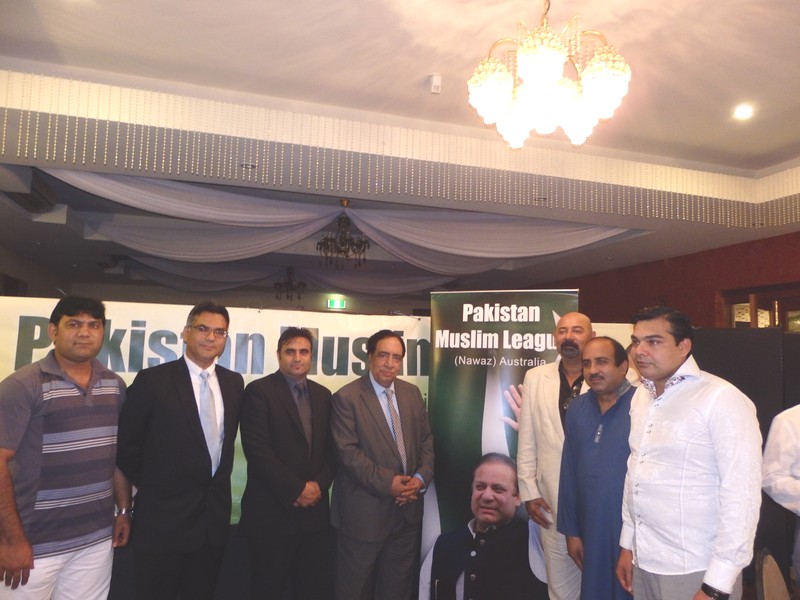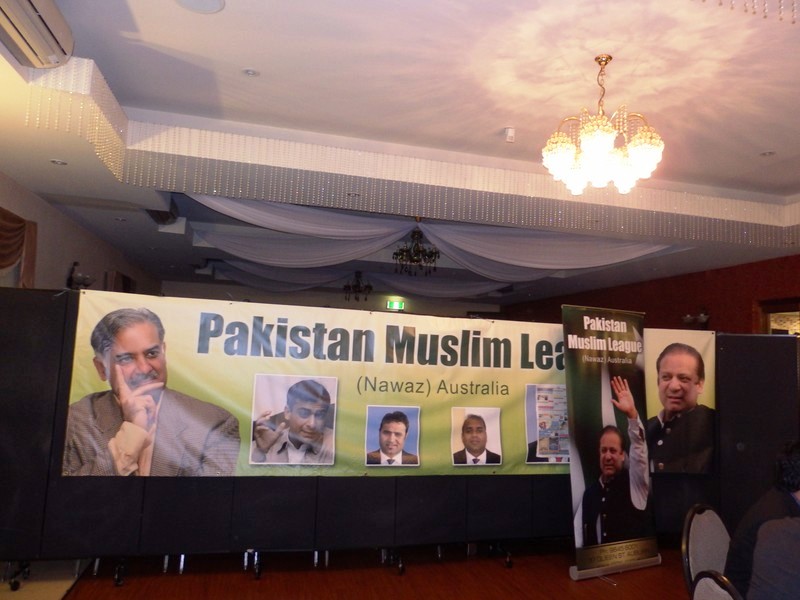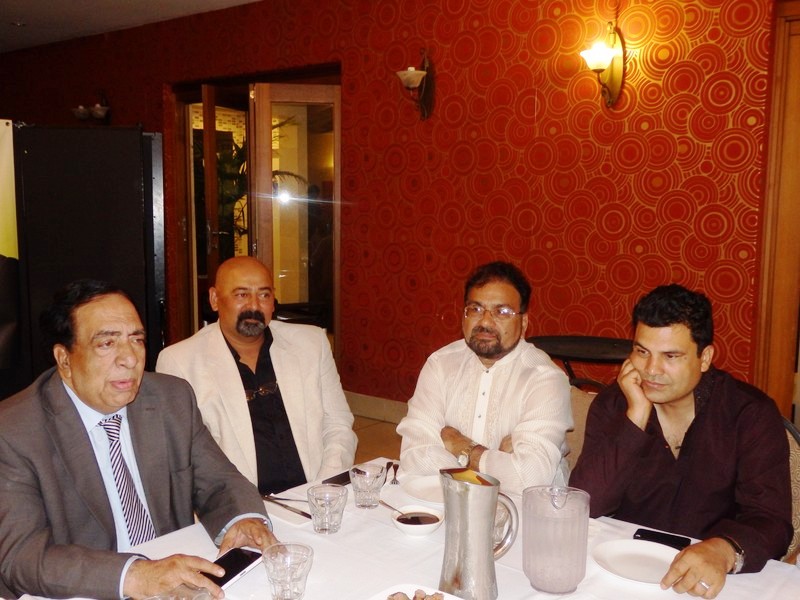 Atta ul Haq Qasmi, Saad Malik, Saud Usmani and Saeed Khan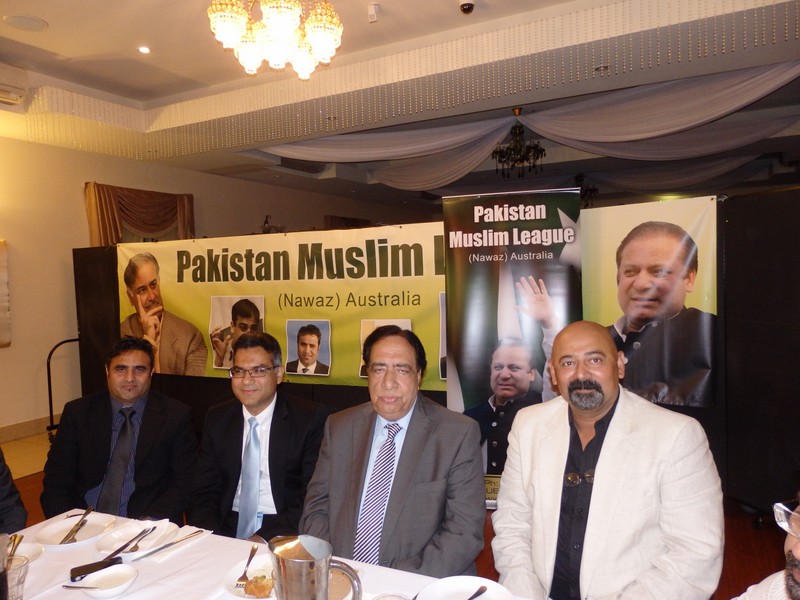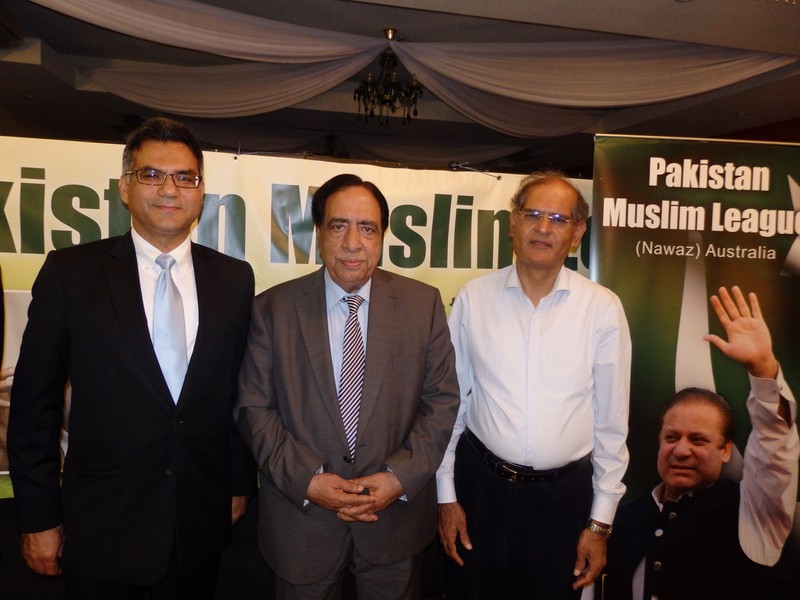 Consul General of Pakistan Abdul Aziz Uqaili, Atta ul Haq Qasmi and Syed Zafar Hussain