Sada-e-Watan Sydney ™
sadaewatan@gmail.com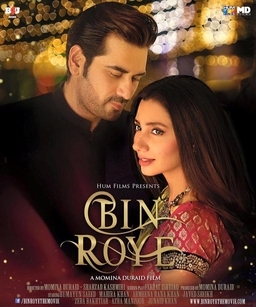 Pakistani Romantic Film "Bin Roye"
Bin Roye (English: Without Crying) is a 2015 Pakistani romantic drama film directed by Momina Duraid, Shahzad Kashmiri.The film is produced by Momina Duraid and is starring Mahira Khan, Humayun Saeed, Armeena Khan, Zeba Bakhtiar, Javed Sheikh and others.One of the movie songs is directed by Haissam Hussain. The film was released worldwide on July 18, 2015, the day of Eid-ul-Fitr. Bin Roye was praised by the critics.The film is based on the original novel Bin Roye Aansoo by Farhat Ishtiaq.

The film starts by introducing Saba Shafiq (Mahira Khan) and Irtaza's (Humayun Saeed) relationship, who are cousins. Saba is hopelessly in love with Irtaza, but he treats her like his best friend, not a love interest. Irtaza then leaves for the US for two years, where he meets Saman Shafiq (Armeena Khan), who is his cousin and falls in love with her. Saman is Saba's elder sister, and she was given to her uncle and aunt as a child. Saman's foster parents die in a plane crash which was headed to Germany, and Irtaza brings her back to Pakistan. Upon learning she has an elder sister, Saba is at first overjoyed, but her happiness quickly turns to disdain when she finds out that Irtaza and Saman are in love and are to be married.
Later, Irtaza and Saman come to Karachi with their son Maaz. On Maaz's birthday, Saman plans to get a birthday cake and some flowers for her mother. However, tragedy occurs as Saman is hit by a car in front of Saba (who once prayed to God that Saman should die, because she wanted to marry her cousin, Irtaza and hated the fact, her sister is getting married to him). Irtaza calls the ambulance, and they take her to the hospital, however, Saman dies in the ambulance. Before dying, she whispers in Saba's ears that both Irtaza and Maaz are now hers. Meanwhile, as Maaz is a child in need of a mother's love, Saba's grandmother suggests to her parents that she should marry her cousin, Irtaza. Saba doesn't agree, and says yes to marrying someone else.
On her wedding day Irtaza finds out that Saba's family is unaware that the man she's marrying is already married and has a son. Irtaza gets very angry and confronts Saba, who cries and tells him that it's too late to stop the wedding now since they are actually at the wedding. However, Irtaza drags her to their family and tells them the truth. Their family is shocked and they decide Saba should not marry that guy. Then, to the surprise of everyone present, Irtaza announces that he will marry his cousin, Saba instead. Saba has a difficult time accepting her marriage, but after a dramatic turn of events finally questions Irtaza, who declares his love for her. The movie ends with Irtaza and Saba finally together, and finally happy.
>>>>>>>>>>>>>>>>>>>>>>>>>>>>>>>>>>>>>>>>>>>>>>>>>>
Australian Pakistani 13 years Girl Rabia Rasul wrote an Article for Sada-e-Watan about New Film "Bin Roye"
Bin Roye is a Pakistani movie which came out in cinemas in Australia on the 14th August 2015 otherwise known as Pakistan's Independence Day. Now on Saturday 29th August 2015 a community came together to watch this movie, I am happy to say that I was part of that community.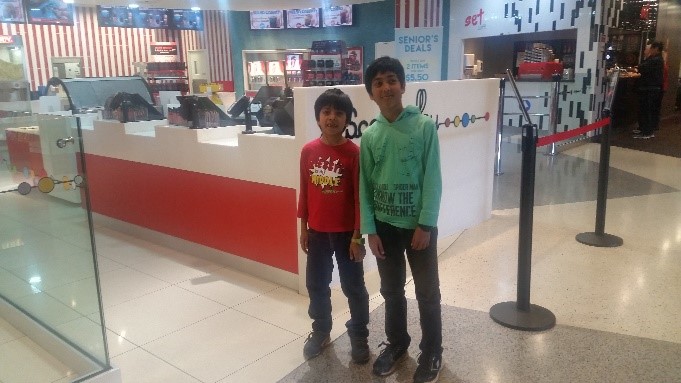 Bin Roye's literal meaning in English is "Without crying" after watching this movie do I think that was a suitable title, honestly I have no clue, Did I like the movie? It could've been better, Did I enjoy the night definitely and I'm sure many of the people there would agree. What was the point of this night? Your probably thinking that's an easy question, the point of this night was to a watch movie, Wrong! My mum, Naaz Rasul organized this night it started as a thought, became an idea and progressed on from there.
It was a house full event and around 240 people descended down to Castle hills events cinemas for the event. The original thought was to do something to unite the Pakistani community and to show our kids and future generations whilst we live here in Australia and integrate with people we can still maintain our culture. The point of this night wasn't just to watch a Pakistani movie but to come together and unite as one to show our future generations that these are the types of the things we need to do to maintain our culture, the basis of our living, the reason we still have an identity. This shows that we can come from all over Sydney to unite for one cause to teach and help our children and the future generations that this is what surviving is, surviving life in the west without loosing your culture.