Sada-e-Watan Sydney ™
sadaewatan@gmail.com
Congratulations to the Australian Pakistani Film Producer Rafiq Ahmed Chaudhary
RC Films production "Zindagi Kitni Haseen Hay" launched with a rocking OST
(Exclusive report to Sada-e-Watan by Muhammad Nasir, Senior Editor Geo TV Network Karachi)
Karachi: It is now customary to kick start a movie's promotional drill with its soundtrack and therefore, we got to hear melodies from the Zindagi Kitni Haseen Hay (ZKHH) OST earlier this week. If you have ever doubted whether life is beautiful the makers of Zindagi Kitni Haseen Hay (ZKHH) will remind you that it truly is. The team launched the music of the upcoming film at a local hotel on Wednesday, wherein the original soundtrack of the film was revealed. The cast, which includes Sajal Ali and Feroze Khan, joined director Anjum Shahzad, producer Rafiq Ahmed Chaudhary and screenwriter Abdull Khaaliq on stage to unveil the CD of the music album.

Rafiq Chaudhary said, ZKHH is not a romantic comedy but rather a "musical, romantic emotional, family drama." He added that the music is as much a part of the narrative as anything else. "It won't take you out of the story. The music, the songs are part of the narrative."

The event was attended not just by the film's key cast and crew but also by some of the artists who have contributed to its soundtrack. We also bumped into several industry veterans, like Humayun Saeed, Adil Murad ( son of Legendary hero Waheed Murad) who showed up to lend their support to the cause of cinema.
Mustafa Zahid impressed the audience with a live rendition of Udaasi, Soch with Tootiya Tara and Udan Khatola with Manqabat (Ali Ali), all garnering cheers from the crowd. The rest of the tracks include the title song crooned by Adnan Dhool and Momina Mustehsan, Kitni Baar by Sukhwinder Singh, Chulbul by Bilal Saeed and Sana Zulfiqar and a sad version of Udaasi by Mustafa again.

Farhan Shah and Shahid Rehman from Udan Khatola presented their Manqabat 'Ali Ali', which is a Sufi kalam of Peer Shams Tabrez.

Adnan Dhool and Rabi Ahmed of Soch, who were also nominated for IIFA Award for Best Music Director, have written, composed and produced four songs for the film.
Mustafa Zahid, known for fronting the rock band Roxen and having sung numerous songs for Bollywood films like Ashqui 2, Eik Villan and more also featured on the record, making this his first film music project in Pakistan. Present at the music launch gig, Zahid belted out 'Udasiyaan' which is his contribution to this expansive record; he also spoke about the intrinsic link between film and music.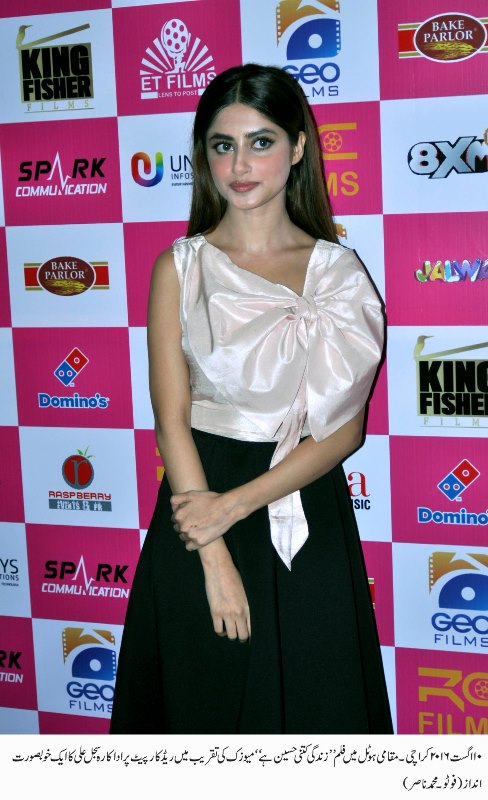 There has been a lack of original music in Pakistan till now and we have made sure to come up with something original that sounds 'Pakistani' and also has a cinematic feel," Adnan Dhool said. "There have been very few Pakistani films that have come up with good music so far and ZKHH is one of them. As the Pakistani film industry gains its momentum, the music industry has also been lifted up and the two will grow simultaneously," he concluded optimistically.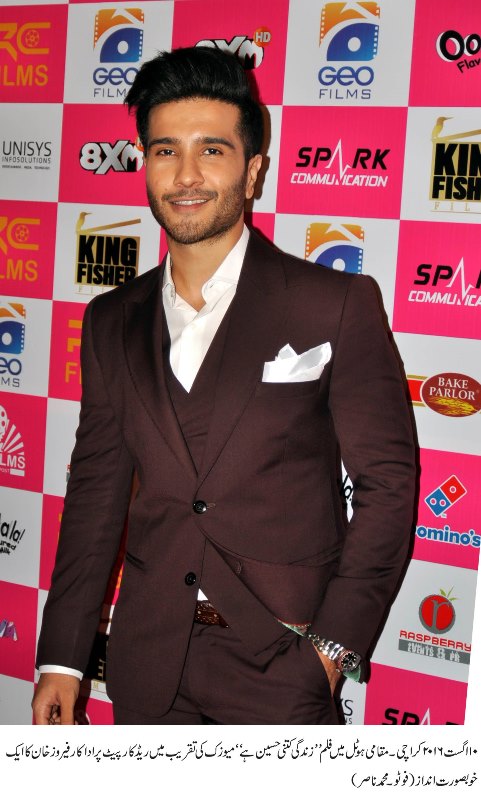 Zindagi Kitni Haseen Hay has a promising soundtrack and consists of seven songs in total out of which four have been written, composed and produced by Soch while the other three are composed by Udan Khatola and Sohail Haider.
The film hit theatres on Eid-ul-Azha, this year. The cast of the film includes Sajal Ali feroz Khan , Aly Khan, Jibrayl Ahmed Rajput ( child star), Shafqat Cheema and Nayyar Ejaz, while the script of the movies is written by Abdul Khaaliq Khan, who got fame from his TV drama Kaafir.
Zindagi Kitni Haseen Hai is production of an Australian production company RC Films and Rafiq Ahmed Chaudhry , co-produced by Kingfisher Films.