Sada-e-Watan Sydney ™
sadaewatan@gmail.com
Literary Sitting in Sydney – Rehan Alavi's Urdu and English Novel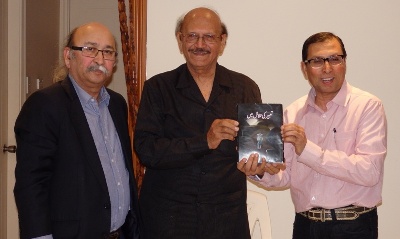 Ashraf Shad, Prof Dr Ali Mohammad and Rehan Alavi
Rehan Alavi always comes with surprises and this time was not any different. He wrote Urdu novel that is itself a difficult task in today's busy life but he took it one step further by writing an English version of the book with Hindi translation. This was the consensus of the attendees and speakers of a literary sitting in Sydney. This literary sitting was held on 8th. August in Sydney suburb and presided by Dr Ali Mohammad Khan, academic, critic, educationalist, Professor of Urdu in F C College (University) Lahore who was visiting Sydney. Famous novelist and poet Ashraf Shad was the MC and Prominent writer/Poet and Ex TV producer Arif Rana was the chief gust. Prominent members of literary community of Sydney attended the event.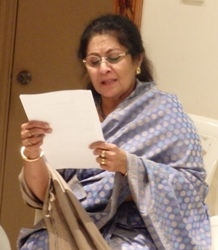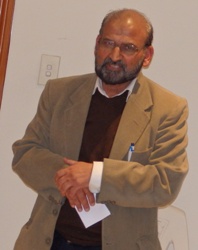 Saba Abdi Dr Shabbir Haider
Two literary figures of Sydney, Mrs. Saba Zaidi and Dr. Nighat Nasim recited impressive selections from the book and mesmerised the attendees. Local literary personalities Arif Sadiq, Dr Shabbir Haider, Ashraf Shad, Arif Rana and Dr Ali Mohammed read their well versed reviews about the book and the author. Poet/Writer Abbas Gilani read famous writer Mustansar Hussain Tarar review and poet Saeed Khan read writer/poet Amjad Islam Amjad review about the book.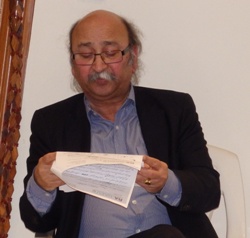 Ashraf Shad Arif Rana
A video was played about the book launch events in Pakistan that was interestingly watched by the audience. Events highlighted in videos include Book launch by Oxford University Press in 3rd. Islamabad Literature festival 2015, Book launch ceremony by Karachi Arts council and book opening by Australian high commissioner during Australia day in spring 2015. Famous writers/poet of Indian subcontinent including Hasina Moin, Asif Farrukhi, Intizar Hussain, Asghar Nadeem Syed, Zehra Nigah, Kishwar Naheed, Zahida Hina, Inam ul Haq Javed and Dr Fatima Hassan attended and participated in three day festival and appeared in this video.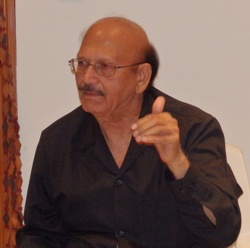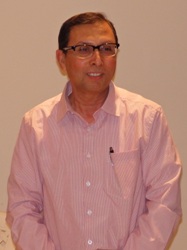 Prof Dr Ali Mohammad Khan Rehan Alavi
Professor Saher Ansari, Australian High commissioner Peter Heyward and Mustansar Hussain Tarar Dr Shahida Hassan and Mujahid Barelvi were some of the prominent speakers in these events who talked about the book and praised the flow of interesting story line. Speakers described various topics of modern era are first time ever touched in a fiction book and new for the Urdu audience.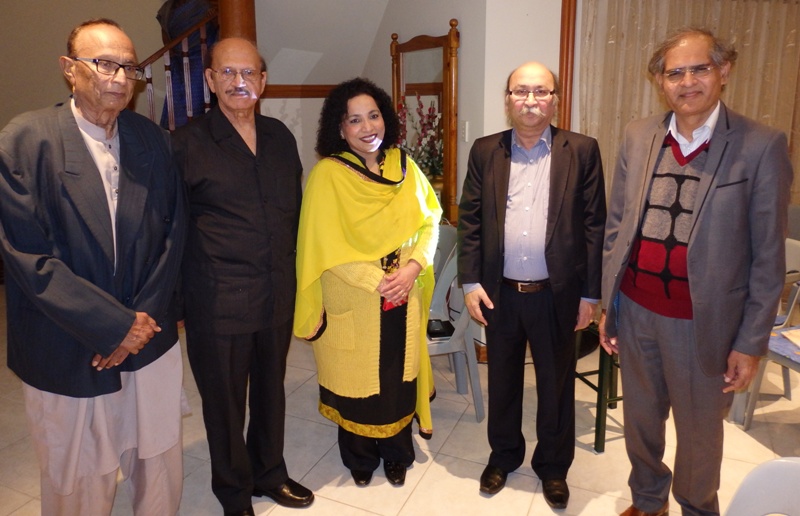 Arif Rana, Prof Dr. Mohammad Ali Khan,Dr. Nighat Nasim, Ashraf Shad and Syed Zafar Hussain
Chief Guest of the gathering professor Ali Mohammed Khan presented the book volume that he specially prepared for the Author Rehan Alavi. Arif Sadiq and Dr Shabbir Haider, Ashraf Shad and Arif Rana acknowledged the book as an important addition in Urdu and English literature.
In Second half of the sitting, poets recited their beautiful poetry. Shuja Atif, Farida Lakahai, Javed Nazar, Rehan Alavi, Farhat Iqbal, Arif Sadiq, Abbas Gilani, Dr Shabbir Haider, Ashraf Shad and Arif Rana recited their selective poetry and received praised from the attendees. Mr Ashraf Shad announced on behalf of the host author that formal book launch ceremony will be held in Sydney on Saturday,3rd October 2015.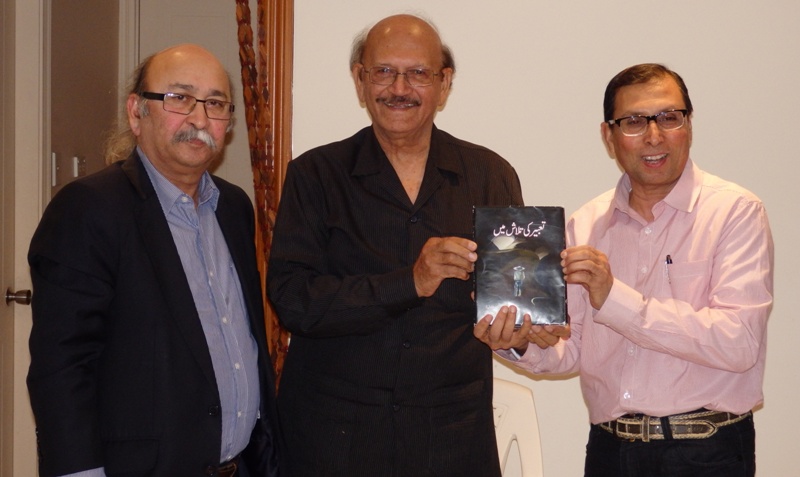 Ashraf Shad, Prof Dr Ali Mohammad Khan and Rehan Alavi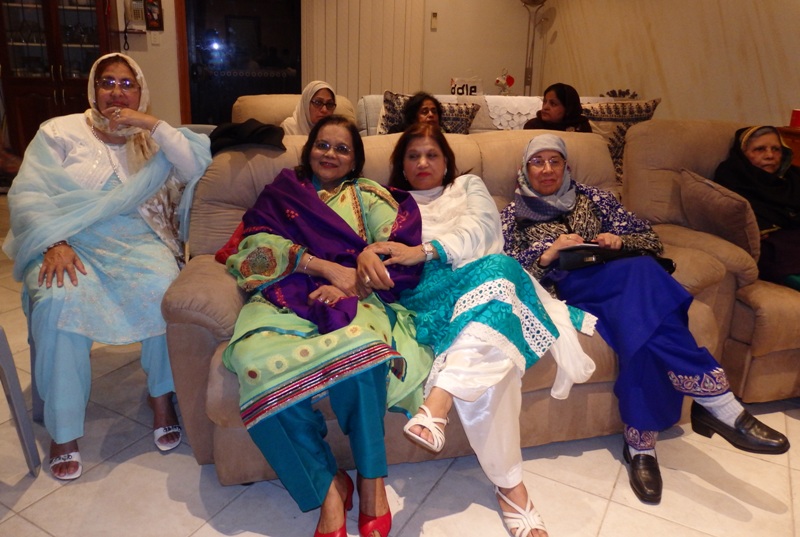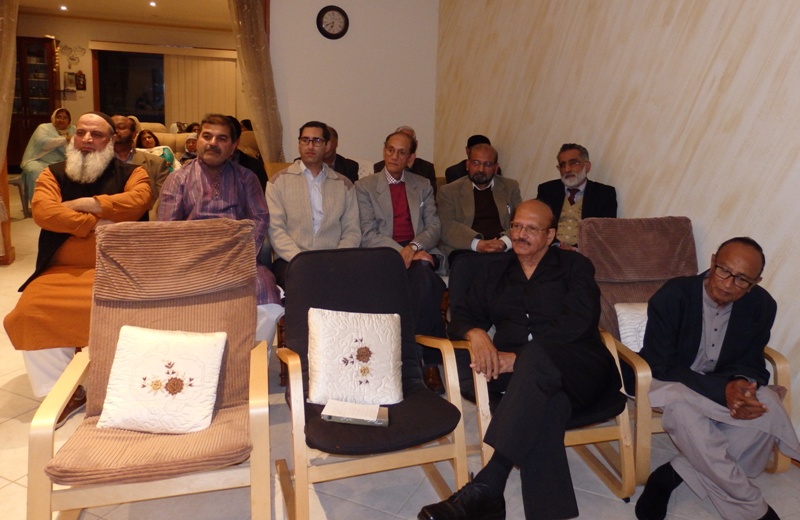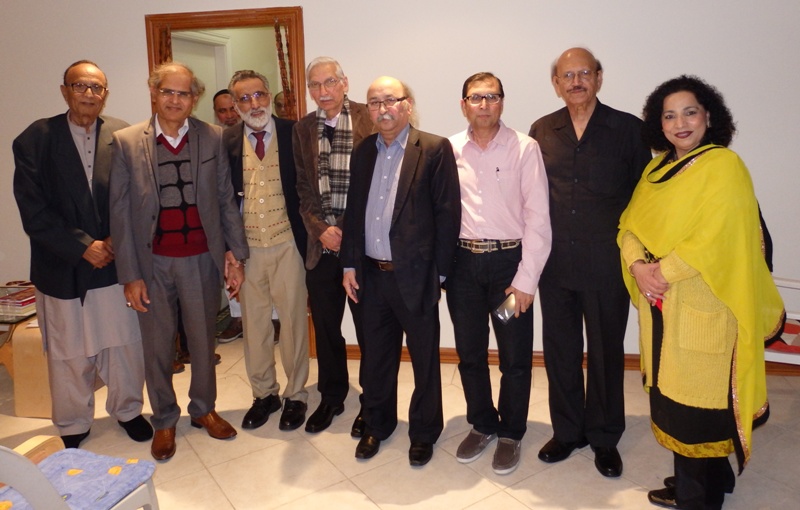 Arif Rana, Zafar Hussain, Abbas Gilani, Arif Sadiq, Ashraf Shad, Rehan Alavi, Dr Ali and Dr Nighat