Sada-e-Watan Sydney ™
sadaewatan@gmail.com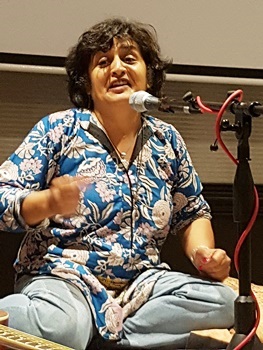 Sahar Raza performing live
TCF fundraising event 'Sur Aur Saaz' was held at the Castle Hill RSL Club Sydney
TCF Educating Children Australia held its Annual Gala Fundraiser 'Sur Aur Saaz' on November 19th at the Castle Hill RSL Club in Castle Hill Sydney. TCF Educating Children, Australia is a chapter of TCF Pakistan, a charity that builds and runs schools for underprivileged children. Financial transparency is one of the key focus areas for TCF. They aim to inspire donor confidence, in Pakistan as well as overseas, by adopting clear accounting methods and record keeping, whilst adhering to the federal and state regulations. TCF Pakistan has a JCR-VIS Non-Profit Organisations Governance Rating of GR-9 which pertains to a "very high level of governance", a top-ranking certification from the Pakistan Centre of Philanthropy (PCP) and is a 3-time winner of the Management Association of Pakistan's annual Corporate Excellence Award. TCF Australia is a registered charity with the ACNC, here in Australia. TCF accounts are approved, duly audited annually and published on the TCF website in Pakistan and are available on request anytime in Australia, to their supporters. The Foundation has also been granted a Shariah Compliance Certificate and their Zakat process (in terms of collection as well as utilization of zakat) is periodically reviewed by a Shariah Advisor.
The annual fundraiser 'Sur Aur Saaz' was held to raise funds in support of The Muhammad Idrees Campus in Karachi, a school TCF Australia has been supporting. The event was a sell-out musical evening with Sahar Raza, a visiting singer from Toronto, who enthralled the audience with her beautiful renditions of classical songs and ghazals. Sahar also performed a variety of folk songs as well as some popular tunes, much to the enjoyment of the audience. She engaged the audience completely bringing the house down with "Dum a Dum Mast Qalander" at the finale. During the show, there was a Raffle draw with lots of wonderful prizes donated towards this noble cause of education for underprivileged children. The event was attended by Consul General Abdul Majid Yousfani, and his wife, veteran actress Uzma Gilani amongst other notable guests. To learn more about TCF-Australia please visit http://www.tcfaustralia.org/ or like their Facebook page.
TCF Australia team includes:
Sanam Thariani, Aila khan, Asima Khan, Nazish Minto and Saliha Wazirzada.