Sada-e-Watan Sydney ™
sadaewatan@gmail.com
Cricket Australia Multicultural Media briefing and Morning Tea held at the SCG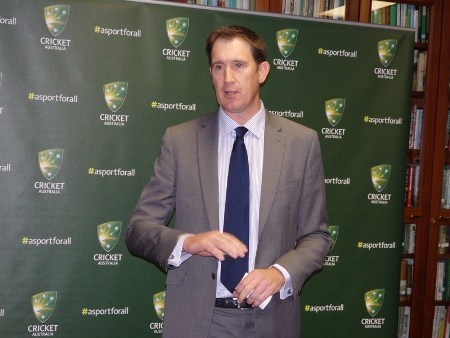 CEO of Cricket Australia, James Sutherland
A Multicultural morning tea and media presentation was held at the Cricket NSW Boardroom at the SCG on Friday the 9th of January, 2015. The event involved the launch of the Cricket Australia Multicultural and Indigenous inclusion strategy.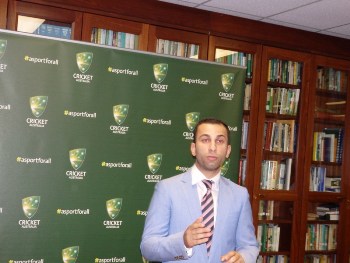 Sam Almaliki
Master of Ceremony duties were performed by community engagement Manager for Cricket Australia, Sam Almaliki. In attendance were Cricket Australia officials, including CEO James Sutherland, Sydney Thunder General Manager Nick Cummins, Cricket NSW CEO Andrew Jones, Sonia Bijelic Cricket Australia's head of marketing, Multicultural media, former Southern Stars cricketer Lisa Sthalekar, ICC Cricket World Cup 2015 CEO John Kent, and other Multicultural Cricketers including community rookie player from the Sydney Thunder, Hameed Kherkhah.
John Kent
A short video highlighting the diversity work of Cricket Australia was played to kick off the event. This was followed by a welcome to country and a summary of what Cricket Australia's multicultural inclusion strategy for the next 3 years will entail.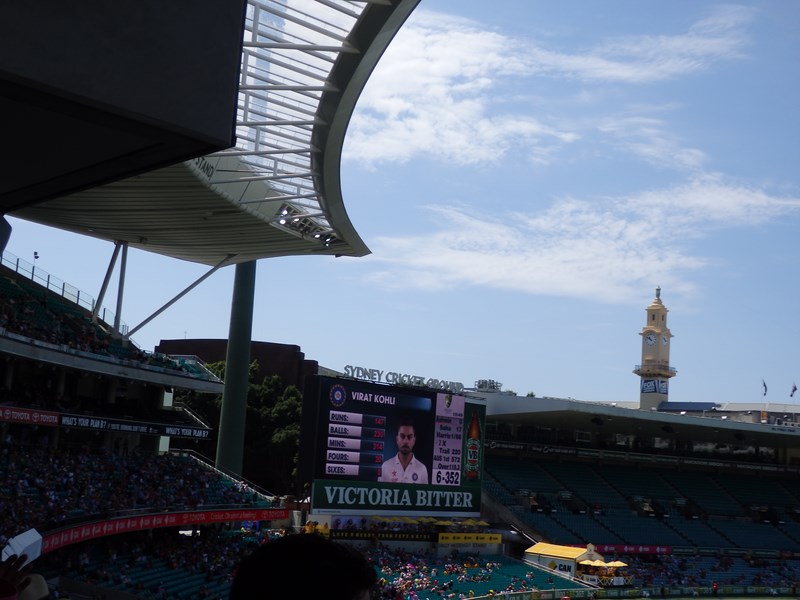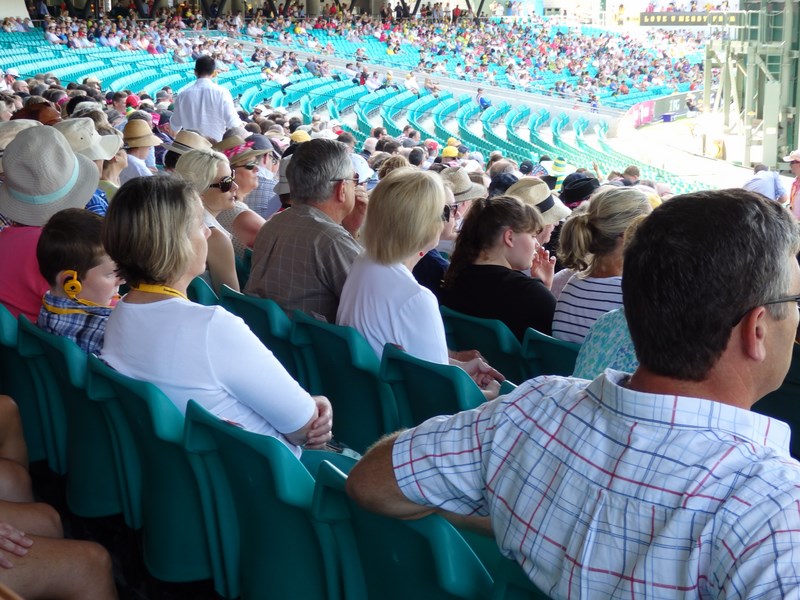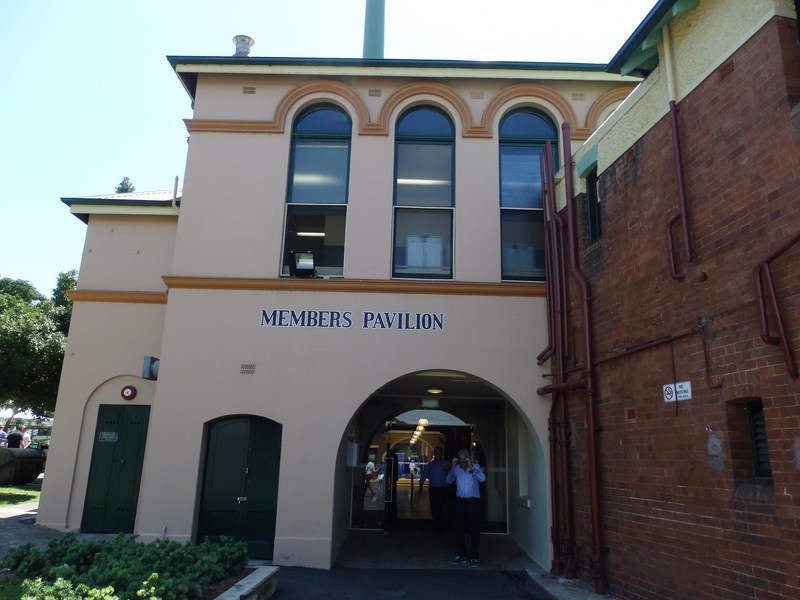 CEO of Cricket Australia, James Sutherland then spoke to the audience about his organisations' work in the diversity space. He outlined that cricket set the standard in Australia as the most popular sport according to indicators such as viewer hours and attendance figures. Mr Sutherland also mentioned the increased levels of multiculturalism within the sport at a grassroots level and the high participation rates of women.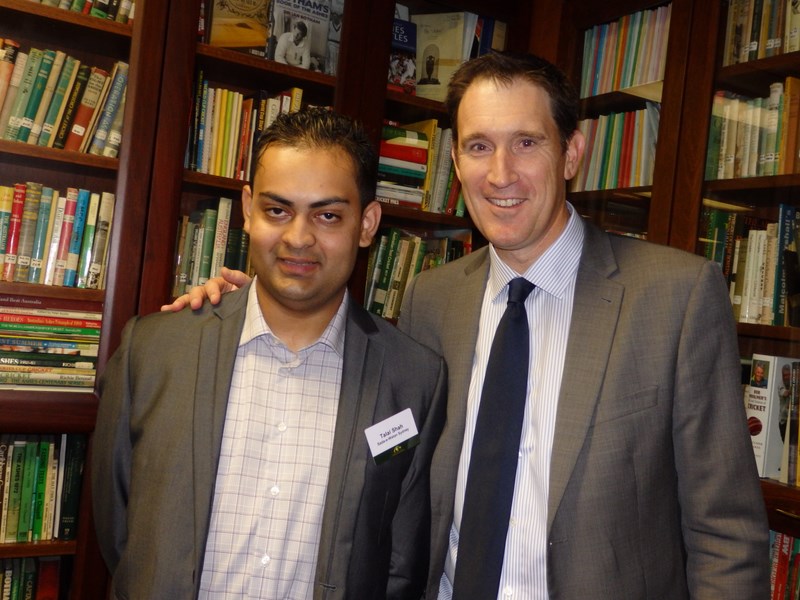 Talal Shah of Young Pakistan Association of Australia and CEO of Cricket Australia, James Sutherland
A short question and answer session was then held and Zafar Hussain, Chief Editor Sada-e-Watan asked Mr Sutherland asked whether there were any plans for the Australian cricket team to visit Pakistan ? He replied that it was painful to see an ICC member nation such as Pakistan not able to host cricket in their own country. Mr Sutherland highlighted the security risks in travelling to Pakistan which mean that no major cricketing nation has been able to tour the country since the tragic attack during Sri Lanka's tour of Pakistan. He said that Australia would tour Pakistan if the security assessments rule that it is safe to do so however that is currently not the case. Mr Sutherland added that in the meantime, Australia were more than happy to play away games against Pakistan and referred to Australia's recent tour of the UAE. in which they played tests and limited overs games against Pakistan.
Another question that was asked of Mr Sutherland was about what innovations Cricket Australia had in mind to further grow the game. He spoke of day-night test cricket and his belief that it would revolutionise the longer format of the game, allowing test matches to be aired live during prime-time and also boosting attendance numbers because of the work-friendly hours. Test matches are currently played from 10am to 6pm but the proposed day night hours would mean that the day would start later and carry on well into the night, until at least 9pm. The Kookaburra pink ball which would likely be used in the day night tests has been trialled and the possibility of test cricket at night is "a definite reality" according to James Sutherland.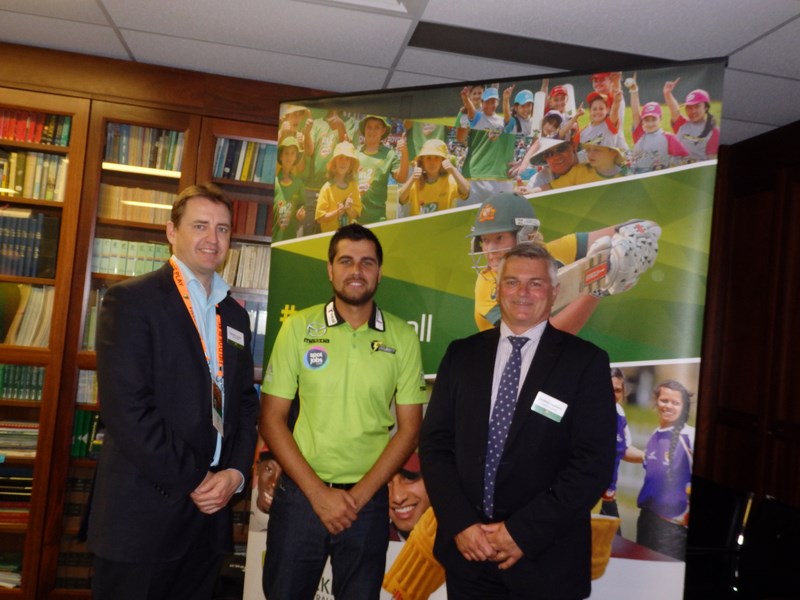 CEO Cricket NSW Andrew Jones, Hameed Kherkhah and Andrew Ingleton
Next to speak was the CEO of the ICC Cricket World Cup 2015, John Kent. He spoke of the excitement in the lead up to the first game which is now under a month away. Mr Kent pointed to the Pakistan v India match in Adelaide on February 15 which was sold out within a matter of hours. He went on to speak about the importance of social media and the popularity of the ICC Cricket World Cup page which has more followers from outside the host nations of Australia and New Zealand. Mr Kent said the internet would play a massive role in the event and this would be the most technologically advanced cricket world cup in history. Mr Kent said that no real innovations such as the introduction of the white ball in 1992 were planned for at this stage. He concluded by speaking about how he had attended hundreds of gatherings in both host nations over the last 16 months to promote the event and that the stage was set for an enjoyable experience for cricket fans.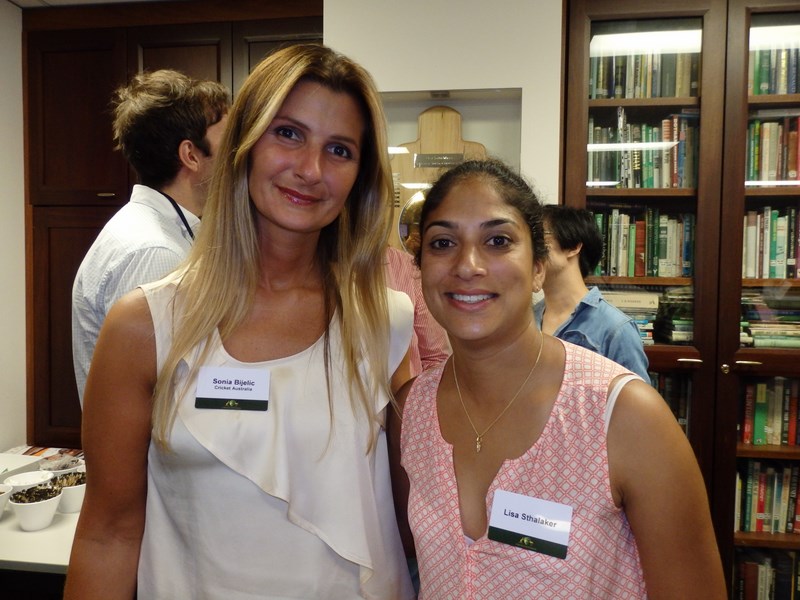 Sonia Bijelic of Cricket Australia and Former Southern Stars cricketer Lisa Sthalekar
The event was then brought to a close and guests were allowed to mingle before the 4th day of the test match between Australia and India was resumed.
CEO of Cricket Australia, James Sutherland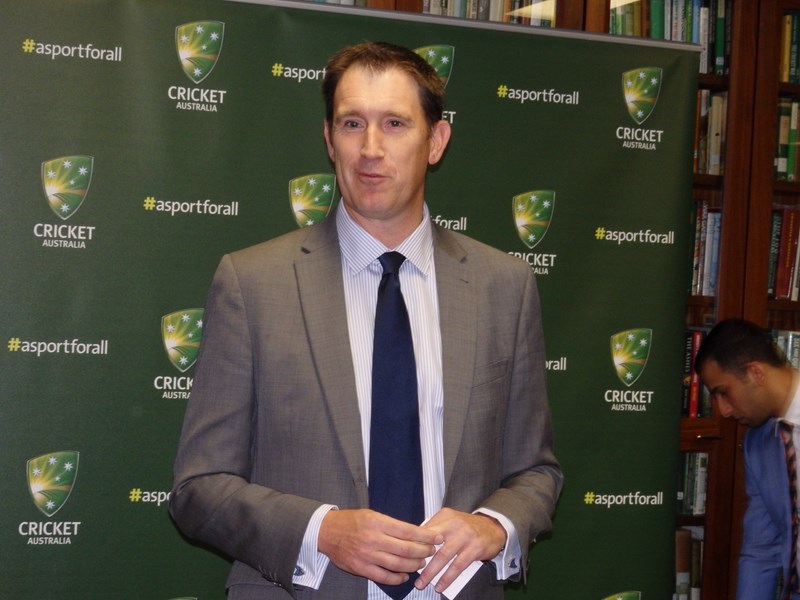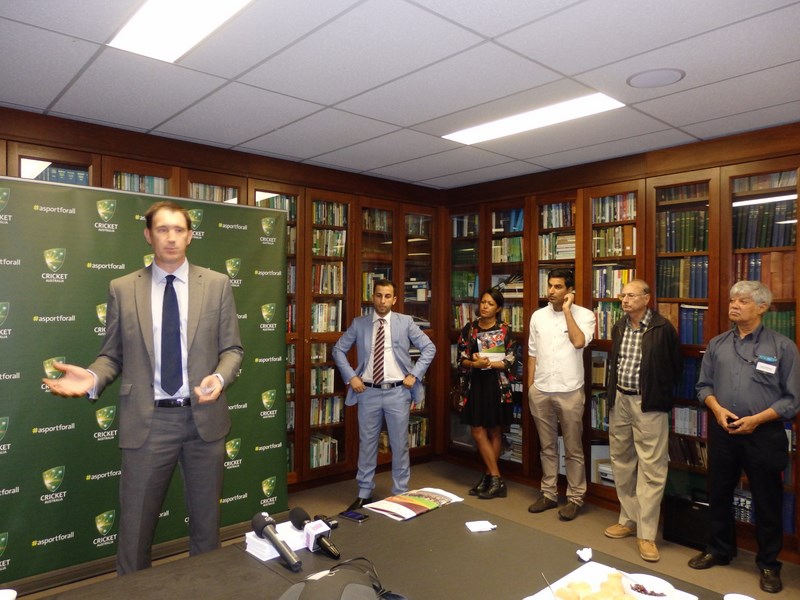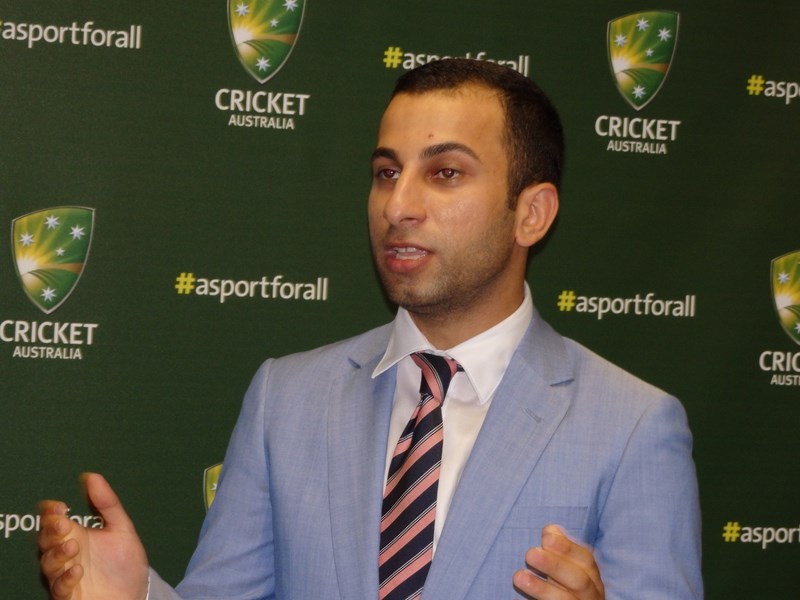 Community engagement Manager for Cricket Australia, Sam Almaliki
CEO of the ICC Cricket World Cup 2015, John Kent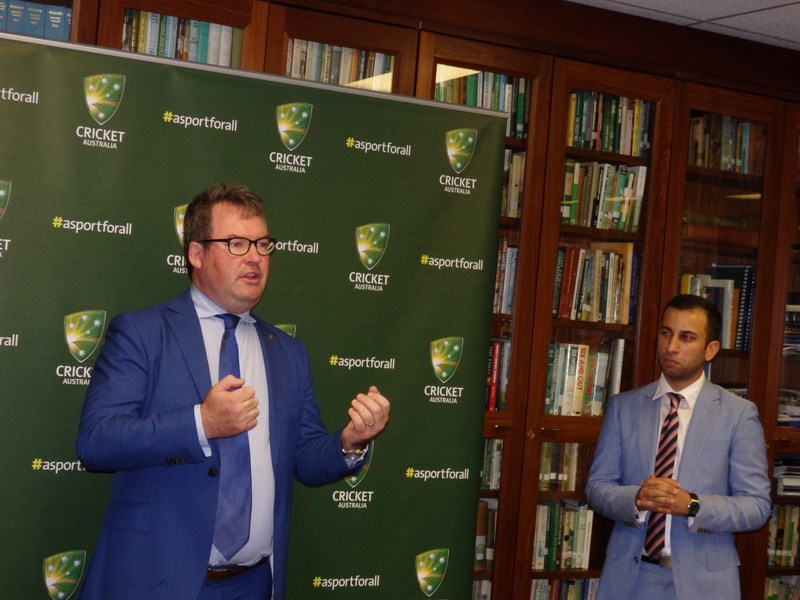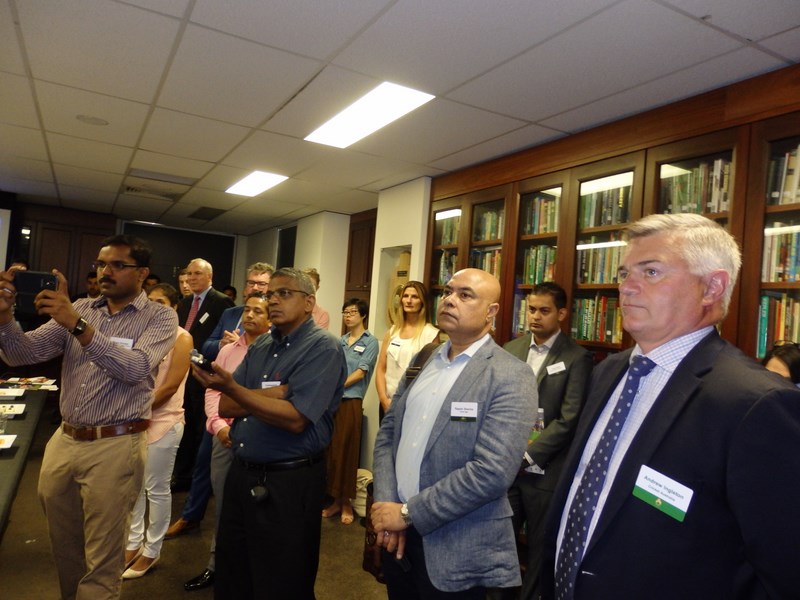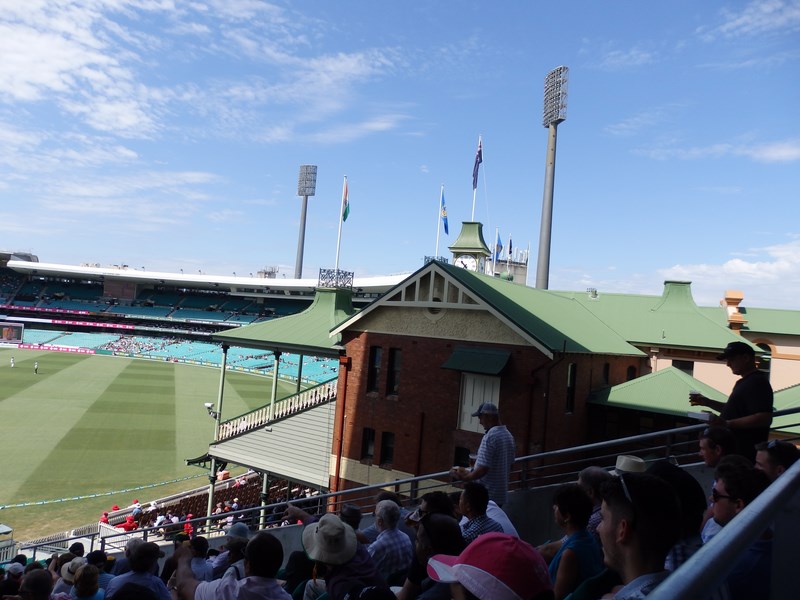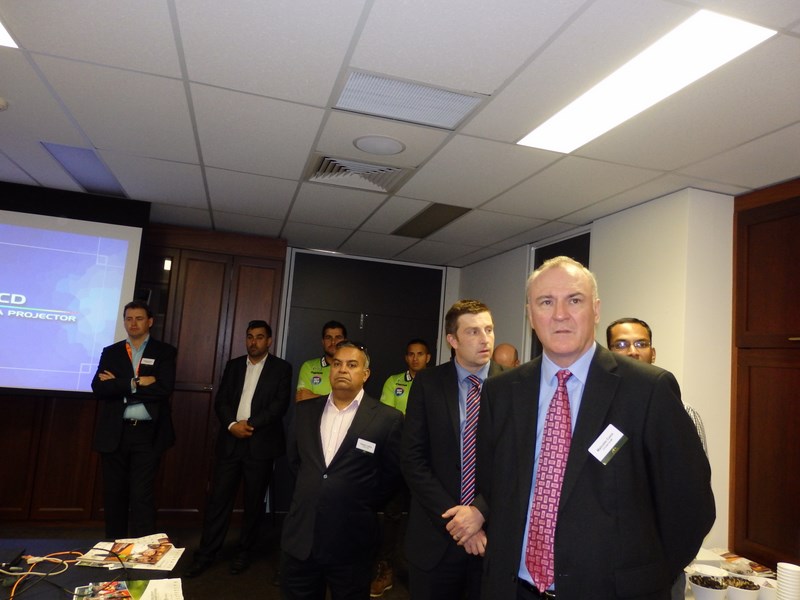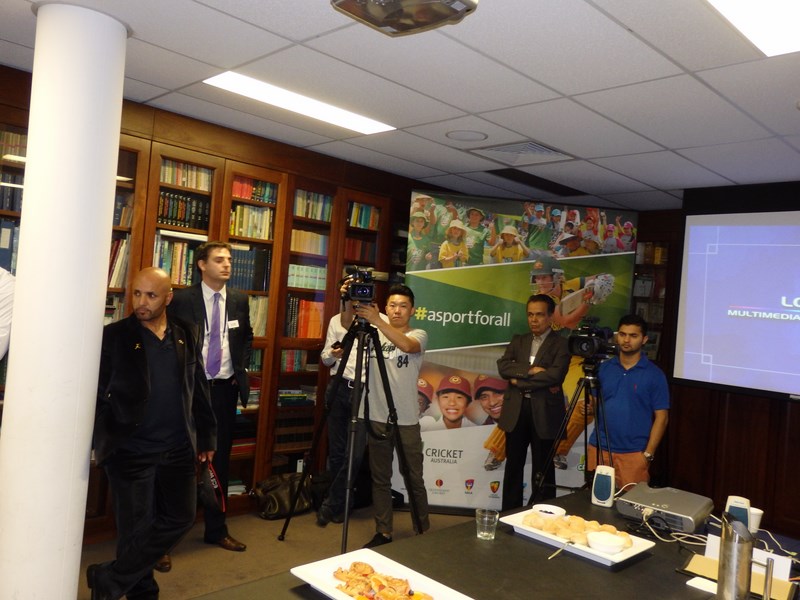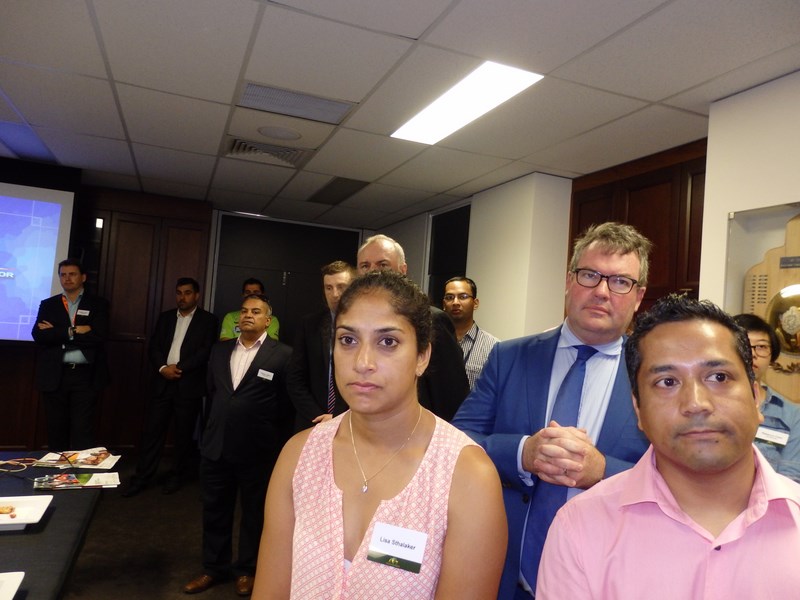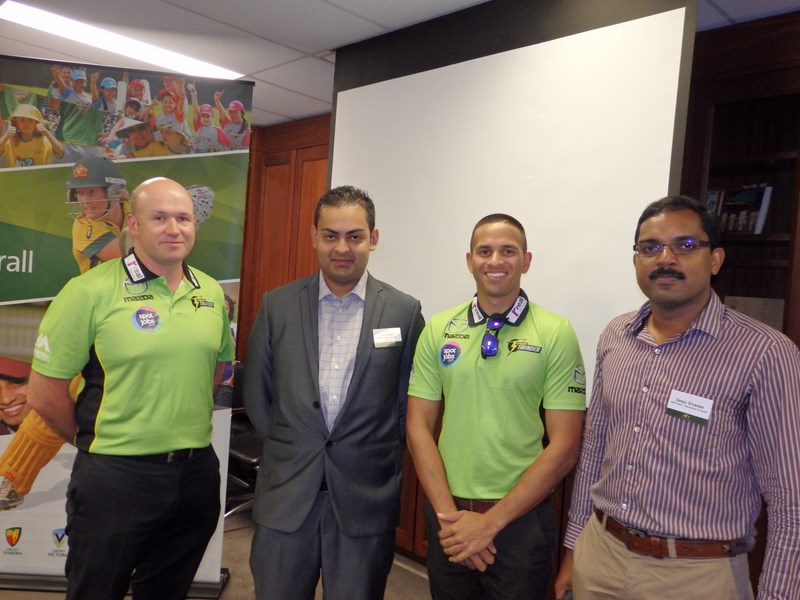 Nick Cummins, Talal Shah, Usman Khawaja and Deeju Sivadas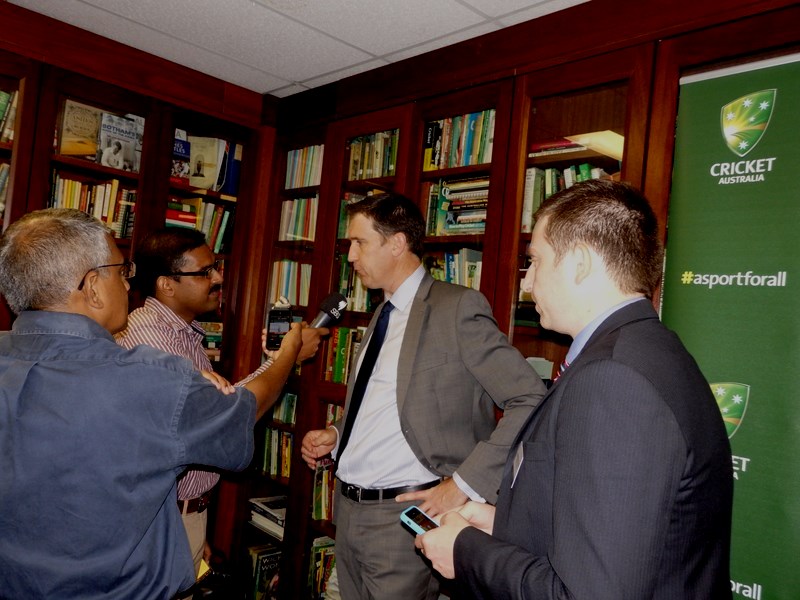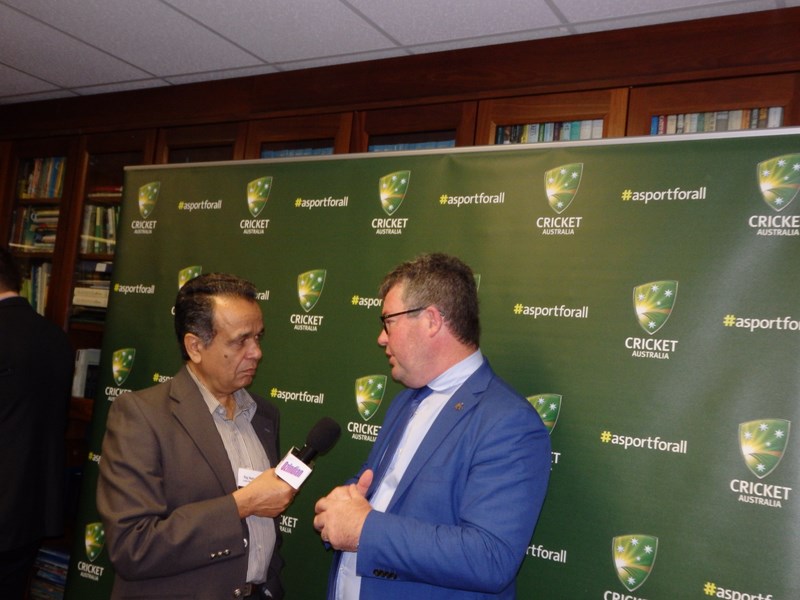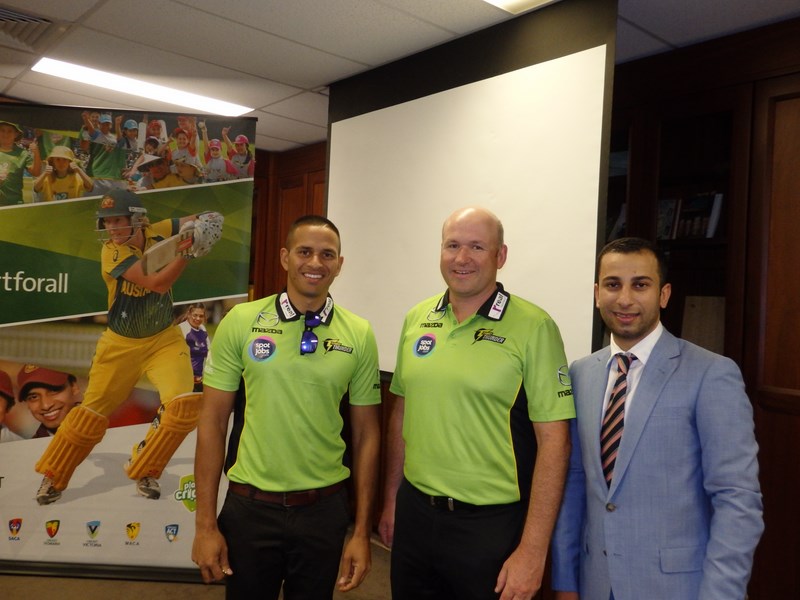 Usman Khawaja, Nick Cummins and Sam Almaliki
Kumud Merani of SBS and Zafar Hussain of Sada-e-Watan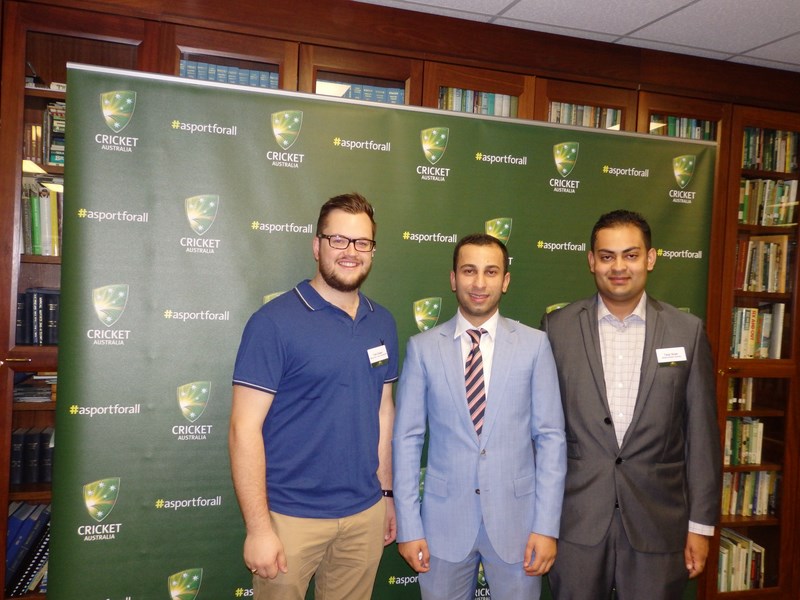 Staffer of Miinster Victor Dominello MP, Sam Almaliki and Talal Shah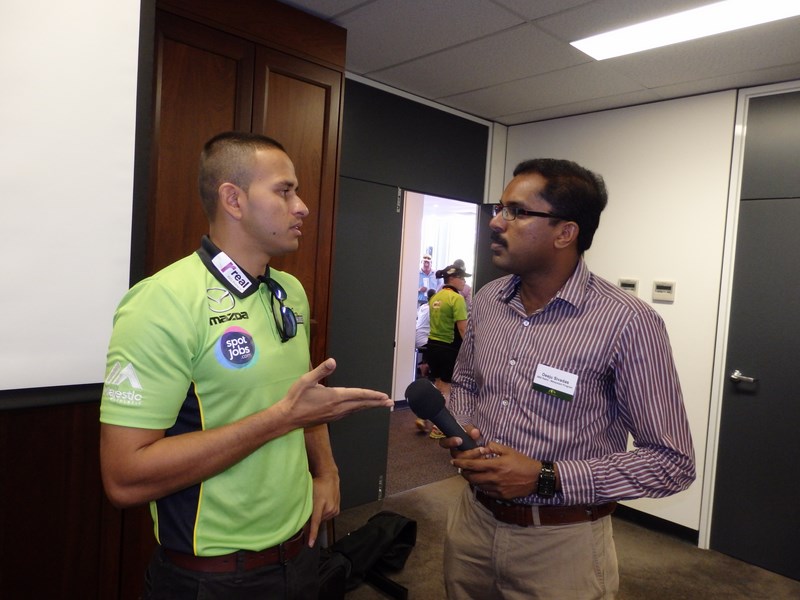 Usman Khawaja and Deeju Sivadas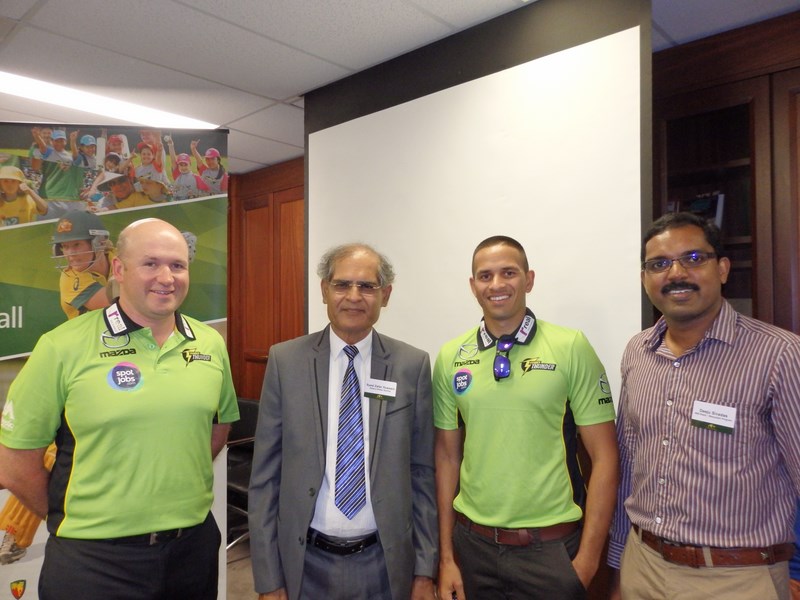 Nick Cummins, Zafar Hussain Shah, Usman Khawaja and Deeju Sivadas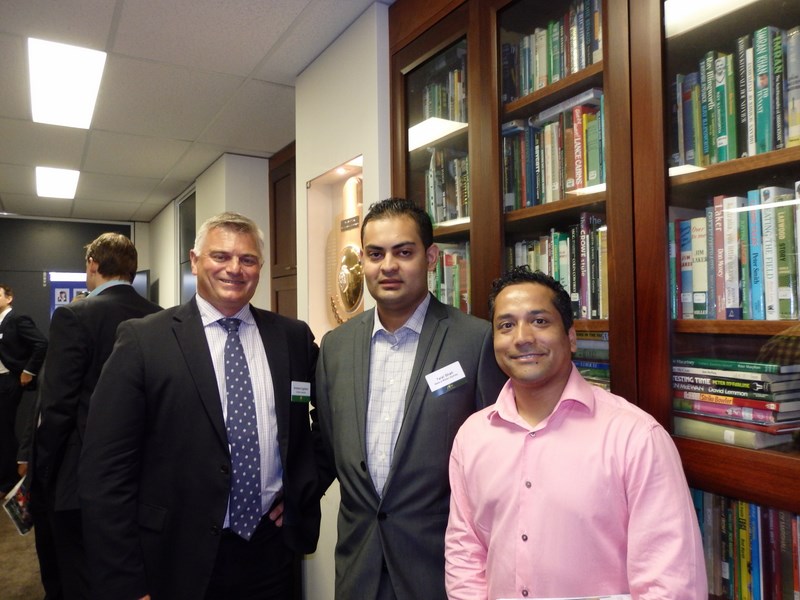 Minu Sharma of Indus Age, Lisa Sthalekar and Kumud Merani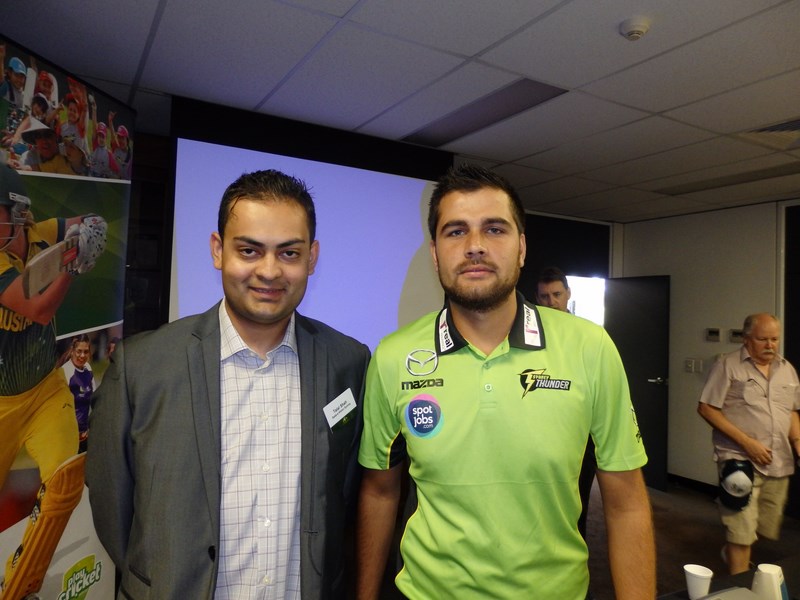 Talal Shah and Community Cricketer of Sydney Thunder, Hameed Kherkhah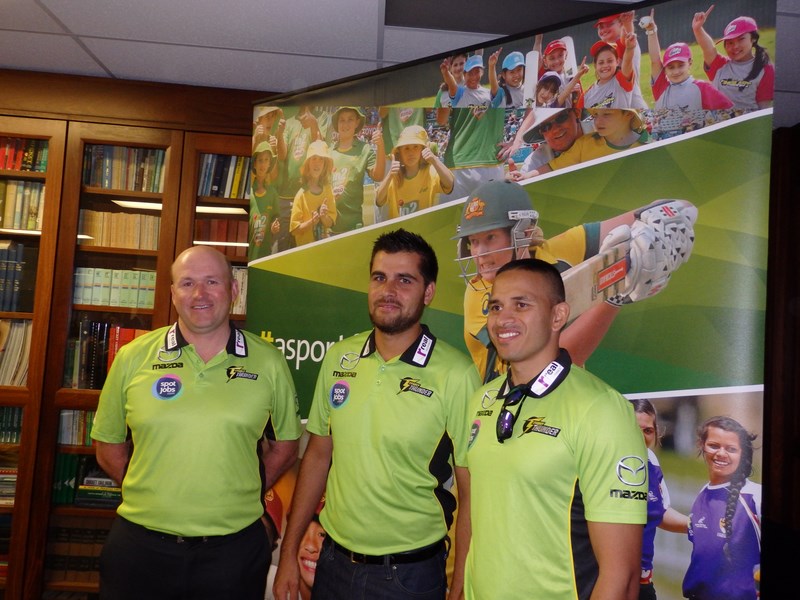 Nick Cummins, GM of Sydney Thunder with players Hameed Kherkhah & Usman Khawaja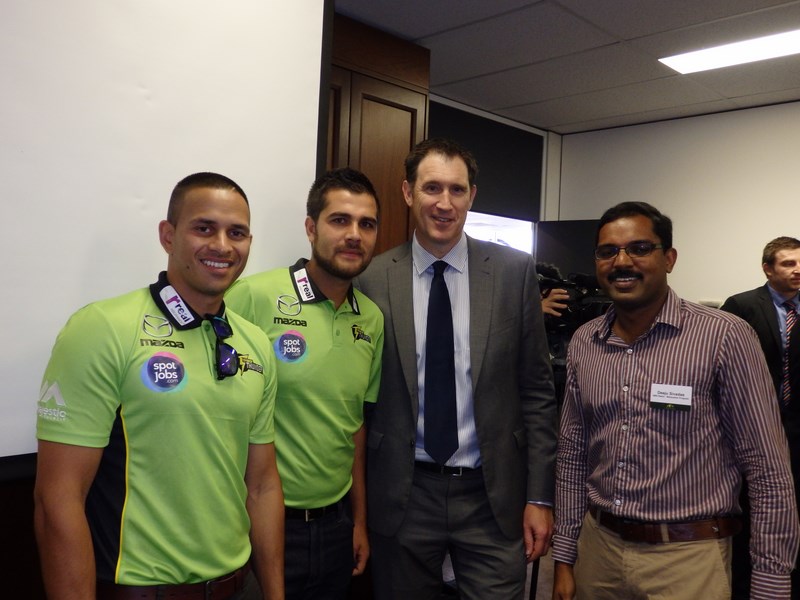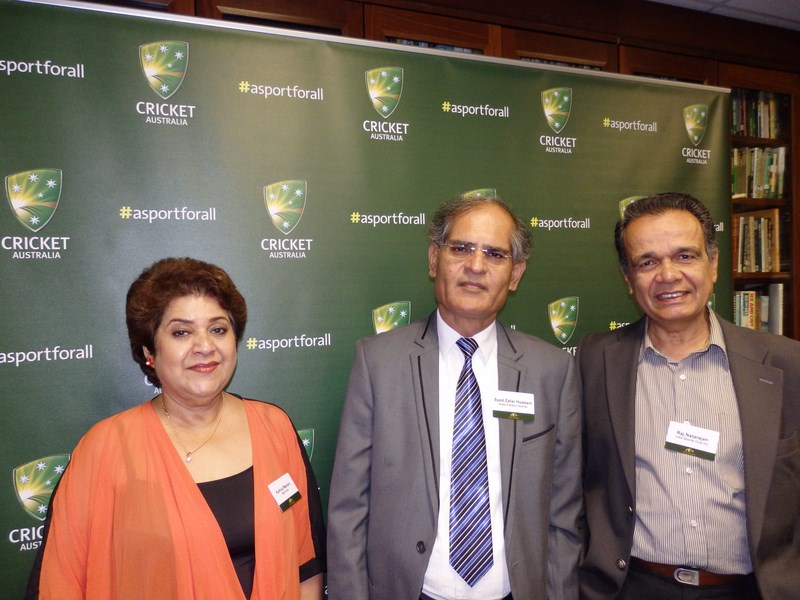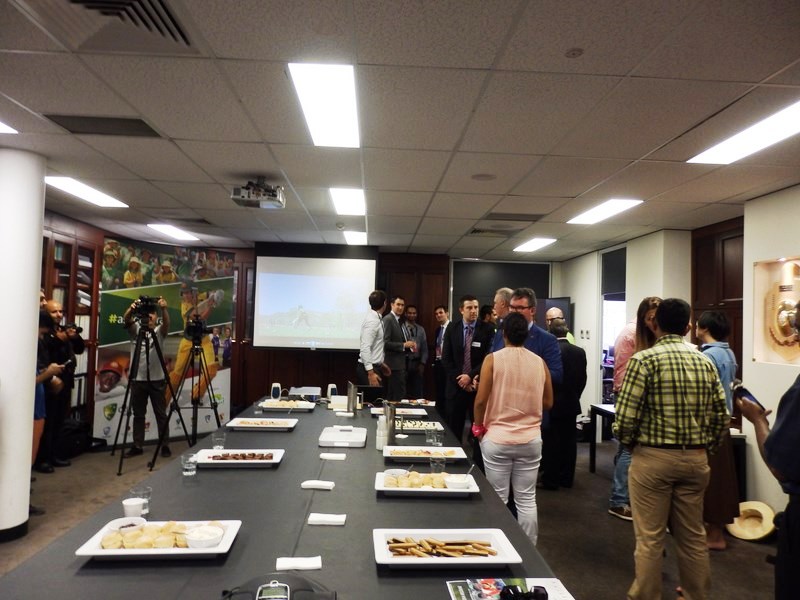 Sam Almaliki, Talal Shah and Chief Executive Officer Cricket Australia James Sutherland