Sada-e-Watan Sydney ™
sadaewatan@gmail.com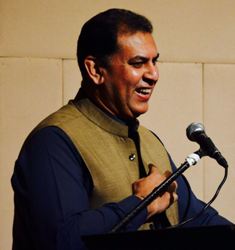 Taufeeq Butt
Famous Writer, Jouralist and Columnist Prof Taufeeq Butt is coming on 4 weeks Visit of Australia
Prominent Journalist and popular Columnist of Pakistan Prof Taufeeq Butt is coming on private visit of Australia. He is arriving in Sydney on Friday, 12th Feb 2016. Prof Taufeeq Butt's close friend former President Pakistan Association of Australia Shahid Iqbal Chaudhry informed Sada e Watan that Butt Sahib will stay in Australia for more than 4 weeks. According to schedule, Prof Taufeeq Butt will visit Wollongong, New Castle, Canberra, Melbourne and Brisbane.
Mr. Taufeeq Ahmad Butt is working as Assistant Professor of Journalism in (BS-18) at Govt. College Gulberg Lahore. He graduated from Govt. College Lahore and completed his Masters in Journalism from University of the Punjab, Lahore. He joined his duties as Lecturer of Journalism in Forman Christian College Lahore. He has as experience of 21 years of teaching Degree classes to his credit. During all these years he produced excellent results in the field of journalism.
Now he is Head of the Department and Chairman of Journalism Society in Govt. College Gulberg, Lahore Pakistan. Under his able guidance Journalism Society provides opportunities to the students for practical work, research and investigation within the domain of syllabus.
Mr. Taufeeq Ahmad Butt is also one of the most well-known and prominent Urdu columnists on the national and international level. He started his career as a Columnist in 1999 in Daily Pakistan. After that, he performed as a prominent Columnist in Daily Jinnah and Nawa-i-Waqt. At present, his columns are published in Daily Nai Baat. His columns envisage an impartial and realistic analysis of our socio-political milieu which emanates from a heart and mind steeped in patriotism. His mastery over depicting bitter realities in ironic and humorous vein lends a special charm to his writings and attracts a vast readership. His two collections of columns named as "Hasb-e-Taufeeq" and "Taufiqaat" have published. His two travelogues named "Sair Spatta" (that is related to Middle East journey) and the other one is "Gori Dunya" (related to his journey to European countries). Now his one book named "General Store" is going to be published in which he has highlighted the illegal and unconstitutional steps of some Army Generals.
Mr. Taufeeq Ahmad Butt has already visited The USA, The United Kingdom, Iran, Kingdom of Saudi Arabia, Singapore, Malaysia, Dubai, Hungary, France, Germany, Spain, Holland, Norway and Canada. While addressing in different meetings arranged in his honour, he met distinguished Pakistanis who shared their problems and he highlighted those problems in his columns.
***************************************************
Interview with Famous Column, Writer, leading Educationist and Well known Journalist Mr Taufeeq Butt
(Pakistan's first-ever educational Newspaper the Weekly "Education Informer" recently published an exclusive Interview of Prof Taufeeq Butt. We hope readers of "Sada-e-Watan Sydney" will enjoy reading of this Interview and 2 Urdu columns of Taufeeq Butt which was published in Pakistan's one of the credible Urdu Newspaper Daily "Nai Baat". )

Started interview with Ghalib's Stanza "Yaad e Maazi Azaab hai Ya Rabb , Cheen lae Mujh Se Hafiza Mera"
Graduated from Government College Lahore then worked as Tehseel Dar but soon I realized that this job was against my temperament so I left it then I gave exams for PSC (Public Service Commission) and was selected for Police Inspector's seat but due to illness of my mother couldn't join Then I continued my studies and took Admission in Mass Communication (Punjab University) After Masters I was selected again as a Lecturer through PSC exam , Then I joined F.C College as a lecturer in 1993 ,then in 2002 I joined Gov't College Township and now I am Lecturer at Government College Lahore Qaddafi Stadium formerly physical education college and I started Mass Communication Department there. I was head of my College Gazette in G.C and member of many magazines and newspapers during my student life.
Columns World

I started writing Columns when I was lecturer at F.C College Lahore, Mr Asghar Nadeem Syed is my very good friend and we have family relations, His wife Farzana Nadeem Syed was ill during those days and she has to be operated at MEO Hospital Lahore , Unfortunately during operation she died due to overdose of Anesthesia and on her death I wrote my first formal article by the name of "Aashiana tmhara Muntazir hai" because during that days Miss Farzana's drama "Aashiana" was being aired on Pakistan television . I sent my article to Mr Mujeeb ur Rehman Shami who was Editor of Daily Pakistan he called me and praised my writing a lot and asked me to write for his paper , next day he published my article along with my picture and news on first page "Taufeeq But will write for Daily Pakistan from today onwards" , It was a very big and important day of my life , Mr Mujeeb ur Rehman Shami is my teacher and he trained me and encouraged me a lot then Mr Javed Chaudhry contacted me for Daily Jinnah and asked me to write for Jinnah I asked Mr Shami and he allowed me to write for Jinnah too then I started writing for Jinnah later on I got a feeling that my articles are getting edited and whenever I write something against President , Mr. Asif Ali Zardari it is edited so I complained owner of Jinnah Mr Riaz Malik he assured me that it will not happen again but as his relationship was Mr. President was very strong so I had to leave Daily Jinnah due to my this reservation. Then I started writing for Daily Nawa I Waqt but it was my worst experience , Nawa I Waqt has a motto that "Say Kalima in fornt of Cruel Ruler" but they deceive with this motto and it is a big lie . Nawa I Waqt has most restrictions than any newspaper in Pakistan , You cannot write freely there ,MR Majeed Nizami (Editor of Nawa i Waqt) has a different kind of mindset and he does not allow anyone to go against his mindset , according to my opinion 90% people there are against editorial policies of Nawa i Waqt .Later on they started objections on my public meetings and personal meetings and on my writings in which I praise different leaders like Mr Imran Khan or others because they support Mr Nawaz Sharif so they don't like some of their column writer praise someone other's good works for country so they banned me for meetings with Imran Khan and I presented my resignation of more than five pages and then Mr Chaudhry Abdul Rehman owner of Daily Nai Baat offered me to write for his paper and I accepted his offer on the basis of a contract that "My writings will not be edited without informing me " and now I write whatever my want and about anything I want to .

What are your Views on Education in our Society?
"No one has caused more damage to this country than educated people", educated people were responsible for fall of Dhaka and the current situation in which we all are surviving. Were all Army Generals, Bureaucrats, Judges and Politicians not educated? Yes they were and they are responsible for all bad things that have happened to this country. Moral Courage and Social and Moral values are our biggest problem; we need to teach some moral values and social values along with formal education. We have not achieved anything major in past years but devastated our society and moral values in society with our wrong attitudes , We give different teachings in different institutes and we have divided our education system , Every school and College is giving his own education , there is no central policy on education while Madrasahs are teaching sectarian differences which cause sectarian violence , We have different institutes for different income classes , why a poor man's child cannot get quality education ? So we need to develop a central education system along with sessions on moral and social values , we should teach some moral courage to our future generations .Our education and teachings should abolish differences among people .

Media Education:
It is a very vast field and students should join this field and now there are more than 55 channels and there is a lot of scope and market for student of media and Media education should be started from primary level , we now have it at masters level , so most of students come blank in this field so mass communication should be taught at junior level , Young Blood should join media to replace old traditional system and should improve this field which can be corruption free and based on self-accountability because media need self-accountability.

Message:
I don't think myself as an eligible person to give a message to Nation because I am not someone special, I am just a common man only I can say is "Learn from your history and Improve yourself" Never think about corrupt society and that society will improve you , You have to improve yourselves because evil can never be completely abolished but if everyone kills evil inside him then gradually you can bring a change in society.

*******************************************************
*************************************