Sada-e-Watan Sydney ™
sadaewatan@gmail.com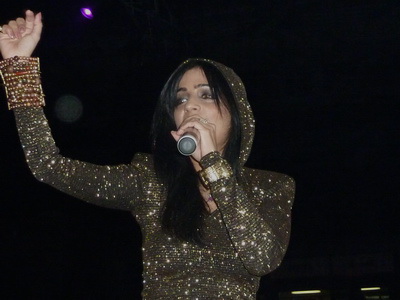 Umer Sharif,Ali Azmat & Shibani Kashyap Live Show at Olympic Park Sports Centre Sydney
(Coverage by: Syed Zafar Hussain, Editor-in-Chief Sada-e-Watan Sydney)
Amin Ladhani, Dosti Multicultural Arts in association with Wize Mindz Entertainment Presents DOSTI TOUR - FIRST EVER INDO - PAK PEACE CONCERT *An Evening Full of Laughter and Music.Umer Sharif, Ali Azmat & Shibani Kashyap Live Show in Australia on Saturday, 25 June 2011 at Olympic Park Sports Centre Sydney. For few technical reasons show could not start on time but performance of 3 International level Artistes was appreciated by the crowd.
The Sydney event, attended by a large number of Indo-Pak community including Acting High Commissioner of Pakistan Mr. Tasawar Khan, The Consul General of Pakistan in Sydney Mr. Azam Mohammed, Ms Julie Owens Federal Member of Parliament from Parramatta Sydney, Dr Andrew McDonald , Member for Macquarie Fields.
Umer Sharif, a comedian par excellence, has enchanted millions of his fans all over the world. He came, he performed and won the hearts of his fans with his hilarious anecdotes. Umer Sharif, the undisputed king of comedy in Pakistan, continues to dominate the stage. His skits on Nusrat Fatah Ali Khan and Adnan Sami — famous Pakistani singers — received overwhelming applause from the audience.
Umer Sharif said that he has an eye for the quirk, and he derives his material from life, adding that life is but a great play and every one plays a part. Some people see it as a comedy while others see it as a tragedy. Those who view the comic side of life contribute in their own way the extra smile in everybody's life. Umer Sharif, one of the most celebrated entertainers of the country having performed as a comedian, director, writer and actor in a number of movies, is at home in extempore skits as well the produced plays. And like every professional emphasizes that dedication and commitment are key to success in any profession.
His unconventional sense of humor sometimes doesn't sit well with the audience when he makes jokes on touchy issues or different aspects of life in Pakistan.
"We are not only actors but also ambassadors of Pakistan, so, it is my duty not only to entertain the crowd but to discuss the problems we Pakistanis are facing," said Sharif in response when one of the participants raised an objection to Sharif's criticism of PIA,Pakistan's national carrier, at the function recently.